Powerful garden equipment boasting user-friendly features for any level of expertise
Yardmax, a manufacturer of innovative, high-quality outdoor power equipment (OPE), announced the unveiling of its new line of tillers including the Yardmax Rear-Tine Tiller and Yardmax Front-Tine Tiller. Supporting the company's focus on delivering high-quality OPE products to the market at the best value, this line of tillers starts at $299. Yardmax will offer an exclusive look at these products during the 2017 National Hardware Show in Las Vegas, Nevada, May 9-11.
Yardmaxtillers are optimally engineered for quick and efficient garden preparation and management for any type of soil. Designed to ease the operator's workload, this line of tillers offers premium design features – for no upcharge – such as single hand operation, pneumatic wheels and adjustable handle bars to provide maximum handling and use, especially in tight, uneven spaces.
"We want to provide a solution for all of our customers, whether they're new to gardening or a seasoned grower," said Shad Shafer, Yardmax Vice President. "Our new tillers provide an unmatched user experience through the products' special features and benefits, as well as our commitment to provide the best customer support possible."
YARDMAX Rear-Tine Tiller
The new YARDMAX Rear-Tine Tiller offers a versatile solution for yard maintenance throughout the season. The machine provides one-handed control, perfect for safe operation, while counter rotating tines quickly and efficiently break up hard ground and deeply till soil, ideal for garden preparation. For ultimate versatility, this rear tine tiller also offers forward rotating tines for ongoing cultivation and row maintenance. Features and benefits include:
208cc Briggs & Stratton engine with 9.50 ft-lbs gross torque and 190 RPM rotational speed
18″ wide rear tine design with 7 depth adjustments and a 6.5″ working depth
Single hand operation
13″ self-sharpening tines
Adjustable side shield and serrated rear shield
Durable, heavy-duty YARDMAX transmission with self-propelled drive system offers one forward and one reverse gear
Front counterweight on 13″ pneumatic wheels with AG tread tires
Easily adjustable drag bar
Starting at $599
Available for purchase on Amazon.com
YARDMAX Front-Tine Tiller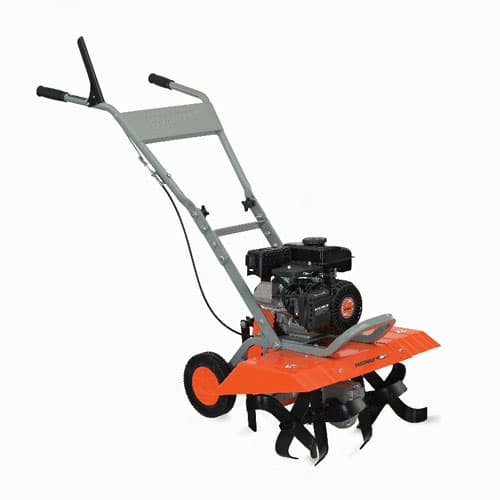 For operators who need a smaller option to cultivate soil in already developed gardens, YARDMAX offers its Front-Tine Tiller. This machine's compact size allows it to quickly and easily fit between garden rows, while offering an adjustable tilling width to match the size of the operator's outdoor space.  Heavier duty and more powerful than a cultivator, this front tine tiller uses a powerful 97cc engine to deliver 180 RPM rotational speed, decreasing laborious time and work for growers looking to improve their garden area. Additional features include:
Depth control with drag stake
1-piece sheet metal safety shields with reinforced punched slots
Adjustable tilling width of 11″, 16″ or 21″
Tilling depths from 7″ to 11″
Durable ball bearing gear drive transmission
Removable outer tines
Easy-to-use, three-position, adjustable-height handlebar
Starting at $299
Available summer 2017
Tags:
National Hardware Show
,
Yardmax