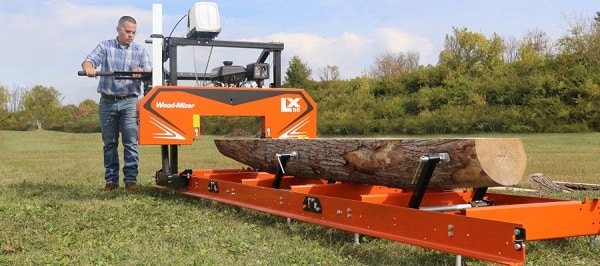 Wood-Mizer introduces the robust, entry-level LX55 portable sawmill designed for entry-level sawyers, hobbyists and woodworkers. Starting at $4,495 USD, the LX55 portable sawmill replaces Wood-Mizer's previous entry-level LT10 sawmill while providing a larger cut capacity, more power options and many upgraded features.
Built in the USA, the LX55 saws up to 26-in. diameter logs into 22-in. wide boards and slabs. Powered by a 9.5H-hp gas, 14-hp gas or 7-hp electric power option, the LX55 features a simple and user-friendly operation by combining manual log handling with a quick sawhead up/down hand crank and a simple push feed system. In addition, the LX55 sawmill includes a low bed profile for easy loading of logs and quick-adjust log clamps and side supports for securing and turning logs on the bed.
A key innovation of the Wood-Mizer LX sawmill series includes the rigid LX Frame sawhead tower that holds the control panel, engine, and the sawmill head. The simple and sturdy sawmill design enables the LX55 to make accurate, precise cuts quickly and efficiently. In addition, the LX55 includes all operator controls opposite of the sawdust port for an improved operator experience.
"Wood-Mizer is committed to providing both entry-level and high-production sawmill operations with the highest-quality equipment on the market," said Russell Fite, Wood-Mizer North America sales director. "The LX55 sawmill fits the needs of entry-level sawyers, farmers, homesteaders and woodworkers who require high-quality accurate sawn lumber at an economical price."
Tags:
Wood-Mizer