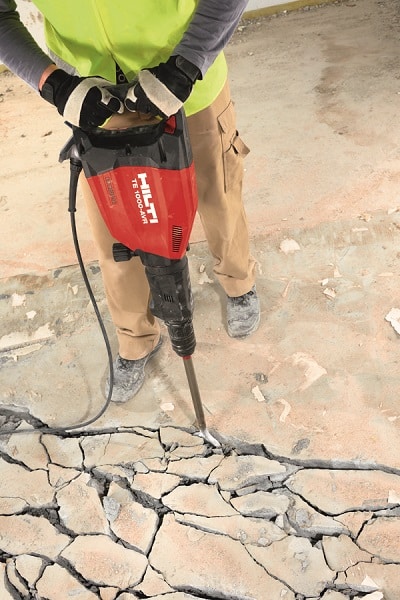 At World of Concrete, Hilti discussed a variety of products in its impressive lineup, including its TE 1000-AVR breaker. The breaker, when used with the new Wave chisel TE-SP, is breaking new ground in performance and comfort — contractors can see an increase of up to 50 percent in demolition performance with the lowest vibration in its class.
The second generation TE 1000-AVR breaker features HiDrive technology which helps deliver 19 ft-lbs of impact energy for outstanding demolition performance and productivity. The versatile TE 1000-AVR is great for a variety of applications such as light to medium demolition of concrete slabs and foundations, concrete bushing, tamping earthwork and digging clay to penetrations for pipes, electrical boxes, HVAC, beams, etc.
It also features a Power Reduction Switch for up to 30 percent less impact for precision work. An SR motor helps ensure stable performance with power fluctuations from generators or extension cords while a three chamber sealing principle provides contractors with a longer lifetime of their tool, which means fewer breakdowns.
The TE-SP Wave Chisel helps to avoid excessive leveraging to unstick chisels on tough jobs. This groundbreaking chisel features a new wave design that produces up to a 30 percent increase in speed during concrete demolition by reducing friction between the chisel body and base material, leaving a wider opening for fast debris removal. This gives contractors more breaking power while reducing the likelihood of the chisel sticking or breaking. And, because it creates less airborne dust it helps to extend tool chuck life. The TE-SP Wave Chisel is exclusively for use with Hilti Breakers (TE 805, TE 1000-AVR and TE 1500-AVR).
The Hilti TE 1000-AVR is built to provide long-term service under the most rugged conditions. For added peace of mind, the TE 1000-AVR is also backed by Hilti Lifetime Service, a unique service agreement that includes two years of no-cost repair coverage.* It's now equipped with a detachable supply cord that allows for quick on-site replacement virtually eliminating downtime on the most common repair.
For more information, visit www.us.hilti.com.
*Some limitations apply. Contact Hilti for details.
Tags:
Breakers
,
Hilti
,
WOC2015
,
World of Concrete