Besides being the largest manufacturer of gasoline engines in the world, Honda makes a wide assortment of equipment categories — from cars to outdoor power equipment. When considering the latter, portable generators are a popular Honda product offering in its outdoor power equipment division. Honda Power Equipment, a division of American Honda Motor Co. Inc., markets a complete range of small gen sets for both the consumer and construction markets. We wanted to help define and detail the industry's smaller commercial generator market, so we called on Tom Pernice, generator marketing manager at Honda Power Equipment, to discuss this growing market.
 Tom, thanks for taking the time. First off, can you give us a 30,000-ft view here? How are these power units grouped in the commercial industry today — by size, wattage, features? What sizes does Honda participate in?
Pernice: There are two major categories of generators for sale in the marketplace today: portable and standby.  Portable generators are versatile units that can be used anywhere power is needed — at home, at remote locations, at construction sites or for recreational uses like camping or RV excursions. Standby generators are permanent installation units that are operated outside a home or building to provide power for a specific location.
Honda Power Equipment markets a complete line of generators for commercial and consumer applications. Lightweight, compact Honda generators produce between 1,000 and 10,000 watts of power, providing dependable power for recreation, construction, rental and emergency use.
 What are the differences between a homeowner-grade generator and a contractor-grade generator?
Pernice: The primary distinction between commercial- and homeowner-grade generators is the engine. The rating of the engine clearly defines the differences between the commercial and homeowner category models. Commercial models generally will carry additional features that meet jobsite regulatory requirements such as GFCI, wheel kits for easy transport, bale hooks for lifting and secure storage, as well as quality power regulation such as AVR, DAVR or iAVR. In addition, new EPA guidelines rate engines in three categories, via their emissions compliance period. These categories are: 250 hours — residential; 500 hours — extended life residential; 1,000 hours — commercial. All Honda Generator models, except the EU1000i Super Quiet Series model, are included within the 1,000-hour commercial EPA rating and offer a three-year commercial warranty.
 What is the best way for a professional to match applications and wattage requirements when buying a small generator? Can you give some popular examples for sizing?
Pernice: For starters, it may be most helpful to determine how and for what applications the generator will be used. Once these determinations have been made, using a wattage estimation guide is a helpful tool to calculate the total wattage needed and a best generator that can simultaneously power products being used. Additionally, it is important to select what type of power [inverter power], the run time required and the fuel efficiency desired for the application in question in order to properly select the right generator. Honda offers a good wattage estimation guide for consumers looking for help in calculating their power needs. This tool can be found at http://powerequipment.honda.com/generators/generator-how-much-power.
 How can a pro ensure he or she doesn't overload a smaller generator? What tips can you share for making sure the generator has enough power to start up and then run all the proper equipment?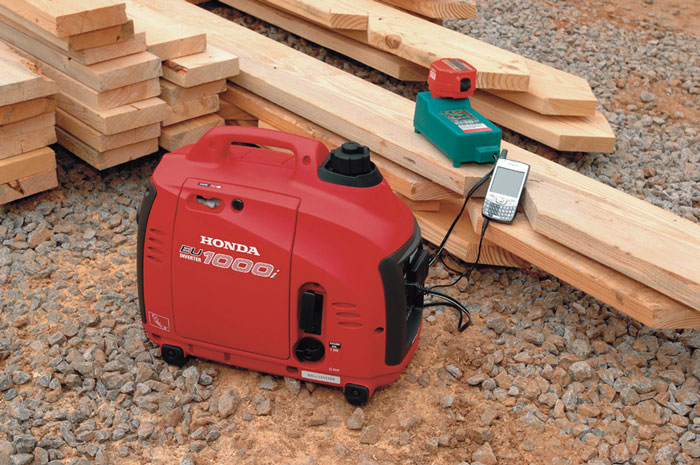 Pernice: There are two types of tools or appliances, those with reactive loads and those with resistive loads. Reactive loads with electric motors have starting requirements that are generally estimated as three times the running load. Resistive loads such as those found in lights and heaters will have a maximum load that is stable. Power requirement charts are readily available and are an excellent guide to understanding your maximum power requirement. It is important not to exceed the power capability of a generator or damage will occur to both the appliance and generator. A quality generator with voltage regulation can adapt to a varity of loads and protect sensitive electronics. By knowing what the total power load will be, a user can be sure to only use a generator powerful enough to handle the total load needs.
 What are the common features available to new buyers? What technologies and machine extras will be optional for pros looking to purchase a small gen set?
Pernice: Many generator buyers are specifically interested in three key features: quiet operation, good fuel economy and long running time. These are features inherent to all Honda generators and very important to generator users. It can be vital in an emergency situation to get the most power for gasoline used, and it can be just as important in close quarters or highly populated areas to only operate a quiet generator without significant noise pollution. There are additional features such as inverter power generators, wheel and handle incorporated generators, voltage regulators and 120/240 voltage selection switches that are both popular and attractive options on portable generators.
 What's the price range for most smaller-size generator sets?
Pernice: Portable generators can range in price from several hundred dollars to several thousand dollars depending on size and wattage.
 How can a new buyer judge the quality of a gen set when it comes to features like portability, the engine, fuel tank and maintenance?
Pernice: By looking at the total weight of the unit, the fuel economy, total run time, warranty information and EPA engine compliance rating, a consumer can judge which product is right for his or her needs. These values vary significantly from brand to brand of generator.
 What maintenance tips can you share to help our readership maintain their portable power plants? What important maintenance routines should be implemented when it comes to preserving the longevity of a generator that works everyday?
Pernice: Fuel use and storage are among the largest maintenance issues facing all small engine products. It is important to always be sure clean, fresh fuel is used and fuel stabilizer is added to the fuel tank prior to storing the generator for any length of time. Simply put, it is always recommended to follow the owner's manual for the product where scheduled maintenance is concerned. To keep a generator operating at its best and most productively for many years, it is important to follow basic maintenance procedures as outlined.
Keith Gribbins is managing editor of Compact Equipment, based in Brecksville, Ohio.
Tags:
Generators
,
Hand Tools
,
Honda