It's common knowledge that time is money and that's why an off-season isn't an option for water well drillers. At the end of the day, the more jobs completed the more profits gained. Perhaps that's why drillers have traditionally relied on large rig-mounted drills for expanding into soil sampling projects during their downtime. These trucks are powerful, productive and fast to transport from location to location.
But sometimes big isn't better. In many cases the challenges of the location or terrain of a sampling project make large units impractical if not impossible to use. For example, a muddy township road might not support the heavy weight of a rig-mounted drill, preventing crews from reaching the drill site. Or, the site might be in the middle of a field, which can swallow a 45-ton truck's tires and make vehicle recovery an expensive rescue mission. Challenging ground aside, obstacles — such as narrow fence gates, trees or buildings — hinder maneuvering truck-mounted drills to the necessary location.
Compact drills, however, which mount on a trailer or a carriage, complement a fleet of truck-mounted drills by providing excellent maneuverability on nearly any jobsite due to the lighter weight and smaller size. This expands a driller's soil sampling job opportunities and offers a cost-effective addition to the drill fleet.
GO SMALL OR GO HOME
Small machines provide the perfect combination of power at the right size to get a job done quickly. They get in and out of tight quarters or remote locations easily and drill down fast. For drillers, they're also an easy and relatively inexpensive way to grow business.
At as little as 26-in. wide, compared to the 82-in. or larger span of a rig-mounted drill, compact drills offer a unique advantage to limited access applications, such as backyards with narrow gates. Though narrow and lighter in weight than larger drills, these units are powerful and able to reach 100-ft depths — all without damaging the turf or being forced to navigate and maneuver around nearby structures. The compact soil sampling systems weigh less than half a ton, a fraction of the weight of rig-mounted units, but still offer up to 5,000 lbs of pushdown force. They successfully extract samples from virtually any soil type, making them a productive addition to a fleet. While compact drills can't and shouldn't replace a rig-mounted drill, they offer excellent profit boosting potential for smaller jobs and hard to reach locations.
Many compact soil sampling drills are available at 50 to 60 percent less cost than rig-mounted drills. Although compact units reach about half the depth of rig-mounted units and are not suited for hard clay or rocks, most standard penetration tests and geotechnical samples can be collected within 100 ft and rarely occur in hard formations. The only exceptions are for determining whether oil is present for fracking.
The lower purchase price is complemented with a reduced operating cost. Because compact drills can be transported with a standard pickup truck, no special licensed operator is required. In addition, these units are more economical to transport because of their reduced size. This transportation savings, as well as decreased maintenance requirements, saves operators as much as 50 to 75 percent annually compared to rig-mounted units. With that significant cost reduction, it's easy to see how a compact soil sampling system can boost ROI. And, as a complement to the existing equipment, it opens more opportunity to take on additional projects. With long wait lines for soil sampling, the enhanced reputation of fast service adds to referral business.
The dollars make sense. But, before buying a compact drill, do some research to ensure a fast ROI. Consider the manufacturer's experience, the geographic area it will be used in, what the drill offers in terms of efficiency and maintenance requirements.
SELECT A DRILL STYLE
When making a decision about which compact drill to add to the fleet, choose from either the carriage-mounted drills or trailer-mounted units. To determine the right drill type, start by looking at the job location.
For residential and developed areas, carriage-mounted drills provide the best solution. They weigh as little as 750 lbs, including the soil sampling attachments, making it easy for one person to maneuver around the worksite by hand. The compact frame — which can be as narrow as 26 in. — allows a contractor to fit the unit and its power source through gates, across excavated foundations and into backyards.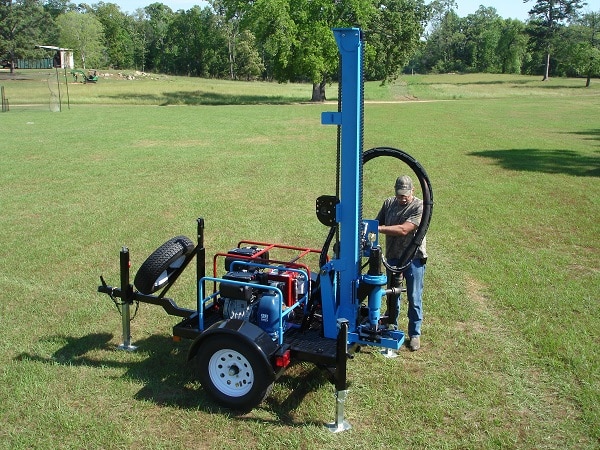 For soil sampling work on large commercial projects, such as a hospital or shopping mall, or in remote locations, turn to a trailer-mounted drill. Look for a unit that weighs about 2,000 lbs; that's light enough to be pulled with an ATV or pickup but heavy enough to get the job done. These units typically drill up to 100 ft and collect samples for determining required depths for support piers or caissons.
Upon selecting the appropriate drill, work with the manufacturer to pick the sampling tools as well. An experienced manufacturer will be able to easily recommend the best-suited tool for the job. Choose the hollow stem auger when working in sandy soil where there's risk of contamination from other soil or concern of hole caving problems. This tool collects undisturbed samples, and avoids cave-in issues because it allows for drilling and casing the hole simultaneously. Select the split spoon sampler when completing the standard penetration rate test to obtain a packed sample. Operators collect a sample about every 4 to 5 ft to determine information, such as how deep to install piers for supporting a structure. When determining soil density and strength tests in fine cohesive soils and clays, pair the drill with the Shelby tube. The thin-walled tubes easily push into the ground to provide a fast method to get the job done.
PICK PRODUCTIVITY
Achieving maximum productivity requires a powerful drill with sufficient pushdown force to tackle a variety of soil conditions. Look for carriage-mounted and truck-mounted drills that achieve 150 rpm and create pushdown forces as high as 3,000 psi. A strong, versatile drill easily collects samples up to 5 in. in diameter to accommodate a variety of soil sampling projects.
Before purchasing or renting a drill, consider how easy it is to add auger or drill pipe extensions for reaching a variety of depths. Some manufacturers design trailer-mounted drills so a contractor can use a wrench to loosen and tighten the extensions onto the mast. Other drills easily thread an extension or snap one into place without tools.
DECIDE AGAINST DOWNTIME
Breakdowns are the last thing a contractor needs when soil sampling. Careful consideration of the manufacturer's reputation and the unit's fit and finish ensures operators withstand harsh environments, common in soil sampling applications.
Start by checking the drill's key components. The fit and finish of the drill provide a lot of insight on quality and durability. ¬Select a drill that's easy to maintain, made by a proven manufacturer, lasts long and has readily available parts. Confirm that high-strength welded steel makes up the drill's frame, rotary and swivel so it withstands harsh work conditions. A powder-coat finish provides good protection against corrosion. It also holds its color after years in the field, saving on repainting costs and helping with resale value.
Even the best-built units require preventative maintenance. Make sure all maintenance points are easily accessible. Also, look for manufacturers that provide technical advice, troubleshooting and reliable parts service.
Ask what process the manufacturer uses before shipping the drill, as well. Is it tested and inspected? This confirms the drill will perform as expected.
GET A DRILL FOR ANY PROJECT
Drillers are always looking for ways to expand business. With a portable, powerful drill that's economically priced, it's easy to increase profits. It'll allow crews to quickly meet market demand for soil sampling in compact areas without causing damage to the surroundings. After a little research, it's easy to select compact drills with maximum power and reliability. With these new drills, growth in residential and commercial jobs is nearly endless.
Mike Hale is a sales manager for Little Beaver Inc.
Tags:
Little Beaver