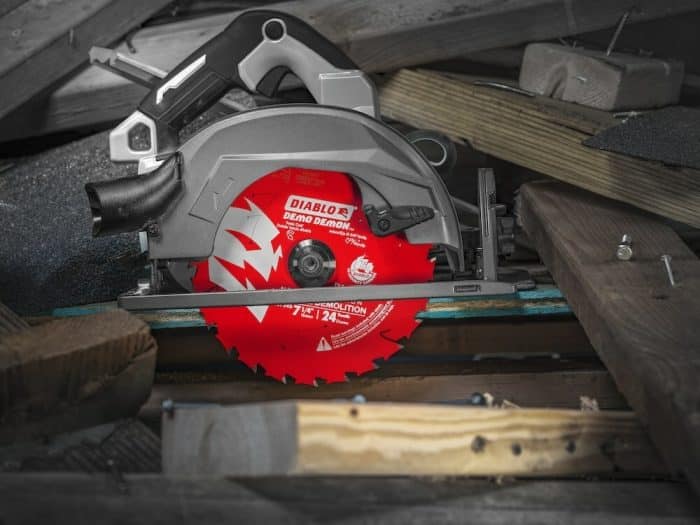 Diablo Tools recently introduced a revolutionary one-blade solution for maximizing productivity in framing and demolition: the Demo Demon Next Generation Ultimate Framing/Demolition saw blade. This innovative blade is designed to ignite the jobsite through game changing technology, including a new Optimized Dura-Blend Carbide for the most extreme materials and nano grind tooth technology for precise cuts and maximum blade life.
Jobsites and building materials are evolving. The modern jobsite has become a tough place where builders need to count on their blades to make cut after cut through a wide range of materials, which are becoming more sustainable, weather repellant and stress resistant. They're also becoming more abrasive and difficult to cut. Standard carbide blades cannot withstand the required cutting applications without dulling, breaking or even failing when professionals need them most. Their "same old, same old" design breaks down again and again. This costs professionals time and money in blade changes and results in longer, more expensive projects. Even when these blades make the cut, they often require more power and drain battery life from cordless saws.
Diablo's technologically rich Demo Demon Next Generation Ultimate Framing/Demolition saw blade features a new, specially formulated Optimized Dura-Blend Carbide that combines micron carbide with hi-cobalt content, helping it withstand even the most extreme cuts while also offering up to 15X the cutting life of standard blades.
The Demo Demon's new nano grind tooth design is also the most technologically advanced on the market. Standard blades feature single brazing or welded teeth with no mechanical lock, resulting in poor tooth-to-blade connection, poor shock resistance, broken teeth and shorter lifespans. They also feature little-to-no tracking features because of unsophisticated manufacturing methods, poor grind quality and outdated tooth geometries. The Next Generation Ultimate Framing/Demolition saw blade introduces a triple-grind, Chamfer Alternate Top Bevel (ATB) tooth geometry for ultimate tracking control. This ensures a finer-quality cut and longer blade life, letting professionals worry less about replacing blades and more about getting the job done — even on the hardest materials.
The blade's optimized thin kerf design delivers an unmatched ease, speed and accuracy to professionals that are used to dealing with high-AMP thick kerf blades, which plays a pivotal role in providing efficient, energy saving cuts, even among the grittiest materials.
Evolved building materials require an evolved blade, and the Demo Demon Next Generation Ultimate Framing/Demolition saw blade is setting a new standard with professional users. The blade's newly formulated carbide is specialized to deliver higher impact resistance, while its tooth design is miles ahead of comparable blades on the market. The 3-tooth grind sequence geometry provides more precise cuts that are easier to control. Diablo's Perma-Shield coating protects the blade against heat, gumming and corrosion, resulting in maximum life and sustained productivity amid the most extreme applications. 
"Diablo once again breaks new ground in saw blade technology to meet the evolving demands of professional users," said Russell Kohl, President and CEO of Diablo/Freud Tools. "The first-of-its-kind Demo Demon™ Next Generation Ultimate Framing/Demolition saw blade is the latest example of our continued investment in advancing the industry with the best cutting solutions. Through such investment, we've created a specialized carbide meant to withstand the toughest materials, applied it to revolutionary blade geometry and manufactured a blade that will help professionals get up to 15X the cutting life from their favorite cordless or corded saws. While we're providing solutions and helping professional users save time and money, we're also delivering quality cuts that are both precise and efficient. Jobsites won't know what hit them once the Demo Demon arrives."
Diablo's Demo Demon Next Generation Finishing/Demolition blades are available now wherever Diablo products are sold — including The Home Depot and independent retailers. For more information, visit DiabloTools.com.
We'd love to keep in touch! Check us out on Facebook, Twitter and LinkedIn!