RIDGID, a part of Emerson's professional tools portfolio, is celebrating a major milestone this year: 100 years of designing and building innovative tools trusted on jobsites around the world and handed down from generation to generation. To commemorate the occasion, RIDGID will spend the year 2023 celebrating the trades, their impact on our world, and the brand's legacy.
"A lot has changed over the past century, but one thing that has remained constant is the dedication of the skilled trades to build a stronger tomorrow. RIDGID is honored to be by their side every step of the way," said Heather McLin, vice-president of marketing, professional tools for Emerson. "From our iconic pipe wrench that started it all to our newest tool solutions, every product we make is designed to help trade professionals get jobs done easier and more efficiently. That's a legacy that will never change."
Where It All Started – The RIDGID Wrench
In 1923, the Ridge Tool Company invented the modern straight pipe wrench, introducing it to the world under their brand RIDGID. Since then, every step forward has been with the tradesperson in mind. Today, RIDGID's pipe wrench design is the best-selling pipe wrench in the world and many of the wrenches that were sold back in the 1920s and 30s are still in use today.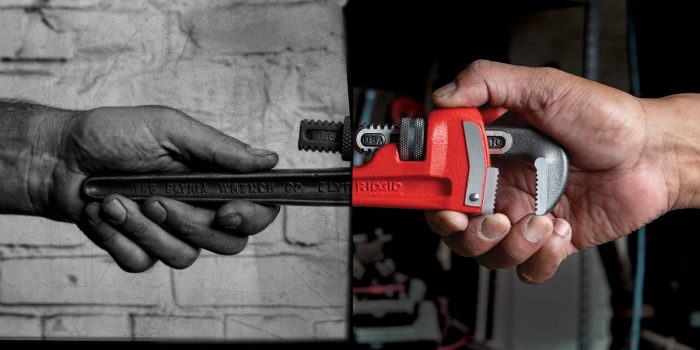 The RIDGID commitment to quality has never wavered, RIDGID's signature red heavy-duty straight pipe wrench bodies are still cast at its ductile iron factory in Erie, Penn., assembled at its headquarters in Elyria, Ohio, and then shipped from its distribution facility in Cambridge, Ohio.
Along with these locations, RIDGID has grown over the past century with global facilities that help keep up with demand from around the world. The company's product line has also grown. RIDGID launched power threading solutions in 1948; drain cleaning equipment in 1967; press tools in 1999 and most recently, pipe patching last year as it continues its proud tradition of innovation.
Now, more than 100 patents and 100 years later, RIDGID continues to deliver purpose-built tools that are known around the world for their ability to complete jobs more quickly and reliably. They currently offer more than 300 tools for the plumbing, mechanical and HVAC professional.
Trusted by the Trades
From specialty pipe wrenches and drain cleaning equipment to pipe inspection and press solutions, each tool that carries the RIDGID name is designed and crafted for strength, effectiveness and legacy.
Whether it is used for clearing a drain line at someone's home, keeping a hospital up-and-running by repairing a pipe with a press tool, or installing pipe for a new commercial build, trade professionals rely on RIDGID tools to help them build and maintain infrastructure around the world.
Looking to the future, RIDGID remains dedicated to the trades and to building the tools of performance skilled trade work demands.
"Our first hundred years is just the beginning," said Becky Brotherton, director of engagement marketing, RIDGID for Emerson. "From day one, RIDGID has had a dedicated team that strives for best in quality, product innovations, technical support and customer service. We are committed to the professionals using our tools as well as the future of the trades. There's a reason why RIDGID has been trusted by the trades for 100 years and why they will be for the next 100 years too."
Built for What's Next
The company recently introduced a pipe patching kit, a new product category for the brand, and are also set to introduce additional new tools this year. Each reflect the forward thinking of the brand and their commitment to meeting the needs of current and future customers.
RIDGID is also involved in extensive efforts across several workforce development initiatives. They offer continuing education and hands-on training for plumbers, along with supporting scholarships and apprenticeships with several national organizations including SkillsUSA, The Plumbing-Heating-Cooling Contractors Educational Foundation, and the Mechanical Contractors Association of America.
In recognition of its milestone anniversary, RIDGID will be holding giveaways of commemorative anniversary wrenches and other brand swag throughout the year. Early this year they will also be launching "RIDGID Wrenched 100," a specialty beer developed in collaboration with Unplugged Brewing Company located less than a mile away from RIDGID headquarters in Elyria. In addition, the company will host commemorative events at major trade shows.
We'd love to keep in touch! Check us out on Facebook, Twitter and LinkedIn!