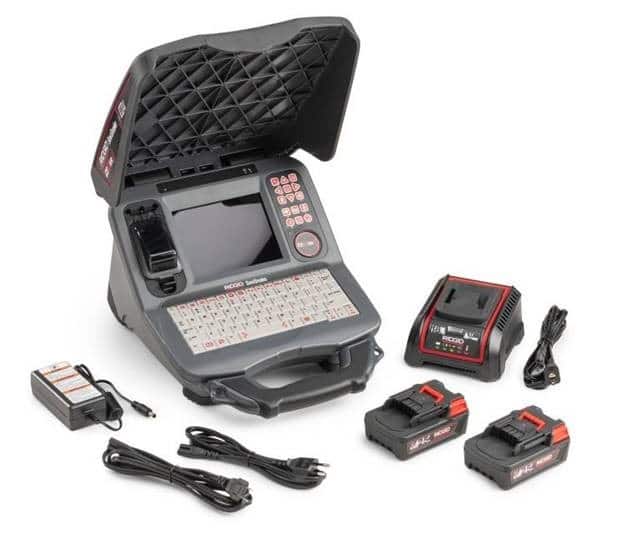 RIDGID, part of Emerson's Professional Tool group, continues to innovate its underground technology solutions, adding purpose-built elements to make trade professionals' work easier and more efficient. Recent upgrades include an enhanced monitor for clearer viewing and reporting, diagnostic tool carrying case for job site organization and wheels to its most popular camera reel for easier transport.
"Our RIDGID brand is dedicated to ensuring our underground technology solutions provide plumbing and drain cleaning professionals with the best possible tools to get their jobs done quickly and efficiently," said Amy Moneypenny, global product manager, underground technologies – inspection and locating, RIDGID. "The enhancements we make to our tools come from the pros that we hear from every day. We understand that the simplest change, like the addition of redesigned wheels, can go a long way in enhancing efficiency."
Recent product upgrades include:
RIDGID SeeSnake CS65XR Digital Reporting Monitor — A powerful, all-in-one reporting solution for plumbing diagnostics. Built on the time-tested platform of the RIDGID SeeSnake CS65x monitor, now the CS65XR boasts a crisp, 1024 × 768 XGA high-resolution and daylight-viewable display for exceptional viewing and clarity on the jobsite.
It features an upgraded LCD screen with higher resolution, USB ports, 128GB internal storage and a full keyboard allowing for the most functionality in the line of RIDGID SeeSnake monitors.
RIDGID SeeSnake CS6x Versa Case — House and protect your CS6x Versa monitor investment with confidence on and off the jobsite. The new CS6x Versa case will organize and safeguard the CS6x Versa monitor, Adapter, 115/230 Cords, 2 RIDGID Professional 18V batteries and 1 RIDGID Charger.
The CS6x Versa monitor with Wi-Fi eliminates the hassle of trying to find a suitable location to place your monitor while doing a plumbing inspection. It features a unique pivoting frame for high and low monitoring positions to allow flexible placement and optimal viewing, working with all RIDGID SeeSnake camera reels.
RIDGID SeeSnake Standard Reel with TruSense — The enhancement of new smooth wheels to the Standard Reels simplifies transportation to and from the jobsite and makes onsite maneuverability easier.
Down pipe visibility is vastly improved with High Dynamic Range (HDR) on these Standard Reels, giving more clearly defined detail of pipe characteristics. Rugged, high-intensity LEDs also provide exceptional viewing and long life.