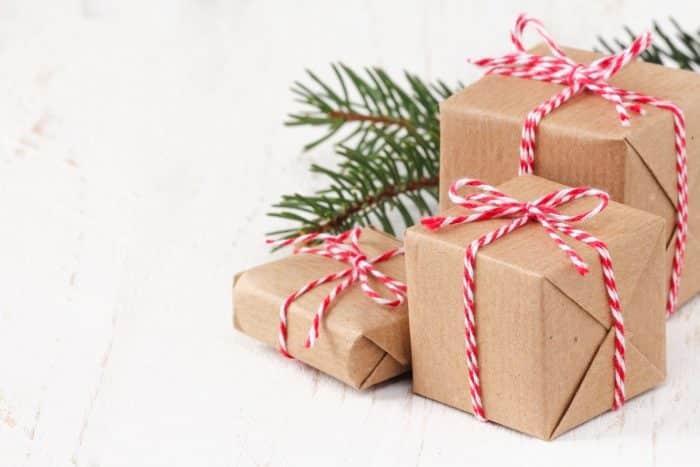 Do you have a contractor or DIYer on your gift list? Or do you want to treat yourself? Check out our hand tool gift guide below!
DEWALT TOUGHSERIES Hand Tools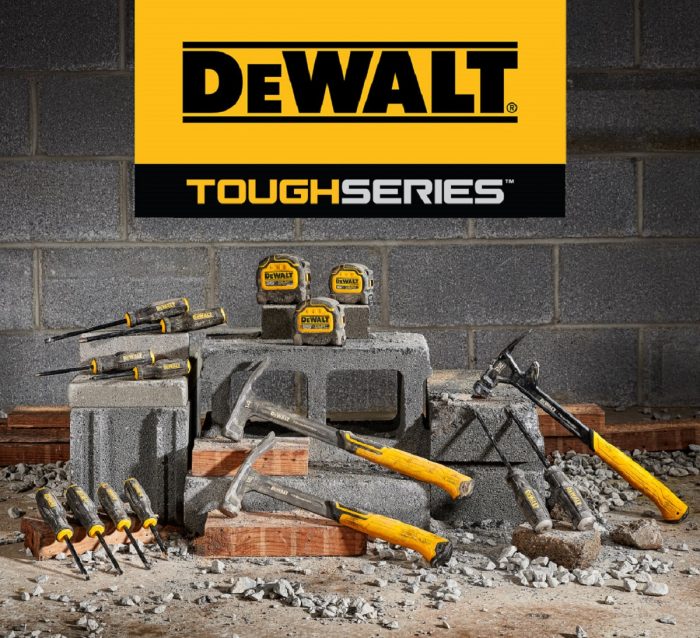 DEWALT's TOUGHSERIES line of premium hand tools represents the most durable hand tools from DEWALT yet. Designed for heavy-duty use in the most demanding applications, the TOUGHSERIES portfolio includes tape measures, hammers and screwdrivers.
TOUGHSERIES tapes are designed with housing that survives a 100-ft drop, and feature a durable coating that protects the entire length of the blade and a 6-in. Rip-Shield blade coating for improved hook connection and long life.
The three hammers — DWHT51138X, DWHT51135X and DWHT51008 — are 5X more durable than previous models and include a magnetic nail starter for one-handed nail placement.
The TOUGHSERIES screwdrivers tout 10X more corrosion resistance than previous models and feature magnetic MAX FIT precision machined tips to help reduce camout and maximize fit within the fastener. The two-piece Demo Screwdriver Set also features a solid steel core and strike cap.
RIDGID micro LM-100 Laser Distance Meter and 12-in. Adjustable Wrench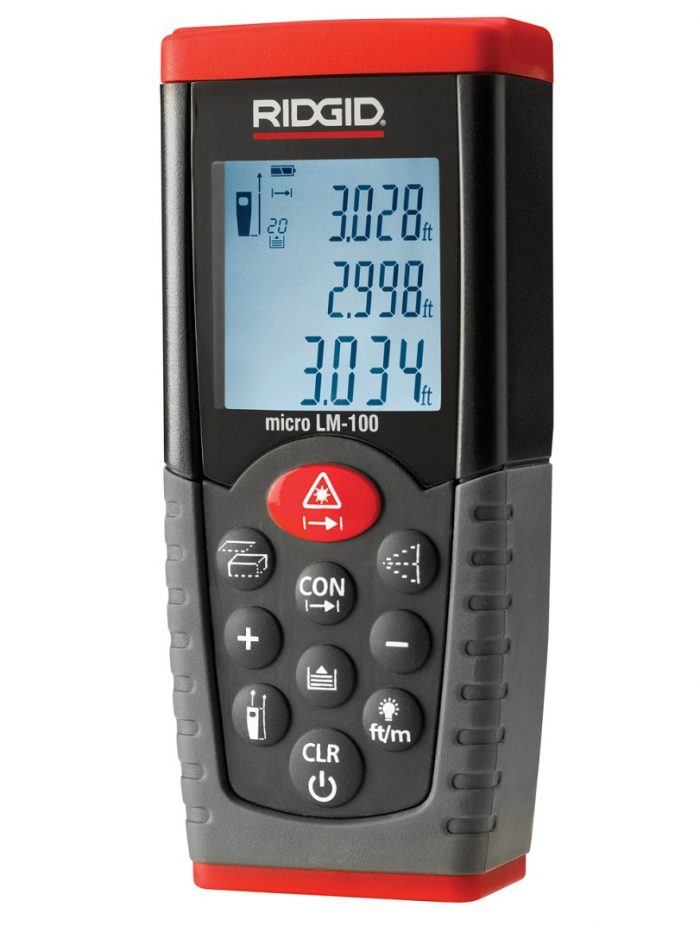 The RIDGID micro LM-100 Laser Distance Meter provides simple, quick and accurate distance readings at the push of a button. Simply push the measurement button to turn on the ultra-sharp Class II lasers, point the device at the spot to be measured, and push the measurement button. The distance reading will appear on the easy-to-read LCD display. This rugged, compact, portable instrument enables professional tradesman to quickly determine distances for piping, measuring trouble spots down the line, and quickly determine spacing for code compliance.
RIDGID Adjustable Wrenches offer tapered wide-capacity jaws, enabling use in tighter spaces. The laser etched SAE and metric scales allow you to quickly and precisely size fasteners.
Supported jaws minimize resistance wear and improve user safety. Low-profile I-beam handle comfortably fits adult-sized hands. Triple-coated chrome vanadium steel provides professional-grade strength, minimum wear and long-lasting durability.
ToughBuilt Builder Polyester General Construction Tool Pouch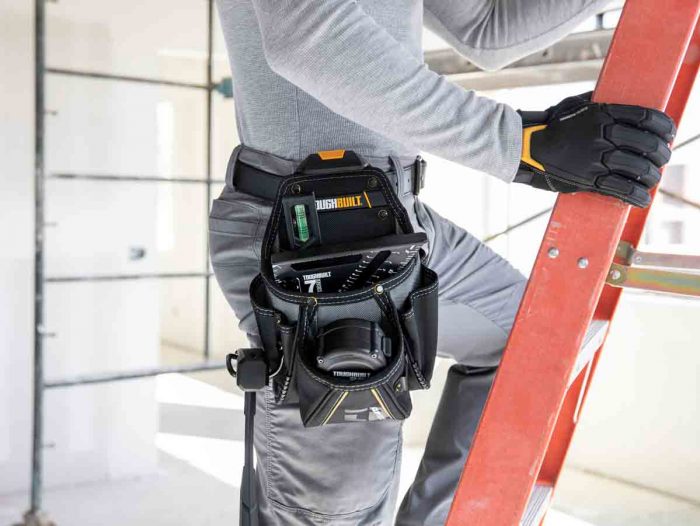 The ToughBuilt Contractor Pouch transforms how contractors carry tools, making it a great gift for your colleagues or loved ones. The patented ClipTech Hub allows this pouch to clip on and off any belt, tool rigs, bags, ladders, walls and vehicles for fast and easy tool organization. The integrated kickstand allows it to stand upright on the ground close at hand.
One of our customers mentioned that the coolest thing about this pouch is the ability to move the bag either side with just one click.
This pouch fits the ever-changing needs of professionals in the field, keeping tools where they are needed, when they are needed. Its 23 pockets and loops — including a rafter square pocket, two large-capacity No-Snag Hidden Seam pockets, notebook pocket and extreme-duty hammer loop — meet the demands of a professional contractor. With rugged 6-Layer Construction and heavy-duty rivet reinforcement, this reliable pouch withstands the most rigorous working conditions and is backed by our Limited Lifetime Warranty, so it can be enjoyed forever.
Get your today at Lowes or Amazon.
Greenlee GSB Series Step Bits and Nail Eater Auger Bits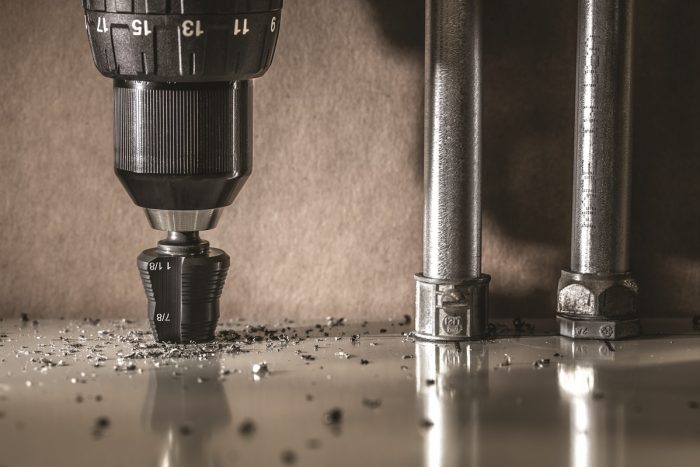 An advanced holemaking solution, Greenlee GSB Series Step Bits feature an improved split-point tip for even faster penetration and a patented split-step design to optimize chip load for a faster and smooth cutting experience. Progressive cutting edges on the bits provide balanced aggression to maximize torque efficiency and minimize stalling when using a cordless drill. An improved double flute design provides enhanced chip evacuation, while also increasing cutting speed and bit life. Laser markings on the bits allow for easy part and size identification. The GSB Series Step Bits for mild steel are offered in two sets, available in 10 Imperial sized step bits ranging from 1/8 in. to 1-3/8 in., and three Metric-sized step bits ranging from 4 mm to 32.5 mm.
Greenlee Nail Eater Auger Bits come in a variety of sizes and feature a unique patented design cutting angle for smoother starts, improved cutting and cleaner holes.
They can cut through nails and have a 30 percent longer life span. Made of super tough, heat-treated steel, the self-feeding screw point draws bit through wood. Shorty bits enable work in tight places, yet still can go through three abutting 2 x 4s. Bit extensions also available if more length is required.
We'd love to keep in touch! Check us out on Facebook, Twitter and LinkedIn!