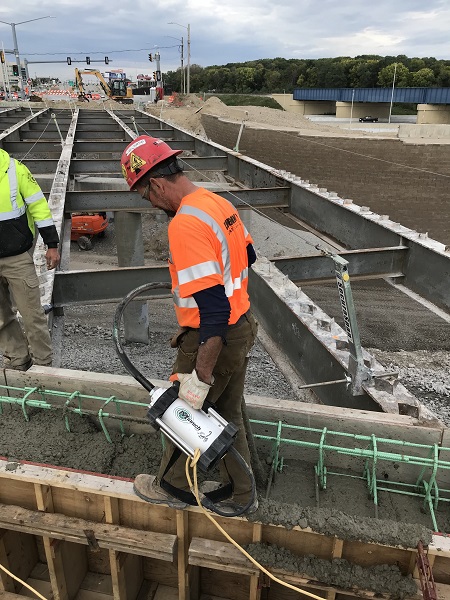 Minnich Manufacturing, a leading manufacturer of concrete dowel pin drills, concrete vibrators and vibrator monitoring systems, showcased the Stinger electric flex shaft vibrator at The ARA Show in Anaheim, Calif. The Stinger — a lightweight, durable and versatile vibration solution — was displayed in Booth 4278.
"The Stinger is an ideal unit to meet a variety of concrete vibration needs," said Rob Minnich, president/chief marketing officer (CMO) for Minnich Manufacturing. "We're excited to showcase this solution to the rental industry in our return to The ARA Show."
The Minnich Stinger electric flex shaft concrete vibrator is a 14.5-lb double-insulated universal motor that can drive the full line of Minnich vibrator shafts and heads from ¾ in to 2½ in. Available in a 15-amp (115-volt) version, it offers a more compatible speed range of 10,000 to 13,000 vibrations per minute (vpm) to meet today's concrete placement challenges.
The unit comes standard with a quick disconnect that adapts to the vibrator shafts and heads of many other manufacturers. A durable protective frame extends vibrator life with urethane end caps that absorb shock while supporting easy-to-grip handles.
The Stinger provides quiet operation meeting Occupational Safety and Health Administration (OSHA) A 29 CFR 1910.95 standards. Its double-insulated motor runs safely when grounded systems are compromised.
Minnich also displayed its gas-powered back pack concrete vibrator designed to maximize operator comfort, mobility and productivity during concrete consolidation. An ergonomically designed, fully adjustable harness is included on the back pack to reduce strain and fatigue.
The updated 35 cc unit is equipped with an all-position diaphragm carburetor for operation in any position without stalling. All core/castings and vibrator heads are interchangeable among all Minnich electric- and gas-powered motors, giving contractors equipment flexibility.
Minnich A-1 Series on-grade and A-1C/A-2C on-slab dowel pin drills are also well suited for the rental segment.'
Tags:
Minnich Manufacturing