Little Beaver's Towable and UN-Towable Hydraulic Earth Drills combine safe and powerful drilling with hassle-free operation and transportation, making it easier for both veteran and inexperienced operators to be productive. Both drills are easy to operate and require minimal experience, making them ideal for use in a variety of industries, including landscaping, fence and sign installation as well as park and recreation departments.
"The Towable and UN-Towable units are perfect for individuals who need the power of a hydraulic earth drill without the operating weight and transportation challenges that can be associated with traditional units," said Mike Hale, Little Beaver sales manager. "The drills' weight is balanced over the wheels, allowing operators of any age or experience level to easily pivot them into place."
That design helps prevent the sprains, strains and tears that are among the leading injuries on jobsites. According to the U.S. Bureau of Labor Statistics, most of these injuries require an employee to take time away from work, sometimes as long as 10 days, to recuperate.
Additionally, the proportion of U.S. workers 55 and older has increased from 31.3 percent in 1998 to 39.4 percent in 2008, and is expected to reach 43.5 percent this year. Studies show that with age comes greater likelihood for injuries on the jobsite.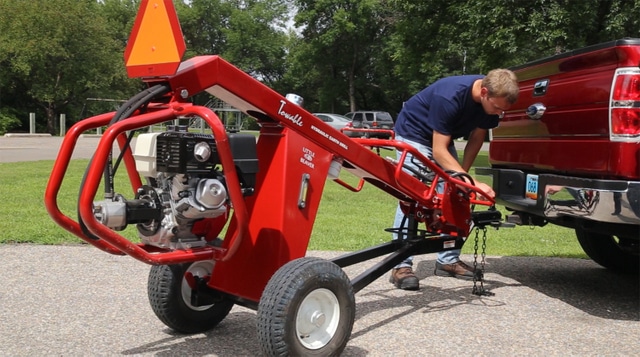 Little Beaver turned to equipment design as a solution. The company designed the Towable and UN-Towable drills to lessen the toll on workers' bodies. Their balanced design and easy maneuverability enhance operation and minimize downtime by reducing injuries. Additionally, these features appeal to those who prefer to avoid difficult labor or who have minimal experience operating hydraulic earth drills.
The UN-Towable has a 9-horsepower Honda engine while the Towable unit has an 11-horsepower Honda engine, resulting in as much as 22 percent more power than competitive drills. The hydraulic systems generate pressures ranging from 2,500 to 2,700 psi and operating speeds of 150 rpm. This allows the drills to power through tough soil without requiring additional operator effort. Also, the drills' three-position handles move to ensure the units' weight remains balanced over the wheels, keeping the drill stable and easy to control.
The drills' balanced, torque-free design enhances operator safety and convenience as do specially engineered components. The integrated forward and reverse auger rotation protects the user if the auger gets caught under a rock or root. Further, a pressure relief valve stops the auger to protect the operator from potential injury. Little Beaver's Towable and UN-Towable drills also feature an infinitely variable 20-degree auger tilt, making it possible to safely drill vertically in uneven terrain. The UN-Towable drill has a standard stationary handle and the Towable drill features a three-position handle that rotates 180-degrees, allowing an operator to drill near buildings, walls and other structures.
Both drills are easily transportable on and off the jobsite. Little Beaver equips the units with an auger lock and 16-inch semi-pneumatic tires for easy mobility with minimal effort from the operator. The drills pivot into digging position without causing damage to delicate lawns and turf. This saves a significant amount of time that would normally be needed for damage cleanup and restoring the area back to its normal state. The 34-inch width allows the drills to fit easily through tight spaces, such as gates, to enter drilling locations that are inaccessible to skid steers and tractors.
The Towable rig can be transported behind any vehicle with a standard hitch using a removable "no-tools" towing hitch, which saves valuable truck or trailer space. The UN-Towable features a removable power pack, reducing the overall weight of the drill by 50 percent, which allows the rig to be transported in the back of a pickup truck or SUV. An optional slide-in receiver hitch offers an additional transportation method for the UN-Towable. The user-friendly E-Z load bracket fits in any 2-inch receiver and is easily secured by cranking the machine up until it stops and inserting the pin to lock the unit in place.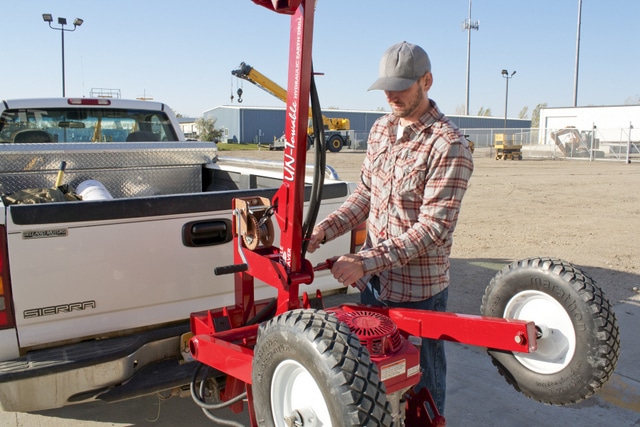 "The Towable and UN-Towable units are economic solutions for contractors facing the challenge of an aging workforce and the overwhelming struggle to entice the younger generation to manual labor industries," Hale said. "The equipment is easy to use and requires minimal experience to operate, so it's also a great solution for do-it-yourselfers who rent the drills from their local rental centers and want to complete projects in an efficient, timely manner."
The Towable drill is compatible with 36- or 42-inch augers and the UN-Towable drill is compatible with a 36-ich auger. Little Beaver offers three styles of auger cutting tips are available — standard, carbide and rock — which use the same secure snap-on connection. Little Beaver backs the Towable and UN-Towable with a two-year warranty, while the engine is covered by the manufacturer's warranty.
For more info about Little Beaver, click this link. We promise quality content.
Tags:
augers
,
Drills
,
Little Beaver