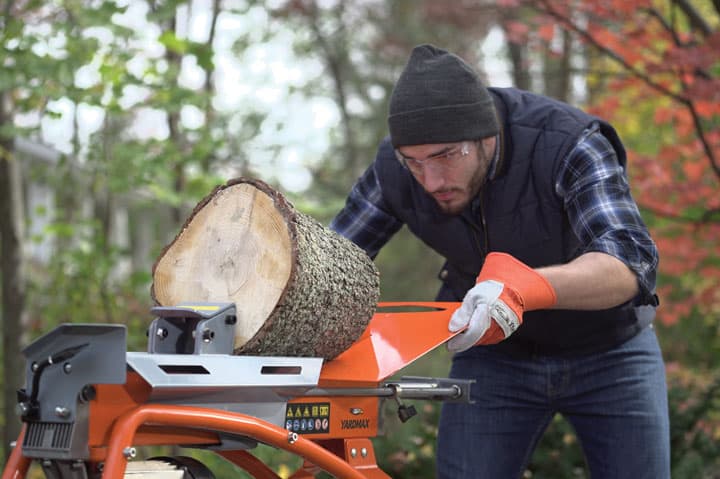 You know you need a log splitter, but which one is right for you? If you're buying a log splitter for the first time or replacing an old one, there are several factors to consider when determining which product is best. This three-step process is designed to help you understand your needs and what to look for before you invest.
Evaluate Your Logs
Start by understanding the type, level of hardness, diameter and location of your logs. There are softwoods (pine, alder and aspen) and hardwoods (cedar, ash, maple and oak). The greener or harder the wood, the more tonnage needed to safely and efficiently split them. Wood is hardest when cut from an alive state because it contains more moisture. Well-seasoned wood requires less tonnage since it's typically had a period of time to dry out before or after harvest. To determine the best log-splitting force needed, find a wood hardness chart online (like at logsplittersdirect.com), which recommends the minimum amount of force or tonnage needed based on wood type and diameter.
If smaller in diameter, well-seasoned or softer, and located close to home or an electrical outlet, then an electric splitter may be best. These range anywhere from 4 to 22 tons in force and can tackle logs from 6 to 24 in. in diameter. Electric log splitters are ideal for someone with limited storage space and smaller projects as they often require minimal time to assemble and can be easily transported.
Gas log splitters, on the other hand, are designed to tackle tougher applications of larger, harder wood. Often able to be towed for operation within remote locations, they come in a variety of splitting positions: horizontal, vertical and dual. With harder wood, it helps to have a dual or vertical splitter so you don't need to lift logs as high. However, the horizontal position provides a comfort of its own, offering cradles to catch the split logs. Having the option to split either horizontally or vertically with a two-way splitter offers added versatility.
Do the Research
Now that you have a better understanding of your wood pile, and an inkling into the type of machine needed to tackle the job, it's time to research products. Searching online for electric or gas log splitter information has never been easier. Check out individual manufacturer websites before jumping directly to the retailer locations. Often times, manufacturers provide more detailed product specifications and resources such as features and benefits videos, FAQs and assembly manuals and videos. Here are some key items to consider:
Electric log splitters:
• Maneuverability: Find out how much the splitter weighs and how it is transported. Many machines do not come with wheels. Look for the option that best suits your locational needs.
• Motor: Review how much tonnage and RAM force is included, and confirm you have enough power to split your hardest logs.
• Stand: Some splitters include a stand to ensure a stable work surface and reduce the amount of squatting or bending to operate.
• Stroke Limiter: This adjustable add-on enables you to shorten the time it takes to split shorter logs.
• Assembly: Some electric splitters come completely pre-assembled or in a box with 100 parts. Be sure to review assembly guides and information ahead of purchase.
Gas log splitters:
• Full-Beam or Half-Beam: Most people don't know the difference and end up choosing a full-beam model because it appears more robust or stronger. Still, half-beam models are easier to move around by hand, lift into a vertical position and are often simpler to own and operate. That is due to their one-person assembly and dual-side operation, all while still being able to handle the same diameter and hardness. Full-beam models are heavier and more easily towed to remote locations, and half-beam models are more compact and easier to store.
• One-Way vs. Two-Way: Splitting orientation can play a major role. Be sure to understand which models are offered in horizontal, vertical or dual (two-way) styles.
• Towing Capabilities: If your logs are located somewhere that requires towing, then a full-beam gas splitter is probably your best option. Half-beam models can be transported, but the additional weight of full-beam models make for easier towing. Full-beam models can be transported to remote wooded areas or work sites without the need for electrical input. If you plan to tow, make sure the models you consider have Department of Transportation approved road tires and a ball coupler.
• Engine: Quality is key. Be sure to choose a splitter that uses a trusted engine type and has a warranty. With electric motors, look for the number of amps. Gas engines are measured by displacement and ft-lbs of torque.
• Assembly: The time and effort of assembly can be underestimated. Take a moment to look for helpful manuals and videos for your potential splitter. Also, check if it will take one or more people to fully assemble your splitter.
Additional Considerations:
• Tonnage: The highest tonnage isn't always the answer. Many times, the price for a 28-ton and a 45-ton are similar, and it might seem logical to pick the highest tonnage option to ensure all wood will be split. Remember, the larger the tonnage, the slower the cycle time, thus the longer it will take you to complete your project. A certain amount of tonnage is needed for each type of wood based on its size and hardness, but most projects don't need more than 35 tons. Be sure to find a product that will cover the tonnage needed for your job and go from there.
• Cycle Time: Cylinder cycle time refers to the length of time needed to split a log completely. This tells you how fast the job can get done. The faster the cycle, the more efficiently the wood can be split. A few seconds per log can really add up.
• Log Capacity: Review the log length and diameter capacities for each model to select a machine that will work best for your largest logs.
• Shipping and Delivery: This is an often-overlooked consideration that can be an incredible factor in saving you time and money. After you select a splitter, be sure to shop around in stores and look at online retailers. Be aware that some of the larger machines may require freight shipping. Don't be afraid to contact the retailer for detailed information about what to expect in regards to shipping costs and logistics.
Additional add-ons that can save you time and money:
• Pre-filled hydraulic oil

• DOT-approved road tires

• Log cradles to catch split wood

• U-beam design for additional strength

• Four-way wedge to split twice as much

• Spinner foot plate to reduce stress on beam

• Ball coupler for immediate towing
Warranties & Customer
Support
No matter the style of splitter you choose, be sure to consider and compare warranties and customer support available from the retailer and manufacturer. Look for warranties that are residential or commercial, depending on your expected usage. Gas splitters often offer engine and hydraulic warranties. Don't underestimate customer support. If you're not sure what level of support a particular brand offers, try contacting them via their website, email or by phone.
By taking the time to evaluate and understand your logs, research products and consider post-purchase warranties and support, you will be better equipped to purchase the right splitter for you. Instead of making your selection based on one feature, like extreme tonnage or cheapest price, having the knowledge to make an educated decision will serve you for years to come.
Tags:
home
,
Log Splitters
,
March 2017 Print Issue
,
Yardmax