AriensCo Provides a Buying Guide in a Market Full of Interesting Options
If this season's snowfall totals are predicted to be anything close to last year's, it's going to be another wet, cold winter. For northerners, this means a choice between either remaining optimistic for a mild winter or having the assurance of a frustration-free snow removal option.
While winter doesn't do well when polling "what's your favorite season?" it's the most exciting time of the year for us at AriensCo. Not only does our Brillion, Wis., headquarters get plenty of snow, but we've been designing and manufacturing the Ariens Sno-Thro for nearly 60 years. With the winter weather season in sight, let's take a look at the snow blower market in 2019.
Single-Stage Snow Blowers
Consumers will see two different types of snow blowers at power equipment dealers and national retail chain stores this winter. Those are single-stage snow blowers and two-stage snow blowers. Single-stage snow blowers are similar in size to a walk-behind lawn mower. Single-stage units are designed for clearing smaller areas that get no more than 6 in. of snowfall at one time, and most are built with 21-in. clearing widths. However, some 18- and 22-in. models are exceptions to the rule. Single-stage models use paddles to ingest snow, scrape it from the clearing surface and throw it through the discharge chute at the top of the machine. The reason these machines are called single-stage is because they both collect and throw snow with the action of the auger paddles.
Single-stage snow blowers don't have a wheel-drive system, and though they aren't self-propelled, they're very easy to maneuver. Single-stage snow throwers are light and can be easily tipped back onto their small wheels and pushed to their clearing location by anyone. While clearing snow, the rotation of the paddles scraping against the clearing surface pulls the machine forward and into more snow. And because their rubber paddles contact the ground, single-stage snow blowers are most effective at scraping snow from clearing surfaces.
Single-Stage Options
Though most single-stage units appear similar on the outside, consumers should be aware that they vary in features and technologies. Single-stage snow blowers are traditionally gasoline powered, but with markets shifting toward desires for more sustainable power options, battery-powered models are becoming popular. Benefits of battery-powered single-stage snow blowers include easy starting procedures and low maintenance requirements.
Gasoline-powered models are traditionally pull start, however many feature the convenience of electric start. Simply plug an extension cord into the unit, push a button and you eliminate the need to use the recoil starter handle. And unlike electric power, a gasoline engine will never fail to start because of a dead battery.
If convenience is at the top of your list, look for a single-stage model that comes equipped with or can be installed with a "remote controlled" discharge chute. This feature gives operators the freedom to control the direction and, in some cases, the height of the snow discharge without the need to walk away from the operator's position to adjust the chute.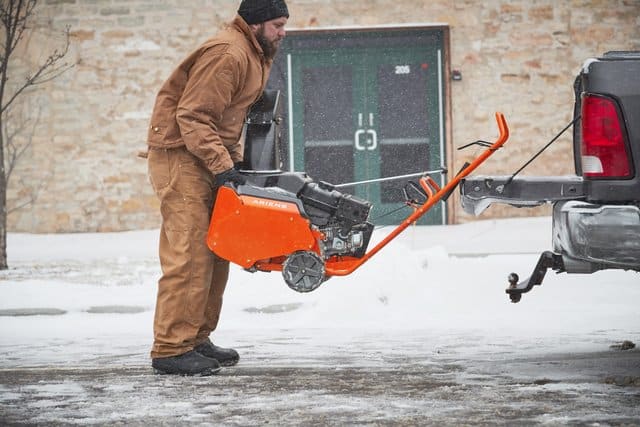 Commercial Single-Stage Options
Commercial doesn't necessarily mean more power or different functionality. Commercial is a product built with more durability, transportability and efficiency for contractors who use single-stage snow blowers in multiple driveways, several times per week. If you want a sturdier option, select a model that comes with an accessible engine that makes more frequent maintenance easy, thicker paddles that will last longer and steel sides instead of weaker plastic cowlings. Finally, consider your crew and your efficiency. If you need a machine that can be loaded into a truck bed by a single person, look at the models with designs that make this possible.
Two-Stage Snow Blowers
If you live in a region that receives 6 or more inches in a single snowfall, or just have a large area to clear, you'll be thankful for an investment in a two-stage snow blower. Two-stage snow blowers process snow with an auger and impeller combination. After the augers chew through snow and push it to the center of the housing, the snow is directed into the impeller fan and thrown out of the discharge chute. Two-stage snow blower designs are ideal for clearing garden variety snowfalls from an average-sized driveway up to extremely heavy snowfalls. Models that boast housing heights of around 2 ft and housing/auger widths up to 36 in. allow users to process literally tons of snow per hour. Though a two-stage is designed for bigger snow, don't be intimidated. Operators of any size and stature can handle a two-stage snow blower.
Selecting a Size
Two-stage snow blowers come in a variety of configurations. Housing widths range from 20 to 36 in. across, and engine displacement can be between 200 and 400 cubic centimeters. Generally, the bigger the housing size and auger diameter, the bigger the engine. Consider the amount of powder you're clearing — that's snowfall volume, consistency and frequency — and how fast you want to clear it. If you have wet, heavy snow from Lake Erie and a 100-ft driveway, you'll want at least a 30-in. housing with a bigger engine for its processing ability.
Newest Technologies
Innovations in snow throwing technology are giving users better performance and a better experience. It was only a few years ago that the first snow blower with an EFI engine was introduced. That technology has led to increased fuel efficiency, less chances for maintenance downtime, easier startup and consistent power delivery, especially for use in higher altitudes with less air density.
Drive technology is also changing. New components inside a snow blower tractor allow wheel-driven units to turn more easily, and innovations in track-driven units make it easier and more fun clearing steep surfaces. Traditional track systems have always provided users with added stability, but they leave a lot to be desired. New track systems are faster and more maneuverable.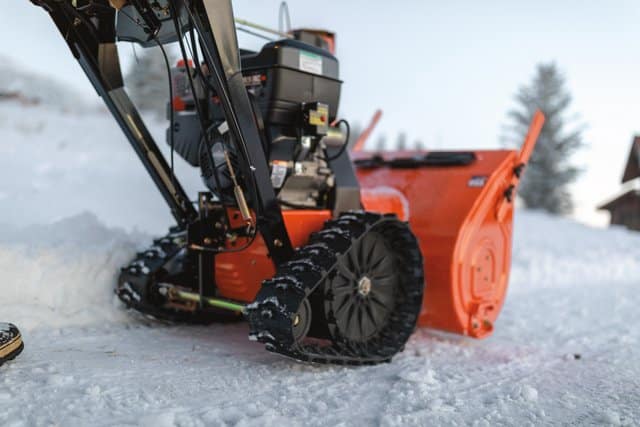 Other Factors to Consider
Of all that goes into the purchasing decision of a snow blower, one of the more important characteristics is in the reputation and the strength of the snow blower brand. Product designs vary from one brand to the next. Not all are built with the same materials. Engineering in the tractor (the box between the wheels), the engine, auger gearcase and more is different, including product designs for fitment with different parts and accessories. If you want a snow cab, weight kit or polymer skid shoes, ensure the unit you want accommodates those options.
Learn about the brand, support, replacement parts availability, ease of maintenance, product warranty and the product's construction. Maybe it's important to you if the product is made in America, and if that's the case, do your diligent research. The great thing about 2019 is that all the information you need is at your fingertips.
Aaron Abler is the email marketing and content specialist at AriensCo.
---
Selecting Snow blower Features
Among all feature choices, what do you consider a must-have and what's nice to have? If you're clearing after dark, a headlight is a must have. Consumers also have plenty of choices with discharge chute rotation and discharge height controls. Your hands stay busy when clearing snow, so you'll want a snow blower that makes it easy to start, stop and redirect snow discharge easily and without leaving the operator's position. Though most of these controls are positioned at the operator's fingertips, not everything is standard. More innovative chute controls and heated hand grips, among other things, are only available in select packages.
Tags:
Ariens
,
Ariens Co.
,
home
,
September 2019 Print Issue
,
Snow
,
Snowblowers