The COVID-19 pandemic has forced many companies to get creative in sharing their new equipment and products. Just look at Toro. A couple weeks back the company hosted a virtual press conference where it released a slew of new mowers, attachments and snow products, including the POWER TRX HD Snow Blowers and 60V Flex-Force Power Shovel. It was the perfect way to see what Toro's been up to since travel and tradeshows came to a screeching halt in March. And what's better than getting to learn about new products? Getting to learn about them at home while wearing my Taco Tuesday T-shirt.
Anywho, let's take a closer look at the two new snow products…
POWER TRX HD Snow Blowers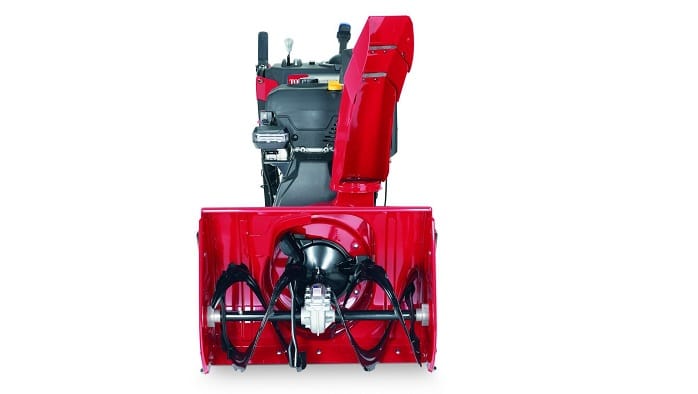 The new POWER TRX HD commercial snow blowers are perfect for clearing large areas with heavy snow and snow-packed slopes. The units boast Toro's 420cc premium 4-cycle OHV engine, power steering capabilities and the power and capacity needed to clear snow more than 20 in. deep. Customers can choose between 28- and 32-in. clearing widths.
According to Toro, the POWER TRX HD units feature a hydrostatic-powered transmission for self-propelled operation, and the track drive grips the surface for stability and traction on tough terrain and slopes. Toro also points out that the snow blowers' Infinitely Variable Speed gives the operator total control over the machine's speed and makes it a breeze to change speeds on the go.
"Users with slopes or steep terrain and heavy snow areas can clear large spaces in a short time with the POWER TRX HD series, which is also powered by a self-propelled hydrostatic transmission," said Christina Howell, marketing manager at Toro. "It's a great solution for homeowners with steep driveways, in heavy snow areas that need to adjust their housing up or down, with a push of our quick-adjust lever they can easily go up for climbing or transport, flat to blow off a level surface and down to dig into the snow."
60V Flex-Force Power Shovel
Next up is Toro's 60V Flex-Force Power Shovel, which is ideal for clearing decks, patios, sidewalks and driveways that hold up to four parked cars. It can easily clear up to 6 in. of snow in a single pass and offers a 12-in. clearing width. Toro says this powerful machine can also shred through snow and throw it up to 25 ft, due to the Power Shovel's innovative Power Curve technology.
The Power Shovel features a two-speed option, which allows users to adjust their speed preference, as well as a Flex-Force 2.5ah 60V Battery System. The company says the Flex-Force Power System ensures a runtime of up to 45 minutes on a single charge and a 60-minute recharge time.
"We wanted to give our customers a battery-powered snow removal option that's compact and easy to handle, yet powerful enough to get the job done," said Howell. "We believe we've developed a tool that meets all the snow removal needs for customers, and it's also a great supplemental tool for larger areas such as steps, decks, patios, etc. This tool truly allows customers to clear every corner of their property with precision and ease. This important balance of simplicity and power in the introduction of the 60V Flex-Force Power Shovel is a win-win for users looking for high performance packed into a compact, easy-to-use machine."
Tags:
Toro