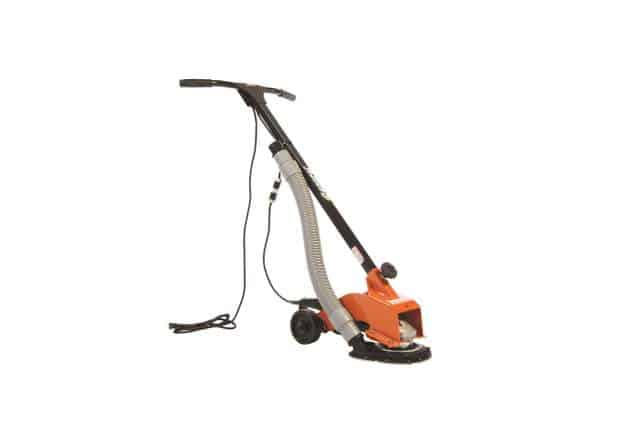 The new SG7 SurfacePro edge grinder from General Equipment Company is an ideal edge grinder for everyone from do-it-yourselfers to commercial contractors. Intended for smaller areas, it can accommodate a wide variety of surface preparation applications, such as leveling concrete and asphalt, with unmatched productivity and versatility.
The heavy-gauge steel frame is ergonomically designed to allow the operator to work in a fully upright position. This greatly reduces the potential for lower back pain, strained knees or other occupational-related health issues, all while increasing productivity over hand-held grinders.
The compact size of the SG7 provides a unique advantage over other edge grinders on the market. With a detachable handle and weighing only 27 pounds (12.3 kg) without a blade, it is easy to lift and transport, fitting in almost any size vehicle. It also provides the rigidity to remove materials with more accuracy and control than larger machines that lack the same agility and maneuverability.
Other standard features include Anti-Vibe caster wheels and a 1.5-inch (38.1 mm) diameter dust connection port and hose to handle applications with dust control requirements. The SG7 also comes with a flexible dust shroud that incorporates a flip-up edge for improved viewing of the grinder cup edge when operating near features such as walls. The edge grinder comes supplied with a 7-inch (178 mm) diamond cup wheel.
In business since 1955, General Equipment Company is a family-owned manufacturer of hole digging, surface preparation, dust collection, plus portable ventilation, air scrubbing and lighting equipment. For more information, contact General Equipment Co., 620 Alexander Drive S.W.,
For more info on General Equipment Company, click this link. You can do it!