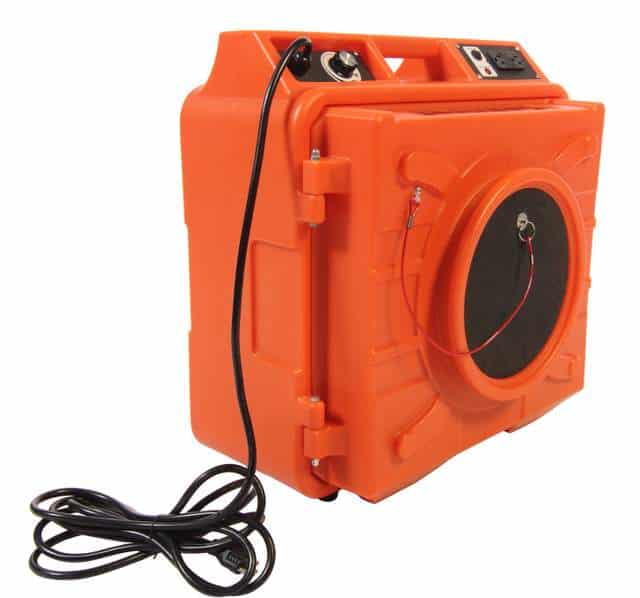 The AF501 portable HEPA air filter is General Equipment Company's latest addition to its AIR-SCRUB-R line. This compact, efficient unit delivers air scrubbing/negative pressure air movement capabilities, as well as outstanding air filtration in a wide range of industrial and construction-related job applications in nonhazardous locations.
Featuring a two-stage design, the AF501 includes a 30-percent pre-filter and a 99.97-percent-efficient HEPA secondary filter, capable of capturing allergens and other particles as small as 0.3 microns. The pre-filter can be replaced with an optional activated carbon filter to help absorb a variety of volatile organic compounds (VOCs), smoke, and other noxious odors and contaminants. An indicator light on the unit alerts users when to change filters to maintain optimum airflow and filtration.
A variable-speed motor allows the AF501 to provide adjustable air flow rates up to 500 CFM. For larger applications, multiple units can be daisy-chained together. Up to four AF501 air filters can operate on a single circuit using the integral GFCI outlet and 12-amp breaker.
The AF501 offers a 9.5-inch-diameter inlet for maximum air flow and low power consumption. It also allows easy attachment of standard ventilation ducts for negative/evacuation air flow applications.
Other standard features include a ¼-horsepower, 115 VAC electric motor, aluminum hub/blades, and a high-density polyethylene housing that is UV-resistant. The AF501 weighs only 31 pounds and is stackable for easy transport and storage. It operates quietly with sound levels ranging from 56 to 72 dBA.
For more info on General Equipment, click this link. It's super clickable Honest.
Tags:
General Equipment
,
General Equipment Company