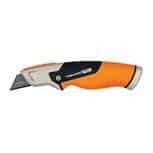 Fiskars, famous for the iconic Orange-handled Scissors and known for its everyday tools and superior performance, has a NEW line of Pro Utility Knives in the hardware category. These knives are sharper, smarter and more durable, designed specifically for professionals.
Fiskars Pro Utility Knives – Key Features:
Longest lasting blade
CarbonMax coating keeps blade sharp 24X longer than competitive blades
Best blade security
Accidental blade release prevented by improved locking system, audio and visual locking cues, and smarter button placement
Tabs ensure blade won't pull out when twisted
Improved ergonomics
Multiple grips provide comfort regardless of position
Softgrip with strategic texturizing enhances comfort
Easy-access buttons to enhance ease of use
These new knives will be in-store and on Fiskars.com starting July 1.
Want to see the latest hand tools on the market? Click here!