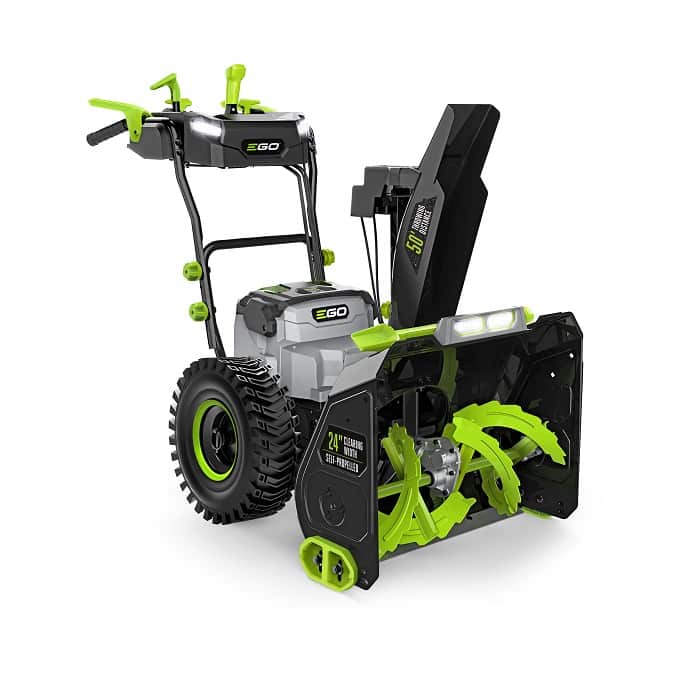 Clearing your driveway and sidewalks in the Winter can be a dreadful chore. EGO has taken a lot of the stress out of starting up the snowblower with its introduction a few years back of a 56V ARC Lithium battery-powered single-stage snowblower. A press of a button and the motor , that delivers all the power of gas, roars to life; a far cry from the more usual routine that gas-powered machine owners are all too familiar with; choking, priming, and pulling a cord and then hoping for the best.
EGO, the top-rated line of battery-powered OPE, has taken its game up a mega notch with the introduction of a 2 stage battery-powered snowblower and an improved version of the single stage.
Let's start with the 2 stage model # SNT2400.
It's designed for people who want to move a lot of snow or who are plagued with snowplow piles at the end of the driveway. It's 24-in. wide, thick gauge steel box, with its aggressive steel augurs and retractable drift cutters, chews through the frozen stuff, and delivers it to the steel impeller that flings the snow up to 50 feet; a distance that one designer termed "embarrassingly far." A difference of note between the EGO and all other gas-powered snowblowers is that the augur and impeller work off one high-efficiency brushless motor while the drive mechanism works off its own high-efficiency brushless motor. This means no belts to break, no oil or gas to spill, little noise, and no fumes!
Traction is assured on all manner of surfaces with aggressive 15 in. x 3.5 in. wheels and a limited-slip differential that allows the machine to make turns effortlessly.
EGO has also paid great attention to the user interface. Dexterity with big Winter gloves is not a given and so all the controls are designed to be easy to use while delivering maximum efficiency.
To engage the drive you squeeze the handle grips. Once in gear, you can let go of either the left or the right handle which will then allow you to work the other controls with your free hand. In forward, you can adjust the speed from .9-2.7mph. The reverse speed is .9 mph. Each increment is defined with a click of a detente.
Directing the snow is achieved with a sure-handed push of a joystick across a 200 degree arc … and you can put the snow exactly where you want it with another lever that raises or lowers the chute cowling. A bank of LED headlights, high and low on the machine, allows you to see what you're doing no matter the conditions or time of day.
With two 7.5 ah ARC Lithium batteries, you can easily clear an 8 car driveway with 14 in. of medium density snow. It's also available with two 10ah batteries that will give you 25 percent more run time; ideal for very long driveways that hold 10 or more cars or for users who take care of multiple properties. Included in the kit is another EGO innovation, our first-ever Duo charger that charges 2 batteries … getting you back to work in as little as 2 hours. And, because EGO Snowblowers run off of 2 batteries simultaneously, they deliver Peak Power; allowing you to operate under high amp draw conditions, enabling the snowblower to gobble up and spit out the heaviest snow; not bogging down like many gas snow blowers!
Now, for the refinement of the original EGO single-stage snowblower; same brushless motor, same one-button start, same 21-in. clearing width, and same easily directed chute. But, instead of hard rubber paddles that fling the snow up and out of the chute 35 ft, the new blower, model #SNT2110, has steel augers that aggressively chew through the snow and end of driveway crud to send the snow flying up to 40 ft. Even more efficient than it's predecessor, it will clear a 17 car driveway of up to 8 in. of medium density snow on a single charge.
All of EGO's 50+ tools run off any one of EGO's batteries. All tools come with a 5-year warranty and a 3-year warranty of the battery.
Tags:
EGO