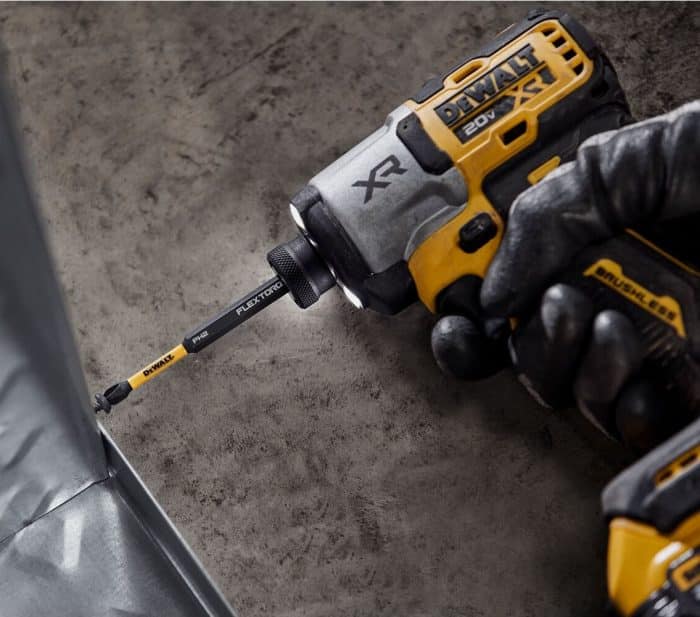 DEWALT has announced new FLEXTORQ Impact Driver Bits (DWFLEXTORQSD), the latest generation of impact driver bits from DEWALT that are engineered for durability. With redesigned tip geometries, the bits offer users optimal performance and fit. New FLEXTORQ PH2 bits drive 100 percent more screws per bit† while the bits for use with T20 to T40‡ size fasteners deliver from 2X up to 5X superior fit.** Additionally, every FLEXTORQ bit features a FLEXTORQ Zone designed to absorb impact for up to 200X longer life* as well as laser-etched, highly-visible size markings for quick bit identification.
FLEXTORQ Screwdriving Bits are available now where DEWALT products are sold.
* 200X longer life on average vs. standard DEWALT screwdriving bits (select sizes – see website for details)
† On average vs. previous generation of DEWALT FLEXTORQ screwdriving PH2 bits.
** On average vs. previous generation of comparable DEWALT FLEXTORQ screwdriving bits (T20 – 3X, T25 – 4X, T30 – 5X, T40 – 2X)‡
‡ T20, T25, T30 and T40 are trademarks of Acument Intellectual Properties, LLC, used without permission to indicate compatibility.
We'd love to keep in touch! Check us out on Facebook, Twitter and LinkedIn!