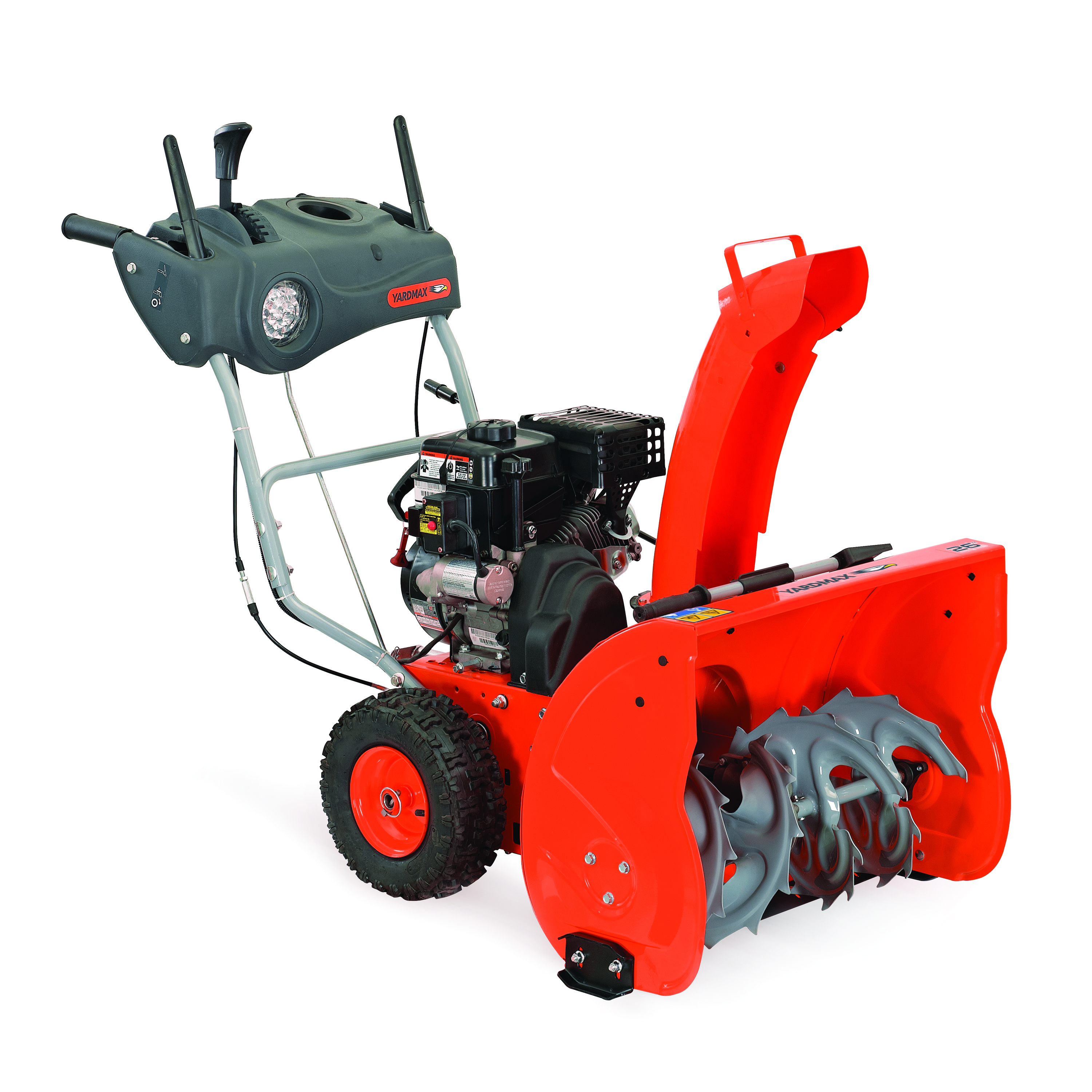 Yardmax, a manufacturer of innovative, high-quality outdoor power equipment (OPE), offers a new line of snow removal equipment to the U.S. market that is specifically engineered to deliver the best user experience and reliable performance without the high price, starting at $249 (MSRP).
Both the Yardmax snow thrower and snow blowers help users save time and remove snow with ease. Premium design features come standard, such as the LED headlight, dashboard, heated grips and cup holder on the 26-inch Two-Stage Snow Blower. This supports the company's focus on delivering the highest quality OPE products to the market at the best value. Yardmax also takes extra steps to design and manufacture quality machines that stand up to demanding applications like snow removal for years on end. An example is the incorporation of solid stamped steel versus plastic parts for added strength where it's needed most.
Two-Stage Snow Blowers
Available in 22- 24- and 26-inch snow clearing widths, the heavy-duty and powerful Yardmax two-stage snow blowers easily cut through large areas of heavy snow in excess of 12 inches deep, while helping reduce operator fatigue. Key features include:
• Self-propelled drive with multiple speeds for agility and maneuverability
• Serrated steel augers to effortlessly slice through hard-packed snow and ice
• Heavy-duty aluminum gear case with alloy steel gears and synthetic gear oil for long-lasting performance
• High-speed impeller to ensure maximum throwing distance and minimal snow blowback
• Extended chute that maintains a tighter discharge
• Dashboard with an LED headlight, speed control and cup holder
• Heated hand grips to provide user comfort in the harshest weather
• Standard pin-lock axle offers two options: 2-wheel drive for increased traction; or 1-wheel drive for even greater maneuverability
Single-Stage Snow Thrower
Ideal for small- to medium-sized snow removal applications, the compact, yet powerful single-stage snow thrower easily cuts through snow up to 11 inches deep, while speeding the process with a snow-clearing width of 18 inches. Lightweight and easy to maneuver, the thrower incorporates self-propelled, rubber-edged augers that pull it forward while clearing down to the pavement. The on-chute handle smoothly rotates the chute 180 degrees to distribute snow from one side to another, while the adjustable deflector locks into the desired angle to direct the snow plume where needed. A fold-down handle makes storage and transport easy.
The Yardmax snow thrower and snow blowers are backed by robust warranties and personalized customer support, including in-stock, readily available replacement parts – express-shipped if necessary. Standing behind its products, Yardmax offers a two-year residential warranty on all equipment.
For more info, visit www.yardmax.com.