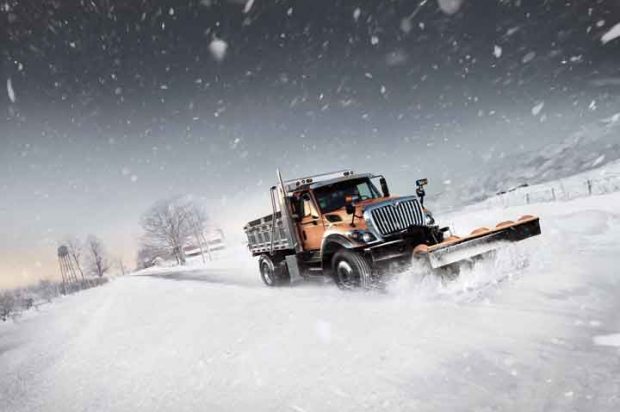 The Snow and Ice Management Association Shares Its Industry Insights
Throughout most of the United States and Canada, last winter left many snow and ice management professionals asking: Where's the snow? Several areas experienced record low snowfall and high temperatures. This marked quite a departure from the past few years in which snow professionals had to deal with multiple events and salt supply shortages. Snow Business magazine, the official publication of the Snow and Ice Management Association (SIMA), recently wrapped up its annual State of the Industry survey. Respondents cited weather uncertainty — particularly low snowfall and shifting winter patterns — as two of the top three challenges that impacted winter operations in 2015/16. But early predictions show the 2016/17 winter roaring back with a fury — will you be ready?
Let's take a look at five key areas that deserve a laser focus this fall to ensure your snow operations are ready to roll when the snow flies.
Sign on the Dotted Line
The State of the Industry revealed that nearly 75 percent of respondents were still finalizing contracts after September 1. Routes need to be set, equipment allocated and labor hired. Yet none of those tasks can be achieved efficiently if your team is still selling winter work. Over the past few years, SIMA and property and facility managers have been increasing dialogue on how to better work with each other. A key disconnect has been on when contracts are awarded and signed. Together, stakeholders across both sectors worked to create a timeline to address those challenges. While market-specific nuances may have some impact, the best practice should be to have all contracts awarded by late summer/early fall. The timelines, as well as a risk meter that addresses the impact of late contract selling, are available for free at sima.org/timeline.
Hire Your Team
Unless you rely solely on in-house employees, now is the time to finalize hiring seasonal workers to round out your snow teams. This will give companies time to onboard team members. However, the survey results show this task may be easier said than done. For several years, recruiting reliable workers has been at or near the top of the biggest challenges that will impact snow operations. Let's face it, winter work is a tough sell — long hours, 3 a.m. wake-up calls, cold and wet weather, demanding clients. Job fairs, local college job boards and even referrals from your existing team members can provide a pool of potential employees.
Don't be content to hire "warm bodies" to fill your needs. Sell your story and company vision and show them how they can be part of a winning culture dedicated to safety and outstanding customer service. Motivate all workers — seasonal and full-time — with training, team building and recognition of a job well done. Establish a culture that snow and ice management isn't a job but can be a career with the right attitude and advancement protocols.
Once You Have Them, Train Them!
The importance of training cannot be underestimated to ensure that everyone is on the same page with expectations and to ensure they are performing their duties safely and efficiently. Having a formal training program can help prevent training from slipping through the cracks, yet the survey found 54 percent don't have a formal program in place.
Most respondents (46 percent) said they only train for snow operations in the preseason. Consider a preseason kickoff event that incorporates training, paperwork completion and a little fun and food to get your team pumped for the season. That team building can go a long way when it's 3 a.m. and snowing. While preseason is a good start, training throughout the season (and preferably year-round) is better. Quick 10- to 15-minute refresher "tailgate talks" on a specific topic can help keep the training going and plant the seed that safety and education are important.
The survey showed that those who do train their workforce prefer peer-to-peer training (again, help employees take ownership in the company's success), storm ride-alongs with an experienced operator and video training. Several training and safety resources are available for free or at low cost, but company owners and managers have to take the first step to make training a priority. Many resources are online in the Training Center at sima.org/resources.
Prep Your Equipment
You can have the best workers in the world, but they have to have reliable equipment to perform their duties. Fall is a great time to begin the transition from "green to white" operations. Identify the date you want all operations to be ready to roll (consider the possibility of an early-season storm), and then work backward to create a timeline for equipment maintenance and prep. This timeline will be different for each company based on location, client expectations, amount of equipment, training and the historical knowledge of when the first snowfall typically hits.
Among the tasks that should be undertaken for equipment readiness? Evaluate your supply of major parts (plow pumps, spreader motors, hoses, etc.) and order early to ensure you're not left hanging in the middle of an event. You should have cleaned, repaired and prepped equipment for winter storage. But now is the time to take everything out and give it a good once over and ensure it is operational. For equipment that is used year-round, make sure it receives a checkup when it's switched over for winter use. Make sure routine preventive maintenance is up to date.
Watch Your Salt Output
Over the past several years, SIMA has been investing and participating in initiatives designed to adopt salt application rates that make business sense but also proactively address environmental concerns associated with over-application. The importance of adopting best practices for effective salt use became more apparent in 2012-2014, when the industry experienced salt supply shortages. Implementing salt accounting practices, calibration protocols, effective application rates and considering the benefits of liquid applications are a few ways that companies can begin to make an impact.
These are among the best practices that have been established through SIMA's Sustainable Salt Best Practices Stakeholder Advisory Committee. A free download of the best practices is available at www.sima.org/bestpractices. For those who want to take additional steps to help the industry identify real-world application rates, SIMA is seeking snow and ice management professionals to participate in the Sustainable Salt Initiative. Last season, contractors in 10 states and Canadian provinces participated in the initiative, which allowed SIMA to track more than 200 trucks, more than 1,500 properties and about 50,000 tons of applied salt. To learn more, visit sima.org/sustainablesalt.
A methodical, proactive approach to snow and ice management can help lead to safer conditions for your team and the general public and to more satisfied clients. Little steps can lead to big payoffs — regardless of how much snow falls. So don't let Mother Nature get the upper hand. Plan now for success this winter.
Cheryl Higley is manager of editorial and information for the Snow and Ice Management Association and editorial director for SIMA's Snow Business magazine.