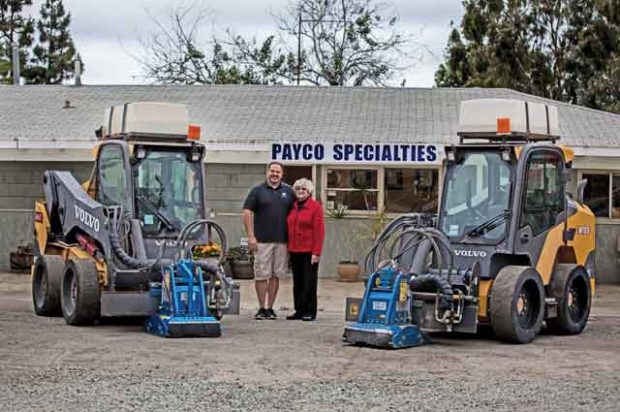 The Road to Success
The first painted highway center lines were inspired in 1911 by a leaking milk wagon dribbling a white trail down the middle of a dirt road. More than 100 years later, road surface markings rank alongside inventions like three-point seat belts, airbags and traffic lights in helping keep motorists safe. While the use of milk may have scored high in the creativity category, the ensuing decades brought sophisticated materials and processes to amplify the visibility and add durability to pavement visual cues, including the use of thermoplastics, anti-skid markings, 3M Traffic Tape and reflective pavement markers.
Payco Specialties Inc. has perfected its craft for more than 40 years and established itself as a small company with a major foothold on road marking projects in Southern California. Payco's focus is on permanent and temporary stripe application and removal, reflective pavement markings, cutting custom stencils and parking lot and airport striping.
Adapt and Innovate
As its name implies, Payco Specialties, located in the San Diego suburb of Chula Vista, started out offering two marginally connected services: striping parking lots and manufacturing concrete wheel stops and fire rings (a staple of SoCal beachside evenings). When a pre-cast concrete conglomerate absorbed most of the independent players' business, Payco quickly pivoted to expanding its lining services. To survive, the company had to push technology to get the equipment it needed to stay competitive. That often meant fabricating and customizing equipment in-house to meet their specific applications.
"In the late 1970s, no one built custom road striper trucks. Even now, there are only a few companies committed to building these very specific trucks," says Jeff Llewellyn, vice president. "We were the first company to install video guidance cameras on our paint trucks so we could get the lines straighter, and we also modified paint striping trucks to add a skip timing controller before computers. We even installed worker seats 4 in. above the ground so reflective pavement marker operators had closer access to their work."
Payco also developed a short, narrow bodied long line thermoplastic striper truck that could fit inside the trim confines of city streets but also had the capacity for fast-paced freeway work, which opened up more job opportunities.
Getting an Arm Up on Efficiency
In the San Diego area motorists spend an extra 42 hours per year in traffic delays due to road congestion, according to the 2015 Urban Mobility Scorecard. Llewellyn notes that 95 percent of local paving and associated line resurfacing work for the California Department of Transportation (Caltrans) happens at night to avoid clogging traffic with crippling penalties for delays.
"On most major Caltrans jobs, in the first minute you are late they can fine you up to $10,000, and then you are charged $1,000 for each minute after that, so just being five minutes late can mean giving up the entire job," says Llewellyn, adding that a four- to six-year Caltrans project could tally up to 100 stages of temporary pavement markings.
"Realizing the time constraints of being late on a freeway job has sharpened my crews to a razor's edge, so even on a city job or private contract, where we don't have those same constraints, we still bring that same high level of performance."
Night-time motorists snaking along I-5 may have seen another modified piece of Payco's fleet, a Volvo MC115C skid steer loader, clipping along the center double line, popping the reflective pavement markers from the asphalt with a special-fitted bucket plate and flipping them into its 60-in. bucket.
Performance is what led Llewellyn and his industrious team to develop a proprietary modification to their skid steer loader to more efficiently remove the cat's eye reflectors at high speed. While Llewellyn keeps specifics close to his vest, the modification uses a specially designed plate welded to the front bucket edge. A skid steer that offered strong hydraulic flow for power and precision with full visibility from the cab was tantamount to the success of their design concept. Llewellyn was unbiased in his analysis, comparing side-by-side specs across different manufacturer machines.
"Volvo skid steers have a very high rate of flow and head speed. For example, in second gear we are getting around 13 to 14 mph. Compared to the competition, the MC115C cuts the amount of time to remove reflectors from a four-mile freeway closure in half," Llewellyn explains. "Plus we get a fully enclosed cab with AC and heated seats for much less than the closest competitor. The bean counter in me liked the price, but the operator liked the performance it delivers. It's fast and has strong hydraulic flow."
The MC115C with a 74-hp Tier 4 Final engine has a hydraulic flow rate of 33 gpm and 2,600 lbs lifting capacity so Payco can employ it for multiple applications. The skid steer is fitted with an auger attachment for digging roadside signs and forks to load 2,000-lb pallets of thermoplastic powder, a job that in the past was handled by a compact wheel loader.
Payco added a second MC115C to power a Schibeci Polyplaner PP600 that is used to grind off thermoplastic striping from roadways during relining projects. Moving at a steady 1 to 2 mph, the planer's 24-in. diameter grinding head consistently flat mills the surface without any loss in engine or hydraulic power, leaving a smooth finish.
A Female Frontrunner
Payco remains a private, family-owned company that is both WBE (Women's Business Enterprise) and DBE (Disadvantaged Business Enterprise) certified. Payco also maintains a compact payroll that steadies around 20 employees. The volume increases in work have been managed through smarter equipment versus additional labor.
"We're still mom and pop," Llewellyn says, quite literally. Payco was founded in 1975 by Jeff's parents, Rebecca and Dave Llewellyn, who purchased the original business which made preformed concrete wheel stops for parking lots. Rebecca continues to serve as company president and is an ardent advocate for small business in the Greater San Diego area and a pioneer for women within the construction industry on a national level. Locally, she speaks for the underdog.
Says Llewellyn, "Rebecca fights for the micro-size companies. She serves on the Caltrans Small Business Council to make sure they understand how a $170 million infrastructure project whittles down to the smallest contractor. It's important they hear that voice when they are crafting their policies and procedures."
Rebecca has served as chair of the City of San Diego Citizens Equal Opportunity Commission and currently is a committee leader for the California Small Business Association and active in the Association of General Contractors (AGC). That tenacious spirit has piloted the Payco family since day one. Says Llewellyn, "Our reputation is our best product. Straight lines and efficient work. That is why Payco is still here 40 years later. And Rebecca makes sure of that — she drives most every street to make sure every line is straight."
Amy Crouse is a product marketing and communication specialist with Volvo Construction Equipment.