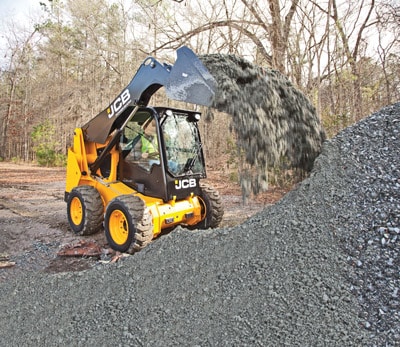 When you need a compact machine that can truly multi-task, it's hard to beat a skid steer or compact track loader. Simply outfit one of these machines with different attachments, and it can be used for a wide variety of tasks around the farm, construction site or landscape. Snow removal, roadwork, land clearing, fence construction and materials handling — all can be more easily accomplished with these versatile machines. However, that same versatility means that skid steers and compact track loaders often log some long hours in the field under less-than-ideal conditions. According to Ashby Graham, JCB North America's global product manager for skid steers and compact track loaders, that's why manufacturers are making these machines tougher and more durable than ever before.
"We closely scrutinize all the materials used to build our machines," Graham says. "From there, we monitor our manufacturing processes to achieve the highest level of quality control. We talk to our customers to learn more about how they're using the machines. That presents us with the opportunity to build additional strength and durability where they're needed most. It can even lead us to developing new models specifically designed and engineered for a particular application."
No matter how tough or durable a manufacturer makes a machine, how an operator uses and maintains it will have a tremendous bearing on its longevity. Here are a few tips from JCB on how to help a skid steer or compact track loader achieve its longest possible service life.
Choose a machine that's the right size for the job.
It might be tempting to choose a smaller machine to save money, but operating a machine that is at or near its capacity or power limits will compromise overall performance and service life.
Never use an attachment that's too large for the machine. Doing so can affect weight distribution, and the attachment's hydraulic flow or pressure requirements may not match the machine's hydraulic design.
Keep air filters and cooling packs clean in environments with dust or other airborne contaminants. Certain worksites or applications can kick up dust or other contaminants. Keeping air filters and cooling packs clean will ensure maximum air flow.
Don't overwork a machine that's being used in a very demanding application. Some skid steers are used in applications that require a hydraulic attachment that causes the machine's hydraulic or cooling system to experience higher-than-desirable temperatures. In this situation, be sure to allow the machine sufficient time to cool down before resuming work.
Ensure that all machine alarms, lights and safety interlock systems work. This is imperative for the operator as well as the life of the machine itself.
Adhere to the manufacturer's recommended maintenance and service schedules. In particularly demanding applications, like demolition, recycling, scrap handling or ship trimming, it may be advisable to service the machine even more often to ensure a longer service life.
Don't cut corners by using inferior aftermarket parts. When machine parts need to be replaced — filters, oil, tires, fan belts and so on — it's best to go with those provided by the original equipment manufacturer. Using cheaper parts from another company may be tempting, but it can negatively impact a machine's service life.
"Our customers are finding that they can get a lot more for their money by purchasing a versatile skid steer or compact track loader rather than a more specialized machine," Graham says. "Everyone wants to be able to do more with less. That's why we're designing machines that can handle the toughest conditions. The customers who take the proper care when operating and maintaining their machines are the ones who will benefit from even better performance and value."
George Chaney is the skid steer loader and international sales manager for JCB.
Tags:
2015 June Print Issue
,
JCB North America
,
Operation