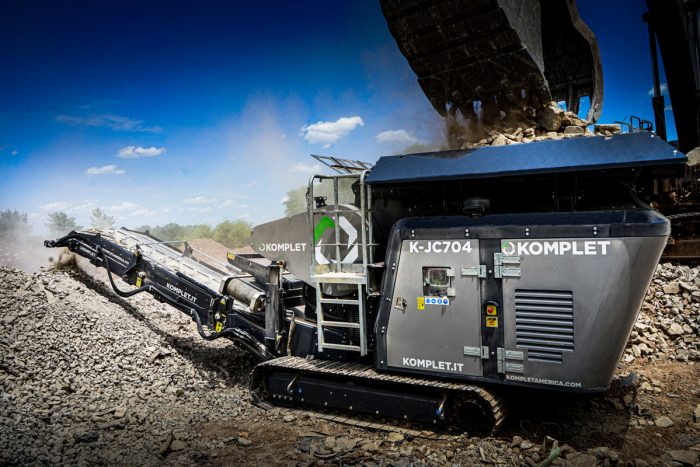 Available worldwide for at least 30 years, compact crushers have suddenly gained the attention of U.S. contractors seeking more efficient and affordable means of dealing with rock, concrete and other material designated for waste and recycling. These small machines offer several advantages over their bigger counterparts, perhaps chief among them cost savings. That's a great place to start.
Lower Costs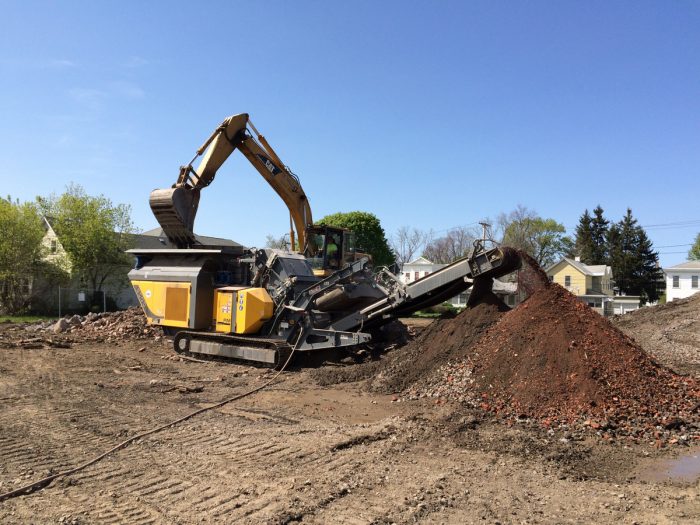 Because cost savings is an ever-increasing important aspect of business, contractors are turning to mobile compact equipment to perform jobs that previously required larger equipment or hauling material off site. According to Cody Price, marketing strategist/sales and support specialist for Komplet America, onsite recycling saves time and money. In addition, he points out, "more states are now requiring onsite recycling of concrete and asphalt for all road and bridge rehabilitation projects."
Not only do "SMI Compact machines cost far less than mid-size or full-size crushers and screens," says Timm Miller, product line director, they also pay for themselves quickly through the efficiency of re-processing material onsite, thus eliminating the need to haul it away. "That means big savings on transport costs, fuel and time," he adds.
Senya Crushers, a U.S.-based branch of the Asian manufacturer, was founded on the idea that half the cost of aggregate is transportation. "When you eliminate costs by processing onsite," says Rob May, sales director, "the savings are tremendous."
We'd love to keep in touch! Check us out on Facebook, Twitter and LinkedIn!
May goes on to say that the smallest crushers from other manufacturers start at more than half a million dollars, but an entire portable micro aggregate processing plant with a screen plant and three micro conveyors using a single power source can be purchased for less than $200,000. "Almost everyone can justify the cost of our crushers." He says the Senya 3 can pay for itself in a few months and save $225,000 the first year.
While May believes that portability is the compact crusher's biggest advantage, he cites "considerably lower initial costs" and "negligible operation and maintenance costs" for Senya's Micro Crushers. "Our Senya 3 runs all day long on less than $50 of fuel."
Similarly, Paul Smith, North American sales manager for Rubblemaster, says that because their mobile impact crushers use an electric generator instead of hydraulic drives like other brands use, they consume much less fuel.
Mobility
Komplet America's compact jaw crushers are "easily transportable," Price asserts. Their smallest track-mounted K-JC503 mobile crusher weighs 7,496 lbs and is under 15 ft long, so it can be towed by a pickup truck and small trailer. The next size up, the K-JC704 mobile crusher, weighs 26,455 lbs and is nearly 28 ft long, so it requires a heavy-duty pickup truck or dump truck with a trailer. At 39,685 lbs and over 38 ft long, the track-mounted K-JC805 mobile crusher should be transported on a lowboy.
While Rubblemaster's crushers are designed to tow on standard lowboy trailers, Smith says they are "compact and very simple to set up and tear down for transport."
SMI Compact offers seven jaw crushers and one screener. "Most of the SMI Compact line can be transported with a pickup and a standard trailer. While the 50TJ weighs in at 26,067 lbs and requires a semi-tractor trailer for transport," Miller explains, "the rest of the line is less than 7,000 lbs and can be towed with a pickup and landscape trailer." That includes the 20TJ track-mounted jaw crusher, the 10TJ track-mounted jaw crusher (which can be driven through a standard doorway), the 20SJ stationary jaw crusher, the 10SJ stationary jaw crusher and the 90TS self-contained screening plant.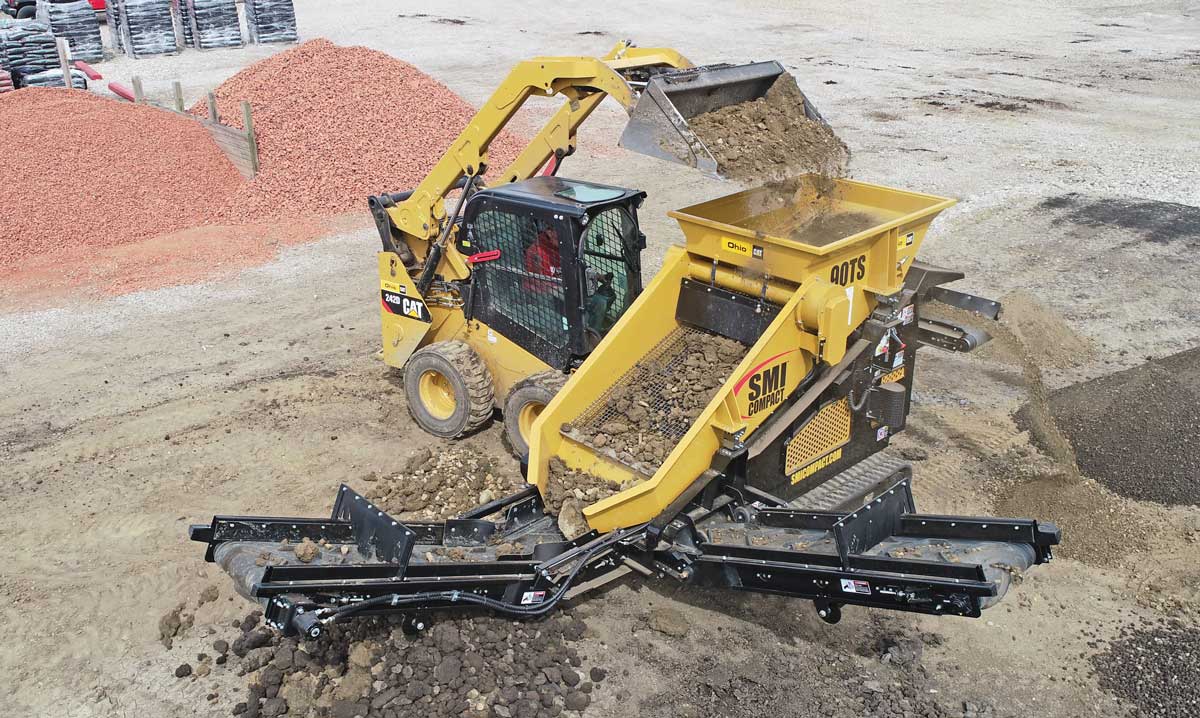 However, several models can be towed by a pickup or dump truck with a pintle hitch, such as the Senya machines. The 22-ft-long Senya 3 can be pulled with a 3/4-ton pickup, while the 25 ft long Senya 6 requires a dump truck to be towed. As May sums up, "They are designed with portability as the primary advantage."
Sizing Up the Competition
The smaller size is conducive for easier towing, but how productive are compact crushers? "They are easy to move, have a small footprint and are economical to run," Miller lists. "But most importantly, they offer remarkable productivity." In fact, he says, the 50TJ can match or exceed the productivity of any compact model on the market.
Other SMI models offer advantages, such as the option of crushing materials indoors with the 20SJ and 10SJ electric versions since they don't emit exhaust fumes — and the ability to transport them via a compact loader. "SMI Compact machines are easily moved from site to site, even in urban or residential areas where space is limited," Miller confirms, adding that they are simple to operate and maintain.
Senya offers two sizes of jaw crushers: the Senya 3, which can produce up to 30 tons per hour (easily over 10 truck loads per day) and the Senya 6, which produces 80 tons per hour and easily over 500 tons per day. May points out that they also offer an impact crusher — the primary crusher type used for asphalt — which has a soft and "gummy" nature.
Senya's Micro screen plant sorts and grades three sizes of material. Custom screen sizes for specific output sizes are available. All screens utilize polyethylene screens that last at least five times longer than traditional wire screens. Senya's lineup also includes Micro conveyors that utilize angled idlers and a cleated belt, giving a steep angle of convey. This allows for a 15-ft discharge point in only a 23-ft conveyor — about one-third less than the length of traditional conveyors. A 28-ft model gives an 18-ft discharge point. All of these components can be run off the crusher power source, eliminating the need for additional power sources.
Komplet machines are self-propelled on tracks and diesel-powered, yet small enough for easy transportation and strong enough to withstand the toughest of applications, Price summarizes.
Limitations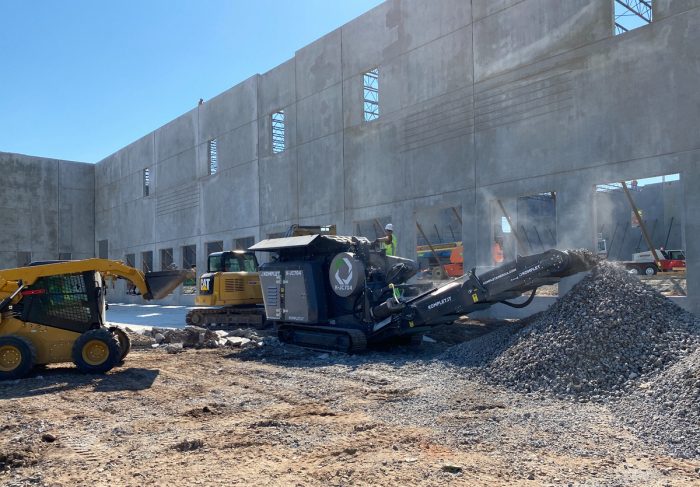 As with any crusher, feed size is limited to the feed opening of the crusher box, Smith explains. "Horizontal impact crushers are not designed to crush steel, plastics, wood, etc."
Production rates for SMI Compact machines mirror their sizes. For example, Miller says, SMI's largest jaw crusher, the 50TJ, can produce up to 50 tons per hour, while the 20TJ can produce 20 tons and the 10TJ, 10 tons. The 90TS Screener can produce up to 90 tons.
"The only limitation to the smaller size's jaw crushers is the input size required," May observes. It's a major consideration in choosing the size of crusher that makes sense, as all material for any crusher needs to be prepped to the required input size. Plus, prep time and cost are considerable factors.
The Bottom Line
Compact crushers are designed to crush concrete, asphalt and rock at a high rate without sacrificing mobility. Their small size simplifies transportation and facilitates use in tight spaces where standard-sized equipment doesn't fit, which benefits a wide variety of applications, and their affordability suits a number of industries.
Lori Lovely is a freelance writer for Compact Equipment.
Compact Crusher Rentals
Several manufacturers don't currently offer rental of their compact crushers, but many do. "The crusher rental business model is another tremendous opportunity," says Rob May, sales director for Senya. Purchase price of their Micro crushers runs from $88,500 to $188,500, plus the cost of an external 100-kW generator. Paul Smith, North American sales manager, says that "our approach is to understand the application parameters and the budget for the project. For example, smaller contractors might only need a small machine for a lower volume short-term project, where a larger producer might be looking for a larger, long-term rental unit for maximum productivity." SMI Compact is another company already offering rentals. "They are ideal for short-term rentals," states Timm Miller, director of new business development. Suggested rental rates are: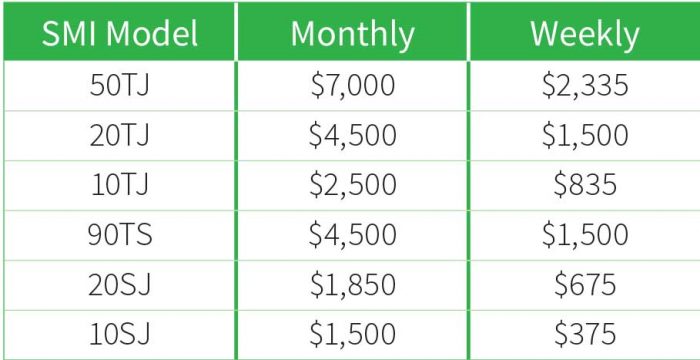 Tags:
Crushers
,
Komplet America
,
Rubblemaster
,
Senya Crushers
,
September October 2022 Print Issue
,
SMI Compact