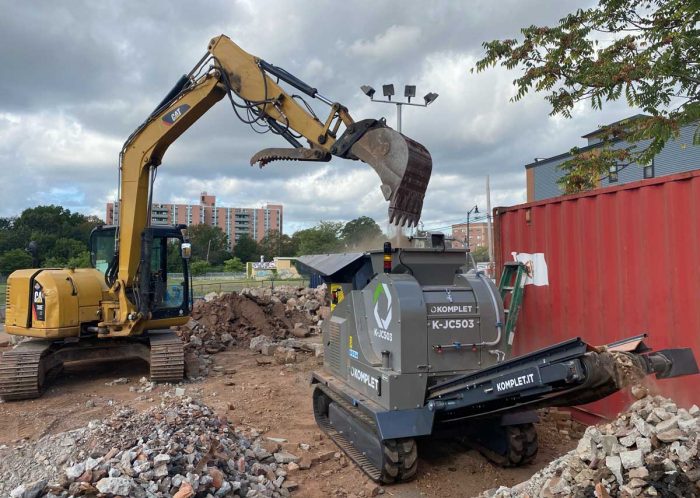 Small-scale crushing and screening machines fill a void. These units are super portable. They are agile enough to fit into busy or urban construction sites, and they're ideal for small-scale businesses that don't process enough material to keep a full-size crusher or screening plant in service. With that in mind, here's some excellent advice and cool models.
Tips for Buying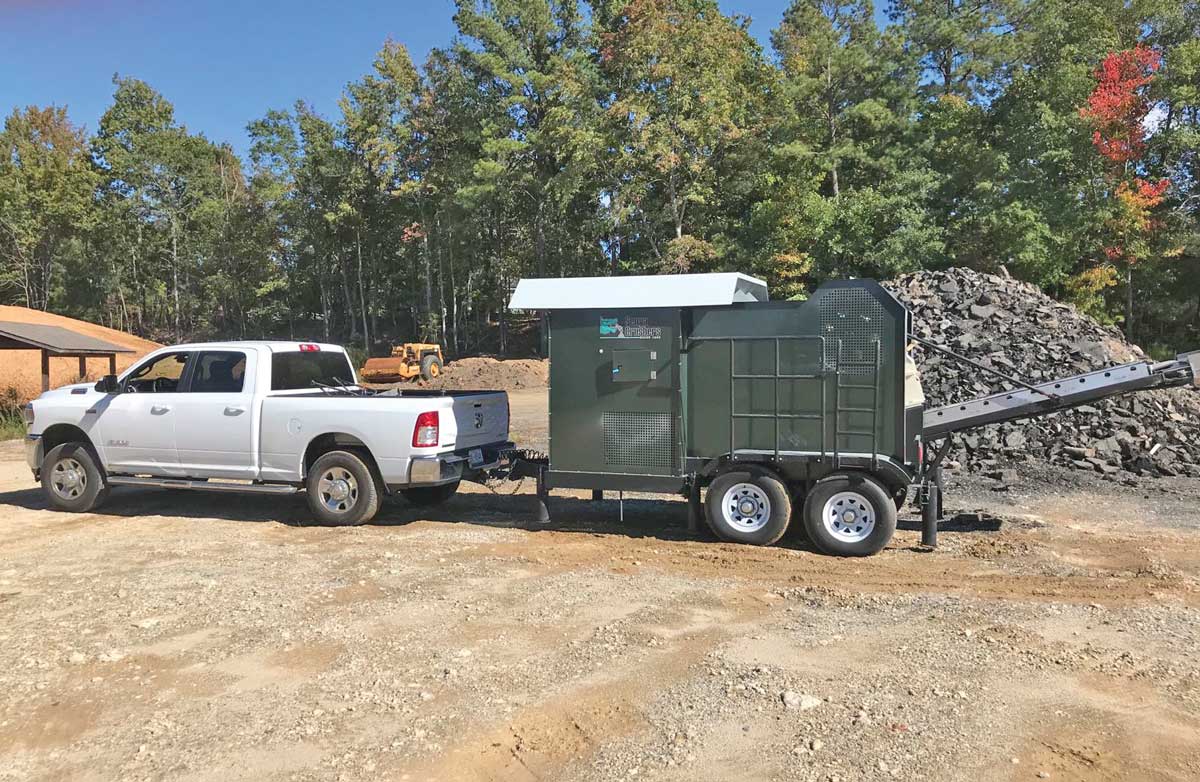 Justifying owning your own crusher is largely a function of your volume and costs per ton as well as transportation costs (many times half the total cost) to dispose of demolition and purchase aggregate. Being able to recycle and reuse material on site offers tremendous savings. The time and equipment necessary to prep the material to proper input size for your crusher is also a major consideration. The tons per hour you want also determines the crusher and jaw size. Operation and maintenance costs are also a consideration. The design of the machine largely determines those costs. Lastly, service from your manufacturer should also be a strong consideration. Crushing is a rough business. Parts and service should be readily available to minimize downtime. A well-designed crusher should operate reliably with minimal daily maintenance, primarily greasing the jaw bearings. The best machine is a simple, well-designed machine. — Rob May, sales director, Senya
Senya 3 Crushers
The Senya 3 compact crusher is easily towed by a 3/4-ton pickup truck, and set up and crushing on site takes less than 10 minutes. The unit's massive crushing power on such a small chassis has been no small engineering feat and can easily handle even the hardest material. Featuring oversized flywheels, feeder wear plates, a U.S.-made Yanmar diesel generator, dust suppression system, metals removal magnets, a stepdown transformer for onsite 220/110 power sources, this unit easily produces over 200 tons per day on $60 of fuel. With production just moved to Raleigh, N.C., Senya's Micro Crusher lineup is now proudly made in the USA and includes screen plants and conveyors all powered from the crusher generator. To see a demo is to truly appreciate the beauty and simplicity of these machines.
Prepare to Succeed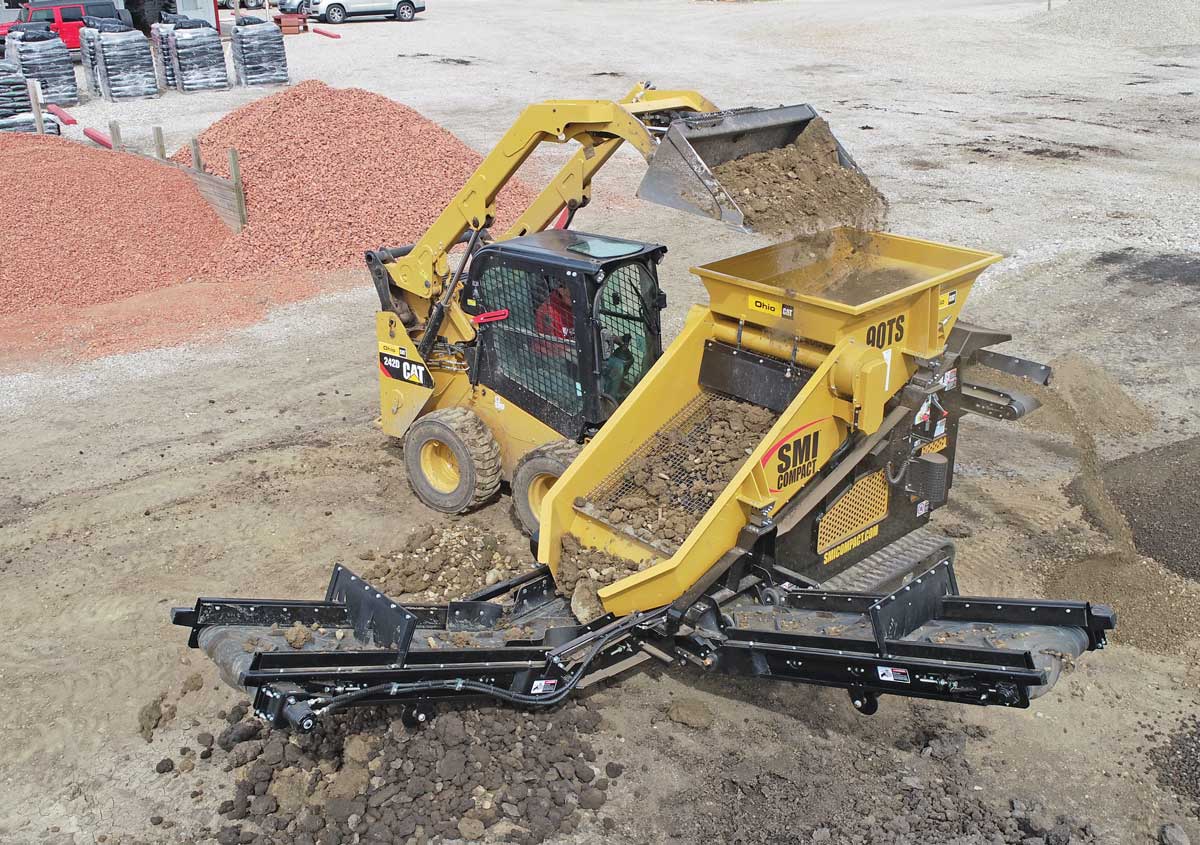 Preparation is the key to any successful crushing and screening effort, whether you are using a 95,000-lb impact crushing giant or a 2,700-lb SMI Compact 10J Jaw Crusher. Before turning the key and getting production started, all basic maintenance needs to be performed and all the working parts of the machine need to be inspected. Are the engine and hydraulic oil levels at full? Do you have enough fuel to complete the project, especially if the day runs longer than expected? Are the belts and idlers project ready? Do you have an estimate of how much product you will process and the appropriate side equipment for moving it around and/or hauling it away? — David Stewart, director of marketing, SMI Compact.
The SMI Compact Profile
SMI Compact machines are designed for portability and onsite re-purposing of material — concrete, asphalt and other small demolition work. Most of the SMI Compact line can be transported with a pickup and a standard trailer. The complete SMI Compact line includes six units: the 50TJ Jaw Crusher, a track-mounted 16- x 28-in. jaw crusher fitted with a hydraulically-driven, variable-speed vibratory grizzly feeder; 20TJ Jaw Crusher, a 10- x 20-in. track-mounted jaw crusher with a hydraulically-driven vibratory feeder; 10TJ Jaw Crusher, a 7- x 16-in. track-mounted jaw crusher featuring instant hydraulically-adjustable jaws and easy-to-use manual controls; 20SJ Jaw Crusher, a 10- x 20-in. stationary jaw crusher with instant hydraulically-adjustable jaws and diesel or electric power; 10SJ Jaw Crusher, a 7- x 16-in. stationary jaw crusher with instant hydraulically-adjustable jaws and diesel or electric power; and the 90TS Screener, a self-contained screening plant with receiving hopper, 3- x 8-ft double-deck screen and three stockpiling conveyors.
Winter Operation and Safety Tips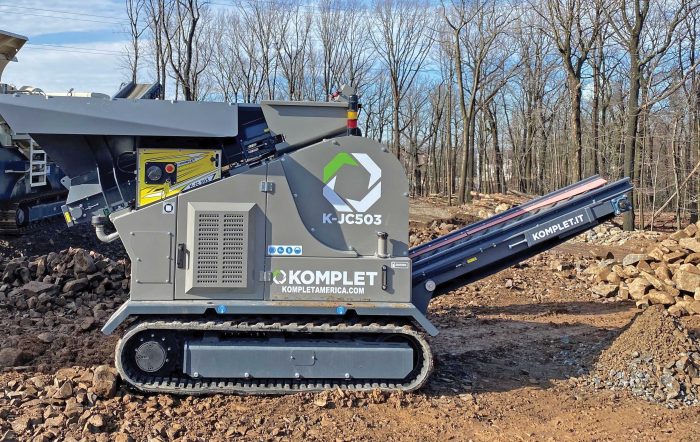 When wet or sticky materials such as snow or icy debris spill over the crusher's parts, it is essential to clean them immediately. They can freeze and cause damage. A mobile crusher's belt is one of the vital parts of the machinery that helps it perform efficiently during cold seasons. Therefore, it is essential to keep them clean, and you can do this by using belt heaters to de-ice the belt or using belt scrapers to reduce ice buildup. Heating your mobile crusher properly before use is necessary to allow your machinery fluids time to warm up. Note that many fluids have varying operating temperatures. It is crucial to remember the daily system inspection before and after use. It's key to safe operations for mobile crushers. Other safety tips: get a certification to operate a crusher; wear the appropriate safety glasses at all times; never operate above the capacity of the crusher; always wear a safety belt when on a crusher; and keep the dangerous part of the crusher guarded at all times. — Cody Price, marketing strategist/sales and support specialist, Komplet America
Komplet K-JC503
Equipped with rubber tracks and wireless remote control, the K-JC503 mobile jaw crusher is Komplet's most compact mini rock crusher machine, featuring a hydraulically adjustable 19- x 10-in. single toggle jaw crusher. Its ultrasonic sensor above the crusher inlet opening effectively turns on and off the loading belt to control the feeding of material while preventing jamming. Its output size is 3/4 in. to 3 1/4 in., and it has a rate of up to 34 tons per hour. The K-JC503 is a supreme choice for contractors looking to reduce excavation or construction waste onsite. The K-JC503 mobile jaw crusher also creates the best opportunities to save money on excavation and demolition waste removal by creating by-products that can be repurposed. The K-JC503 mobile crusher weighs 7,496 lbs and is under 15 ft long, so it can be towed by a pickup truck and small trailer.
Keith Gribbins is publisher of Compact Equipment.
You love dealer news. Can't get enough, right? Well, click here for more. Like, lots more.