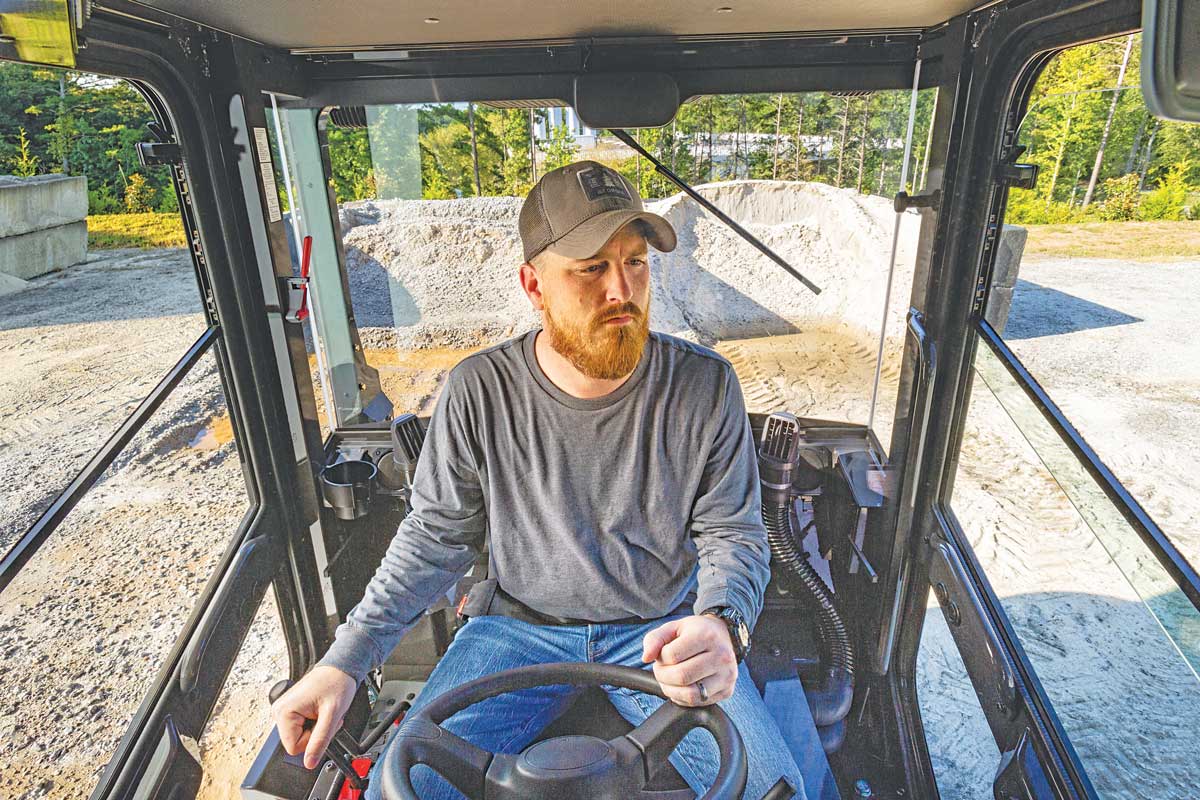 When operators begin to fatigue, it reduces jobsite productivity, and it can lead to employee turnover. A comfortable operator is a productive one. Maximizing operator comfort on a compact machine is a design challenge both in terms of available space and machine affordability. Seating, control placement, access to the operator station and noise levels all play critical roles in operator comfort.
Notable advancements include adjustable suspension seats that absorb shocks and vibration during operation and better cab insulation to reduce noise levels. New designs also include walkthrough-style cabs that allow access from either side and redesigned cab pillars that offer unobstructed visibility. Depending on the climate, modern HVAC systems can also prove beneficial for operator comfort.
Ingress and Egress Is Critical
When comparing compact wheel loaders, pay careful attention to how easily operators can get in and out of the cab. Operators enter and exit compact machines more often in comparison to larger production machines. Being able to easily get in and out of a compact machine can be a challenge, and this is often compounded because the machine's dimensions are being designed to occupy the smallest footprint possible.
The design of the steps and the handles are especially important. The design begins by determining the angle of the steps instead of climbing vertically into the cab. For example, Hitachi angles the steps outward, helping operators get in and out of the cab more easily. The steps also need to be properly sized and offer enough traction.
Properly designed steps and handles ease ingress and egress from the cab and allow the operator to maintain three points of contact. Additionally, walkthrough-style cabs allow for easy access from either side.
Next, consider the cab door design. Gas struts hold the door away from the climbing area, preventing operators from climbing around the door when getting into the cab. A small or heavy door makes entry and exit a challenge.
Minimize Noise
Noise exposure is beginning to attract a lot more attention on jobsites, especially when work is in urban environments. There is a concerted effort to minimize noise pollution for both the operator and the external environment. New noise insulating materials in cabs provide a quieter work environment. Cab pressurization and rubber-mounted cab frames also help to reduce noise inside the cab. Addressing the source of external noise emissions contributes to a quiet operator environment. Major areas of focus for manufacturers include low-noise engines and hydraulic systems.
Machines Allow Room to Work
Operators come in all shapes and sizes. You want to ensure there is room for the operator to move around comfortably. Manufacturers are always exploring ways to maximize the cab's footprint. This includes packaging components creatively to maximize space and legroom around the operator. One technique is to tuck the HVAC system under the seat or to the side of the seat. This moves it out of the egress path.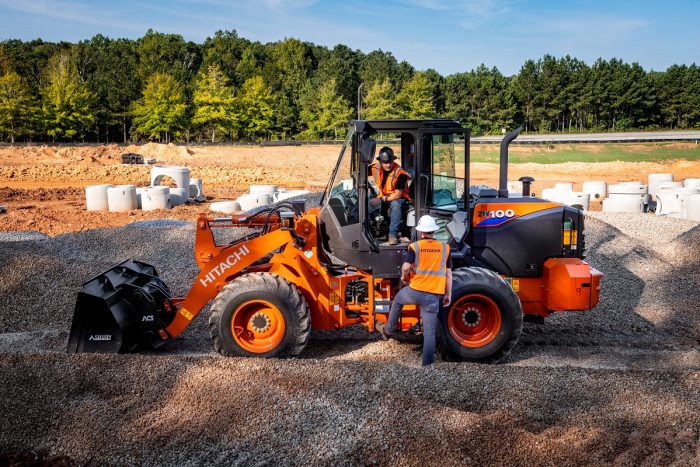 To efficiently maximize space, components that used to reside in the cab have moved to the outside. A lot of components underneath or near the cab make it difficult to provide head room, shoulder width and seat area space.
Leg room is often the biggest complaint with compact equipment among operators. A lack of leg room makes it difficult to enter the machine. To address this concern, open, flat floors are becoming common.
Multifunction Controls Ease Operation
When addressing fatigue, you must consider compact wheel loader applications. Compact wheel loaders are evolving into tool carriers as attachment use continues to rise. Many of these attachments are powered, meaning a multi-function joystick simplifies operation and reduces operator control movements. Instead of going from one lever to another, the operator can use a multi-function joystick with proportional sliders on it for auxiliary hydraulic circuits.
As wheel loaders transition to tool carriers, the ability to quickly swap attachments from the cab with a universal quick-coupler makes compact wheel loaders well suited for various applications like landscaping, snow removal, site prep, utility work, waste handling, agriculture work and general construction.
Visibility Continues to Improve
With many tasks performed on congested jobsites, visibility is a key consideration when comparing machines. The entire industry is moving toward increased visibility. Rear visibility begins with the cab design, and the cab pillar placement greatly impacts it. For instance, some manufacturers do not place the B pillars in the rear corners of the cab like you would expect. The B pillars can be shifted forward so the operator has unimpeded visibility to the rear.
It is also important to ensure air intakes and exhaust stacks do not hinder visibility. Curved body panels improve visibility from the cab. You want to get the line of sight as close to the machine as possible. Comprehensive 360-degree visibility and full-front glass allow the operator to see the front tires and attachments clearly.
Reverse cameras and displays have become common on full-size wheel loaders. These are working their way down to smaller machines, but there are practical limitations. Due to the high placement of the operator on a compact wheel loader versus a skid loader or compact track loader, the operator already sees in all directions. In smaller compact wheel loaders, the benefits of a rearview camera diminish. When balancing cost versus benefit, rearview camera technology proves ineffective.
Full-Size Features Trickle Down
Full-size wheel loaders tend to have comfort features that rival automotive offerings. Some of these featured cab comforts are migrating from full-size machines to the larger end of the compact wheel loader range. For instance, there are more pressurized cabs moving down into the 1.2-cu-yd loaders. HVAC systems and advanced multifunction controls are also migrating toward the compact market.
Feature availability is realistically driven by machine size. As features are added, the machine can quickly become too expensive for the market segment being served.
There are also regional considerations. Many of the smallest compact wheel loaders in the North American market still utilize an open ROPS/FOPS canopy. While cabs in the North American market continue to gain popularity, the adoption rate still lags the European market where even the smallest machines have cabs. This can partially be attributed to more stringent noise and vibration standards in the European market.
Matt Koester is a wheel loader product manager at Hitachi Construction Machinery Americas Inc.
Mini excavators are making big waves on jobsites all over North America. Click here for the latest news on these machines and the companies that make them.