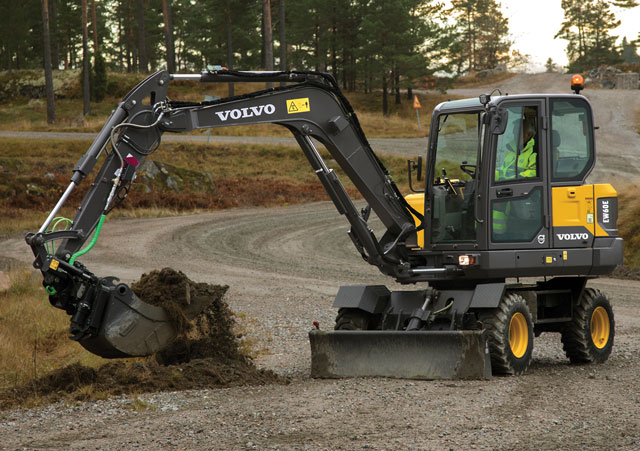 Eight Models Fill the Range with Four Zero Tail Swing Machines
Volvo offers eight models of compact excavators — seven tracked models and one wheeled model — and nomenclature denotes the approximate operating weight in metric tons (e.g. the EC20D has an operating weight of 2 tons). Volvo compact excavators range from 2 to 9.3 tons. Volvo offers four models of conventional radius machines — the EC20D, EC35C, EC60E and the newly released wheeled EW60E. Volvo also offers four models of zero tail swing machines — the ECR25D, ECR40D, ECR58D and ECR88D.
Volvo's X-frame undercarriage on compact excavators is similar to that of its general purpose and production equipment. With one of the thickest tracks and drive sprockets in the industry, this ensures long life and provides protection from harsh conditions, says Volvo. Another feature is the automatic kick-down in the drive system that automatically shifts to low range when making a turn or climbing a grade. Dozer blades are standard on all Volvo compact excavator models as well.
Volvo says its compact excavators have one of the largest cabs in the compact excavator industry, and the machines are packed with features that improve safety and ease maintenance. Cab and canopy units have ROPS/FOPS/TOPS safety-certified structures. The canopy version is the most common on the compact excavator. However, if you want to increase the time you can use the machine, cab heat and AC are good features to have. An operator is normally more efficient in a cab machine, and the cab protects the machine and can increase resale value.
Back to safety: The machine's hydraulic and drive functions are disabled by raising the left control console when entering or leaving the cab to prevent accidental movement. Filters, fills and service points are all easily accessed from ground level. Retractable safety belts and reverse alarms are standard on all models, which continually reinforces one Volvo core value — safety. Volvo also can supply a wide range of attachments that are properly sized for the machine and application. For use of hydraulic attachments such as thumbs or breakers, all Volvo compact excavators come standard with single (hammer) and double (thumb) hydraulic circuits.
Advice to Buyers
"Customers should first consider what you expect from the machine and how it will be transported," explains John Comrie, product manager, Volvo Construction Equipment. "Consider what kinds of attachments and track configurations that will be required for the application. Operators may need a long arm for dig depth or may be using a wide variety of attachments. In that case, consider whether a pin-on, mechanical or hydraulic coupler is needed. Depending on the track configuration — whether rubber, single-rubber tuff pads or steel — it may greatly affect the performance and owning and operating cost. Also consider whether you want a canopy or cab with heat and AC."
Volvo Construction Equipment
312 Volvo Way, Shippensburg, PA 17257
717-532-9181 | volvoce.com/na
Click on table to enlarge