Downtime. It's a word that crews would rather not contemplate, especially when deadlines are tight and the project is long or complex. One way to help avoid downtime is to be diligent about machine maintenance so you can avoid breakdowns and lost time. It's especially important for your hard working mini excavator, but where should you start? The first step is to get familiar with your owner's manual for daily, weekly and monthly maintenance checks and follow accordingly.
"An effective maintenance regimen starts with a daily check of fluids, including coolant, hydraulic fluid and engine oil," says Jason Boerger, marketing manager for Bobcat Co. "If any of these levels are low, be sure to refill with the manufacturer's recommended type of fluid, paying particular attention to classifications, as well as viscosities for the operating environment. It's also important to keep these areas dirt free and use clean rags while checking levels to avoid contaminants.
"Engines have experienced some of the most significant recent changes," Boerger continues. "Today's compact excavators are equipped with various levels of emissions-compliant diesel engines that may have unique lubrication requirements. Manufacturers are matching oils to their advanced engines to ensure proper operation of exhaust aftertreatment systems."
Aside from fluid checks, daily maintenance includes a visual inspection of the machine to see if there's any damage to the unit — especially its tracks — and starting up the machine to make sure it powers properly. Todd Dohnal, dealer development manager of North America for Kobelco USA, also emphasizes the importance of greasing pins and bushings around the machine. "Grease is any machine's best friend — don't be lazy!"
Tracks are considered one of the biggest wear items on an excavator, so it's important to check them out daily as well.
"The majority of compact excavators use rubber tracks, and the life expectancy of the track is largely dependent upon the environment they are subjected to and the user's operating habits," says Boerger. "Tracks should be examined on a daily basis to look for cuts, tears or areas that expose the steel imbeds. Any perforations could allow moisture or contamination to enter the track."
In addition to checking for obvious damage like cuts, maintaining the right track tension ensures your tracks stay in good shape for the long haul. An operator should make adjustments to the tension based on his or her jobsite conditions. Note: An excavator's track tension should not be too tight or too loose.
"All manufacturers have guidelines for track tension, which is usually measured as a distance to the track pad surface in the case of rubber tracks or track chain on steel tracks [or pads, depending upon manufacturer recommendations], and the structural lower plate holding the lower rollers in place," says George Lumpkins, GM of marketing for Kobelco USA. "In a static condition, track tension is measured by slightly raising the side frame with the attachment and using hydraulics to rotate the chain assembly slightly to get maximum droop. Tracks that are too tight bind up quickly, cause less apparent travel force and drastically increase track wear in the chain for steel tracks and possible breakage of the main cords, be they Kevlar or similar, or steel, in the case of rubber tracks. This can lead to stretching and failure. It is acceptable to slightly increase track tension on hard surfaces and slightly decrease it in clay or sand to minimize track bind."
Weekly maintenance work includes all of the basic daily jobs, with a little extra attention on the machine's undercarriage. This is a good time to give the undercarriage a cleaning because excessive dirt and debris can build up and lead to premature wear on components.
"Regardless of the application, if the undercarriage is dirty, it needs to be cleaned," says Boerger. "This is especially true in colder climates. Many compact equipment manufacturers offer undercarriages that are designed for easy track carriage clean out, helping debris fall to the ground rather than become packed in the undercarriage."
"To clean and maintain the undercarriage of a mini excavator, the machine should be parked on solid, level ground and the bucket should be lowered to the ground," says David Langford, product marketing manager for JCB. "The visible part of the tracks should then be cleaned with water. Many find a high-pressure cleaner useful for this task. The machine should then be tracked forward or backward to expose the remainder of the tracks, which should then be cleaned in the same manner as previously done. The tracks, roller sprockets and idler wheels should be inspected for damage or oil leaks and replaced if necessary."
Filter checks and changes may also need to be performed during this time period. Boerger points out that there are multiple filters on a compact excavator for the fuel, engine, air and hydraulic systems, and each may have different service intervals.
"When dirty or completely clogged, a filter can directly impact performance and compromise sensitive components," he says. "The majority of industry excavators have air filter restriction indicators designed to alert operators to maintenance needs. To avoid system contamination, it's critical to not remove the filter until the required time."
Moving on to a monthly maintenance checklist, Dohnal suggests revisiting filters per the manufacturer's service schedule, as well as washing the machine and performing a thorough visual inspection.
"Open engine compartments and make sure they're as clean as can be expected," he says. "This should be done daily, but just in case make it a point to keep the engine compartment and all other areas free of debris that could be a potential fire hazard. Do this at minimum monthly."
---
Making Maintenance Easier
JCB and Bobcat Engineer Easy-to-Service Machines
Maintenance may not be a favorite task on your to-do list, but it's a necessity. To help lessen the pain of upkeep, manufacturers such as Bobcat and JCB are working to make their machines easier to service.
"With the launch of the Bobcat R-Series excavators, the design maintains wide-open access to the engine and daily maintenance checks," says Jason Boerger, marketing manager for Bobcat Co. "Operators have panoramic access to the engine and routine maintenance components for superior service and to help minimize machine downtime."
JCB has also made changes to improve access to maintenance points. "JCB has made all service points accessible from ground level," says David Langford, product marketing manager for JCB. "In addition, the main service door on the new JCB 18Z-1 and 19C-1 mini excavator models opens 180-degrees to provide easy access to all cleaning and maintenance points. A separate door, inset into the main access door, provides quick access for daily checks."
---
Baby, It's Cold Outside. Take Care of your Mini Ex!
George Lumpkins, GM of Marketing for Kobelco USA, Discusses Cold Weather Maintenance Concerns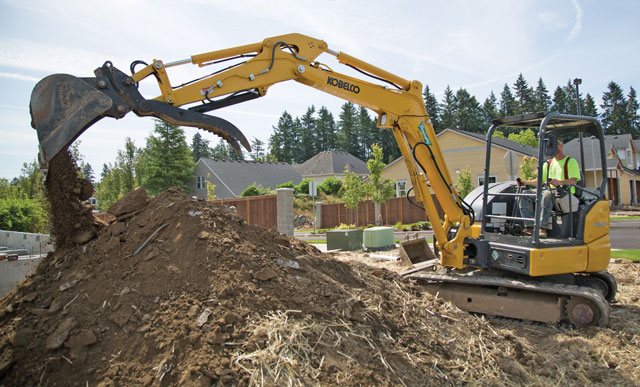 Hydraulic systems: Like all construction machinery, cold hydraulic oil flows less easily and smoothly in the extreme cold. This can lead to slight hesitations in control response, and in extreme conditions high engine rpm and cold hydraulic oil can lead to damage of the main pump and related components.
Hydraulic oil viscosity should be adjusted during colder months, per the manufacturer's recommendations for durability and reliability. Most, but not all, hydraulic tanks are pressurized via temperature and or movement of the attachment. Usually it is good practice (at a low engine speed) to boom up, arm in and bucket in. Hold this for a few seconds, and then lower the attachment. This ensures quick pressurization of the hydraulic tank by lowering the hydraulic oil tank level during full cylinder extension and then raising the pressure when the cylinders are extended. This pressurizes the hydraulic tank and creates a positive pressure to push oil toward the pump as you begin to work. This is NOT a substitute for proper warm up of the engine and hydraulics.
Engines: While it is true that mini excavators have much smaller engines than their larger cousins, the basic requirements for correct oil, antifreeze and in particular clean fuel is basically the same. Many mini excavators are operated in rental fleets and by owner-operators. The need for clean fuel cannot be overstated. Due to increasing emissions regulations, injector pressures over 20,000 are not uncommon, and with today's technology fuel is forced through microscopic holes in the injectors to fully atomize and combust the fuel/air mixture efficiently and cleanly.
Tracks: Do not park a machine on wet ground or water overnight as it can freeze to the ground. Do not let mud build up on undercarriage components and then let it freeze, especially on rubber tracked machines.
Click this clickable link for even more excavators.
Tags:
Bobcat
,
Bobcat Company
,
February 2019 Print Issue
,
home
,
JCB
,
Kobelco
,
Kobelco USA