Just north of Denver, Colorado, in the small town of Berthoud, the Dirt Ninja, aka professional contractor Tom Gardocki, and professional FMX rider James Carter found some common ground between machine control and motocross. Gardocki had the unique experience to build a freestyle motocross (FMX) practice track for Carter using a 3D design, and the Trimble Earthworks Grade Control Platform for Excavators with tiltrotator automatics, providing both individuals with unexpected insight into the ups and downs of building a track using construction technology.
Motocross Modeling
Casey Cyrus, business area manager for Trimble Site Positioning Systems, designed the track in Trimble Business Center based on general specifications from the track design website.
The track — constructed in a space about the size of a football field — incorporated small hills and curves, or whoop-de-dos, and several jumps, often with up to 30 degree slopes. In general, jumps are a minimum of 45 feet long, 12-14 feet high and 12 feet wide at the top with a 20-24 foot wide bottom, depending on slope of dirt pile.
Specifically, this site design included two super elevated curves at each end to create the loop and a back straightaway to connect the curves. The vertical alignment also incorporated a smooth vertical curve into the takeoff ramp, the landing ramp and back-to-back vertical curves (whoop-de-dos). Cyrus also added super elevation "banked curves," max cross slopes and transition lengths to challenge earthworks and operator capabilities.
Once designed and conceptually approved by the rider and his team, Cyrus exported the design to the Trimble Siteworks Positioning System and, ultimately, the Trimble Earthworks Grade Control Platform.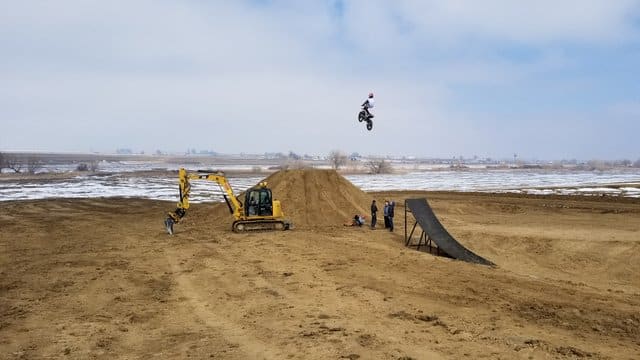 Slopes, Jumps and Curves
To build the track, Gardocki, Cyrus and Jon McKendry, Product Manager for Earthworks relied on a Komatsu D51 dozer and Caterpillar 308E2 CR mini hydraulic excavator with an engcon EC209 tiltrotator attachment for more flexibility in tighter work areas as well as a Cat 140M3 motor grader.
The excavator was equipped with Trimble Earthworks, which has the industry's first aftermarket semi-automatics for tiltrotators. The combined depth and tilt autos functionality allows an operator to easily control complex attachments such as a tiltrotator and stay on grade. Trimble Earthworks controls the boom and bucket of the excavator as well as the tilt angle of the attachment, while the operator controls the stick of the excavator and rotation of the tiltrotator.
Gardocki says, "I've used 2D machine control systems for years for the excavation of traditional infrastructure, but this was my first time testing an excavator with 3D grade control and tiltrotator automatics. I was a little nervous because of the tight timeline, but it turns out, it was a pretty easy adjustment. It took about an hour of use to be fully comfortable, and we were off."
Meanwhile the dozer and motor grader, operated by McKendry and Cyrus respectively, generated material from the frozen ground (Spring in Colorado) for Gardocki to shape/mold into the finished design.
Over the course of two long days, the Dirt Ninja built the track per the design specifications.
Gardocki further noted that the "Autos" functionality on the excavator and the tiltrotator were particularly beneficial for grading speed. He adds, "It was quicker and more accurate than conventional methods for getting us closer to final grade. We could easily see how far away from grade we were during the excavation. Without Autos and machine control, this same job would have taken us a week and required two more people to survey. We did it with two people in two days."
To ensure slope and curve accuracy, the team used the Trimble Siteworks Positioning System and Trimble SiteVision to compare the 3D models with actual work completed.
"It was super cool to walk around looking at the device on my phone and see the finished layout and how close we came to the design specs," says Gardocki. "This job did require that we get the curves, banks and slopes accurate."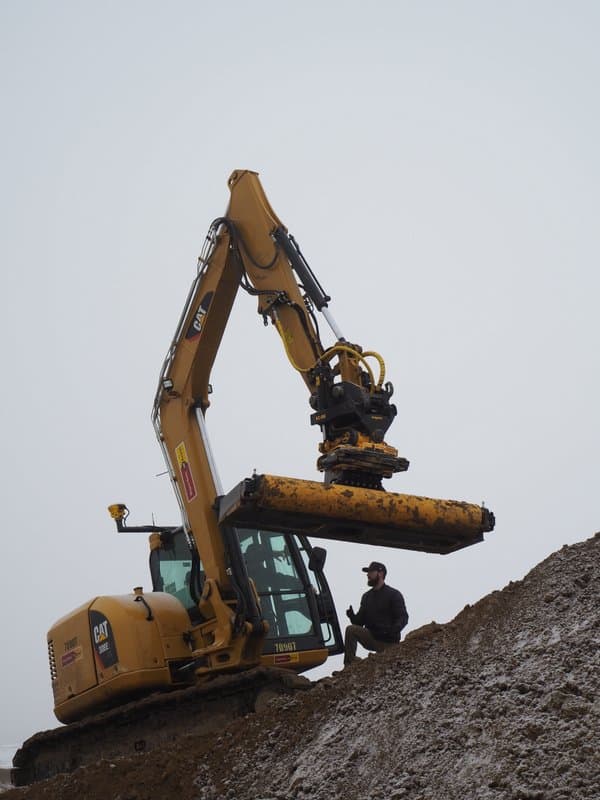 Track Tested
On the third day, Carter arrived with his bike and test rode the newly constructed track. At his request, Gardocki further adjusted the jumps, curves and landing spots with the grade control equipped excavator.
"The problem with whoop-de-dos was maintaining speed," explains Gardocki. "We smoothed out a few areas and reshaped the backside of a jump to improve landing angles and achieve necessary dirt bike speeds."
After the work was done, Gardocki even took a few minutes to demonstrate the fine motor skills of a large machine like an excavator. With a grabber mechanism attached to the tiltrotator, he was able to pick up a glass beer bottle and hand it to James Carter without breaking the bottle.
He concluded, "I just can't believe the precision and fine work capabilities that are possible on today's heavy equipment. With advances like machine control automatics, we can dig virtually any site from roads to racetracks with speed and accuracy, and pick up 1000-lb equipment or even a glass bottle."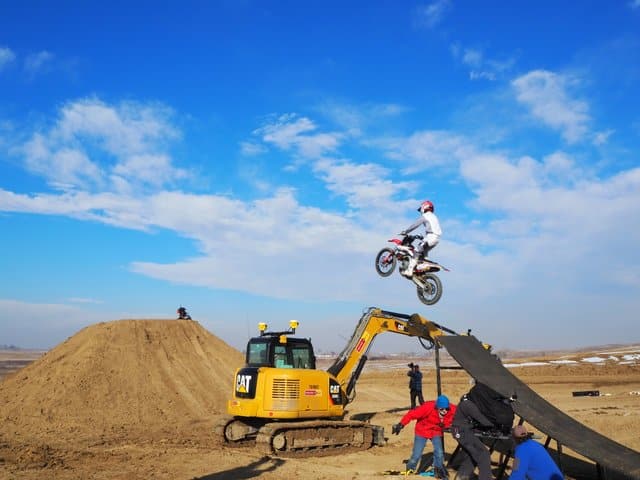 For more info on Trimble, click this link. No dirt biking required.