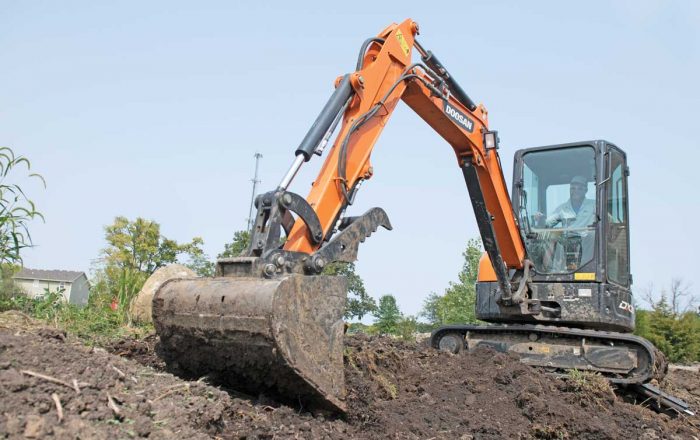 Tip: Find a Reliable Rental Partner
If a customer doesn't already have a relationship with the dealer, then it's recommended that the customer visit the dealership. Ask the rental department manager for a list of the dealership's inventory. How frequently does the dealership update its rental fleet? Check out the rental equipment. Is it well maintained? Does the dealership keep service records for the equipment? Request a price list and compare the prices at the dealership to other rental companies in your area. Be sure to compare the same size of mini excavator, as well as the features. It's also important to ask about equipment delivery. Does the dealer deliver the rental equipment, or will you be required to pick it up? Is there a minimum number of hours when renting a mini excavator? Find out if the dealership's service department is available on the weekend. If not, is there someone in the rental department who can be reached if you have a question about the machine or if there's a problem with it?
Tip: Spec the Right Rental Machine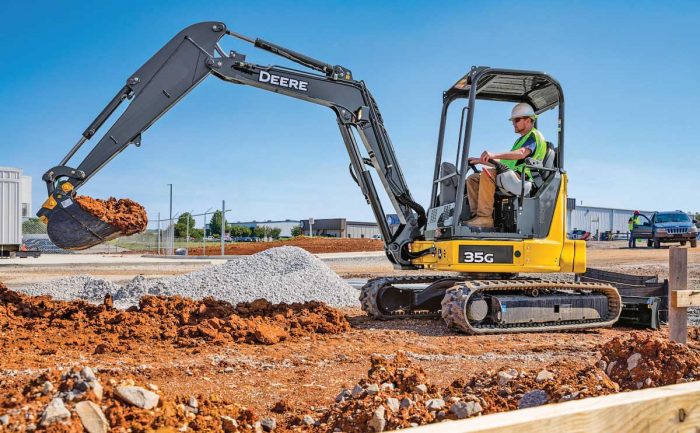 Key machine specifications to consider are dig depth, attachment capability, operating weight and ultimately trailer and towing flexibility. You'll want to rent a machine that is capable of getting the job done, yet versatile. Choose a machine with plenty of dig depth but also consider the possibility of running attachments. A thumb is a great way to make your excavator more useful and all of our compact excavators are easily fitted with an optional thumb. If you plan to excavate to install drain tile or utilities, will you be doing any compacting? Could you run a hydraulic plate compactor on the excavator? If you're clearing land and digging out trees and brush to install a fence line, can your excavator run an auger to install the fence posts? John Deere compact excavators all come standard with mechanical quick-couplers so, with one bolt and two pins, you can easily switch attachments.
Tip: Let's Talk Comfort
Patrick Baker, product manager, excavators and wheel loaders, Kubota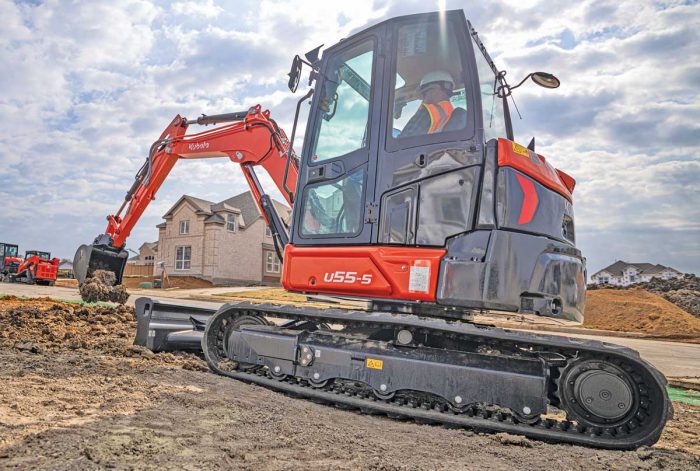 The first option to consider when looking at compact excavator comfort is if the machine has a cab or canopy/ROPS. The cab option will keep the operator dry, warm in the winter, cool in the summer and clean from dirt and debris. Cab comfort will usually come at a cost as the cab option is typically more expensive than the open canopy/ROPS spec. The second item to consider is the seat and joystick positioning. Operators want a comfortable seat and perfectly positioned joysticks to operate the excavator easily. For example, the new U55-5 and KX057-5 Kubota excavators create the perfect operating position with an optional air ride suspension seat, dual adjustable seat and console and ergonomic joystick positioning. The third item to consider is telematics. Including telematics in your rental excavator allows the operator to feel comfortable and reassured that the dealer will be there to support the machine and customer if the excavator experiences service or mechanical issues.
Tip: Size Them Up and Price Them Out
Erik Coyle, product specialist, Yanmar America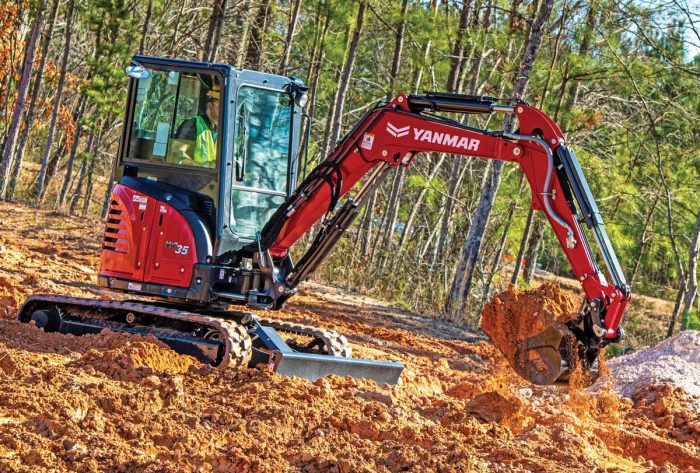 The 3.5-ton mini excavator is one of the most popular mini excavators in the rental market. It has the size and power to perform many jobs while being light enough to tow without the need of a CDL license, according to the DOT 10,000-lb tow regulation. Plus, most rentals at 3.5 tons and below don't require insurance, which makes them more attractive to small contractors or homeowners as a rental option. Typically, machines weighing 4 tons or more require insurance, which is normally covered under a short-term policy through a renter's homeowner or private policy. Some rental companies offer an in-house insurance policy and cover the cost with a separate fee, or they roll it into the rental rate. Based on information received from some of our dealers, average rental costs are as follows: Daily rentals average $250 to $300 per day; weekly rentals average $1,000 a week; and monthly rentals average $2,376 to $2,800 a month.
Tip: Attachments Make the Machine
Darren Ashton, product manager for compact equipment, Volvo CE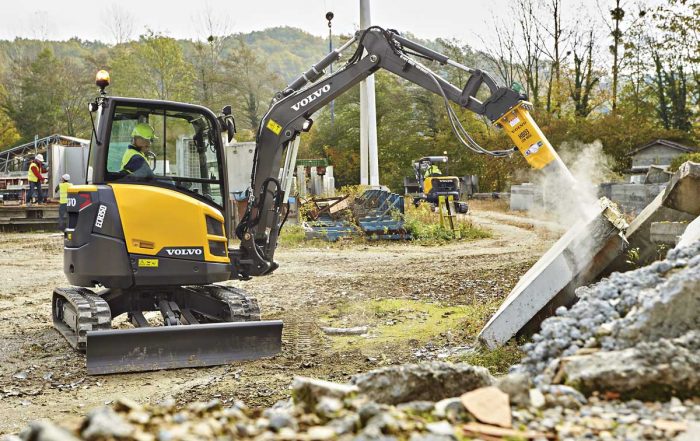 Buckets and hammers are mainstays on the jobsite, but there are many different kinds to choose from, each with a specific purpose:
General-purpose buckets for diverse earthmoving work
Tilt buckets for landscaping finish work
Grapple buckets for picking up loose materials such as scrap, waste and brush
Thumb buckets for picking up objects, often in landscaping, for building retaining walls or placing large rocks
Moil-style hammer tools for breaking up nonabrasive materials (soft rock, clay brick, wood, drywall, etc.)
Chisel-style hammer tools for hard rock excavation and breaking concrete or asphalt
Blunt hammer tools for breaking blasted rock in crusher applications
Tiltrotators are also catching on in the United States, which is exciting. They offer greater flexibility for attachments by rotating 360 degrees and tilting up to 45 degrees left or right. Volvo offers Steelwrist tiltrotators on several of our compact excavators for the ultimate combination of productivity, safety, precision and control.
Tip: Monitor the Market
Tom Bottrell, president of Gear Equipment (on behalf of Mecalac North America)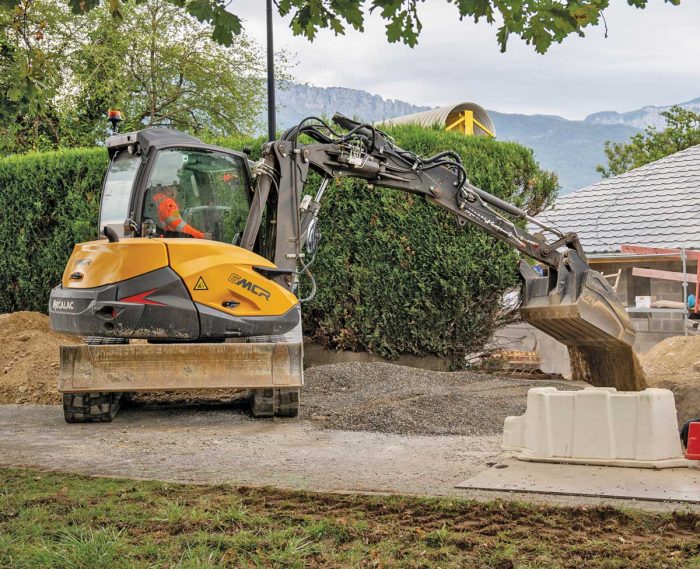 We're seeing a trend toward equipment that offers more — increased versatility, greater lifting capacity and more functionality. Simply put, customers want to be able to do more with less, both in terms of the number of machines and the size. Rather than trying to squeeze two or three pieces of equipment onto a jobsite, they're looking for a machine that can do everything from digging to loading to material handling. Unfortunately, there aren't a lot of mini excavators that offer that kind of flexibility. Additionally, when customers come to us for a mini excavator, it's because size is a factor. They might be able to do the job more efficiently with a bigger machine, but it just won't fit their site. Having a 6-ton machine with the lifting capacity of a 9-ton machine is a real game-changer. These benefits have made the Mecalac MCR crawler skid excavators popular with our customers. Their unique, offset boom provides 30 percent more lifting capacity.
Give your eyes a rest from reading and watch our latest CE Conversations videos here!
Pam Kleineke is managing editor of Compact Equipment.
Tags:
April 2021 Print Issue
,
Doosan
,
Doosan Infracore
,
Doosan Infracore North America
,
John Deere
,
Kubota
,
Mecalac
,
Rental
,
Rental Equipment
,
Volvo CE
,
Yanmar
,
Yanmar America