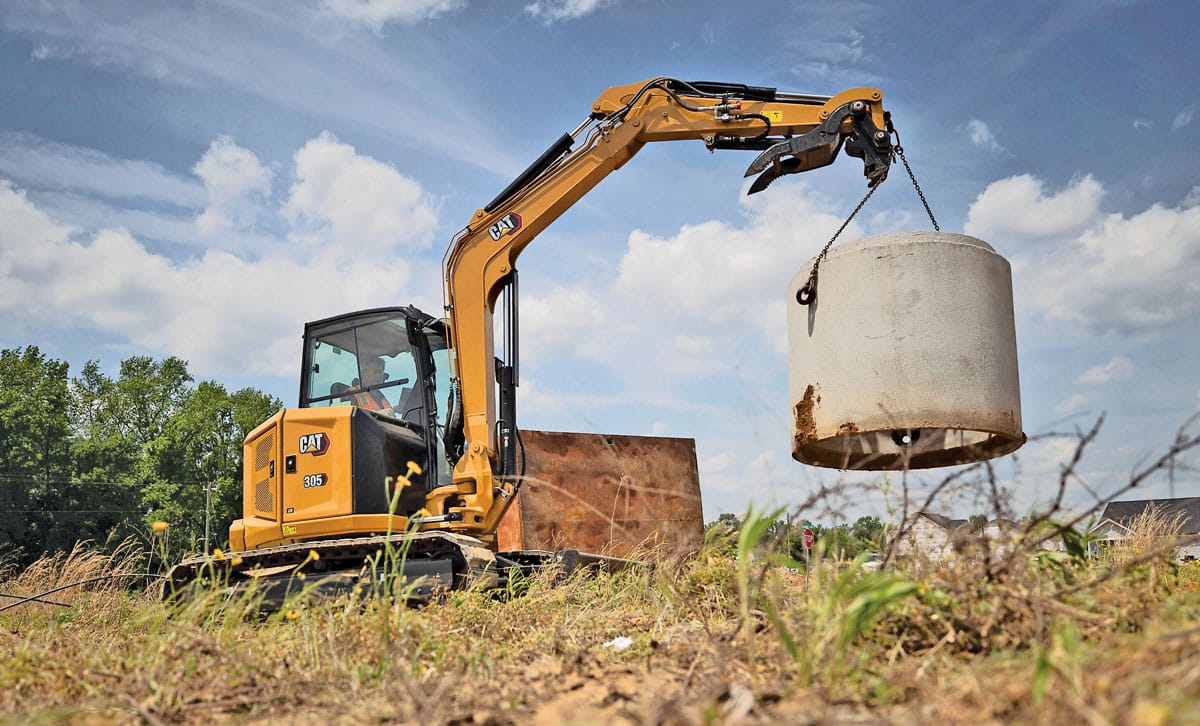 Small excavator tool carriers come in a wide variety of colors on dealer and rental lots these days. Cat black and yellow. Kubota orange. Yanmar's new bright red architecture. Last time I counted, there were nearly 20 distinct brands in the American marketplace — Bobcat, Case, Caterpillar, Doosan, Hitachi, Hyundai, IHI, JCB, John Deere, Kobelco, Komatsu, Kubota, Liugong, New Holland, Sany, Takeuchi, Volvo, Wacker Neuson and Yanmar. There are probably brands being sold I don't even know about, and I write about these machines every day. Edward Song, CEO at Doosan Infracore North America, says to expect more.
"For mini excavators, we think the market will continue to grow until it reaches 87,000 to 90,000 [units] a year," he explained at a media event I attended in December 2021, noting that around 63,000 units were sold in 2021.
It appears compact or mini excavators will continue to roll off lots in 2022 at an alarming rate, as supply chain issues and demand continue to present delivery challenges. Manufacturers can't make minis fast enough, yet they continue to release new models and introduce cool new technologies that keep us all wanting more. The majority of machine makers inviting me out to operate new equipment in the last six months — the likes of Takeuchi, Cat and Doosan — all wanted to focus on the exciting mini ex market for 2022, so let's do that.
In this feature, we'll strap on our jetpacks and give a quick, high-level overview of this very expansive market — brand maneuvers, trending attachments, emerging technologies and cool models that have caught our collective attention. One thing is for sure: The compact excavator market will continue to see growth in a variety of industries — residential, rental, road work, utility installs and beyond — and in a growing number of applications that go beyond general digging — brush cutting, heavy lifting and grade control.
Dig this Trio: Bobcat's Three New R2-Series Excavators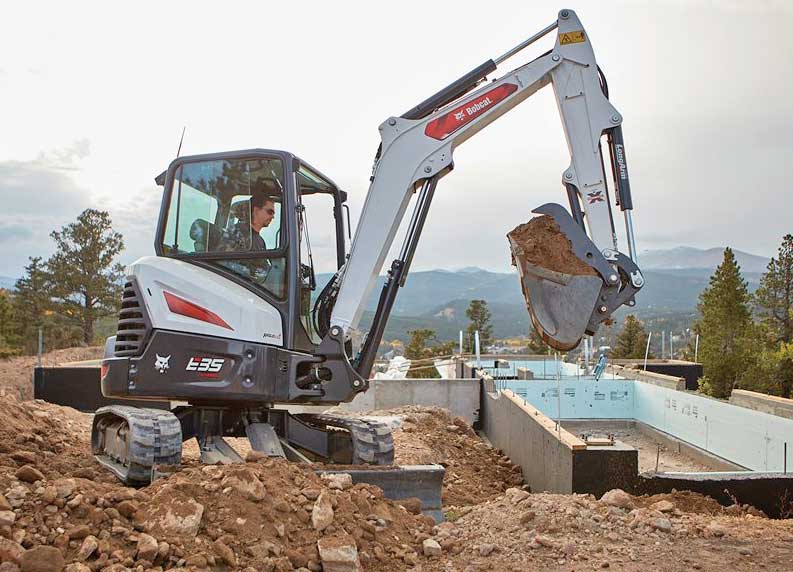 Late last year, Bobcat Co. introduced three all-new models to its popular R2-Series compact excavator lineup. The E32, E35 25hp and E35 33hp compact excavators provide all the productivity and power found in Bobcat's larger excavators in a smaller frame, making all three models ideal for utility, landscaping and residential construction jobs. The cab for every R2-Series model is designed to enhance operator efficiency, performance and comfort. An optional high-back, heated seat with headrest provides added support for long hours of operation. Owners have the option to add on a waterproof, chemically hardened 7-in. touch display. With easy-to-reach arm-mounted auxiliary hydraulics and attachment hookup interface, the E32, E35 25hp and E35 33hp help operators do more tasks on the jobsite. The optional clamp diverter provides improved ability to run a variety of attachments without having to disconnect the clamp. The standard lift eye provides a convenient method for handling objects or moving them in or out of a trench. For more info, visit bobcat.com.
Hot Size Classes
Compact excavators can be defined as excavators under 6 or 8 metric tons of operating weight (some brands go as high as 10 metric tons). Other definers include undercarriage and track systems, cabs or ROPS, dig depths between 5 and 20 ft, auxiliary hydraulic power from 4 to 40 gpm, various tail swing configurations, the ability to use attachments and diesel engines ranging from 13 to 70+ hp. Most units capitalize on rubber track undercarriages (there are steel or hybrid track options), designed to navigate terrain with high flotation and a light footprint, fitting into cramped worksites to A) give precise and powerful dig performance, B) wield attachments like thumbs, grapples and hammers and C) be easily transportable once it's all finished.
The most popular size continues to be those 3- to 4-metric-ton units. Machines in that size class offer a small jobsite footprint and a transportable operating weight, while providing lifting and digging capacities that are somewhat comparable to bigger diggers. That's also the size class where amenities like cabs, heat and AC, Bluetooth radios, touchscreen monitors and ergonomic, multifunction joysticks begin to appear.
"The KX040-4 is Kubota's No. 1 selling compact excavator in the United States," said Patrick Baker, product manager at Kubota Construction Equipment. "The Kubota Construction Equipment team is focused on excavators ranging from 1 to 8 tons. The 3- to 4-ton Kubota lineup features three models: the KX033-4, U35-4 and KX040-4. The KX033-4 and KX040-4 are both conventional tail swing models while the U35-4 is a minimal tail swing model. The 3- to 4-ton Kubota excavators are ideal for tight confined residential or commercial jobsites, utility work, rental, landscaping and government/municipality applications."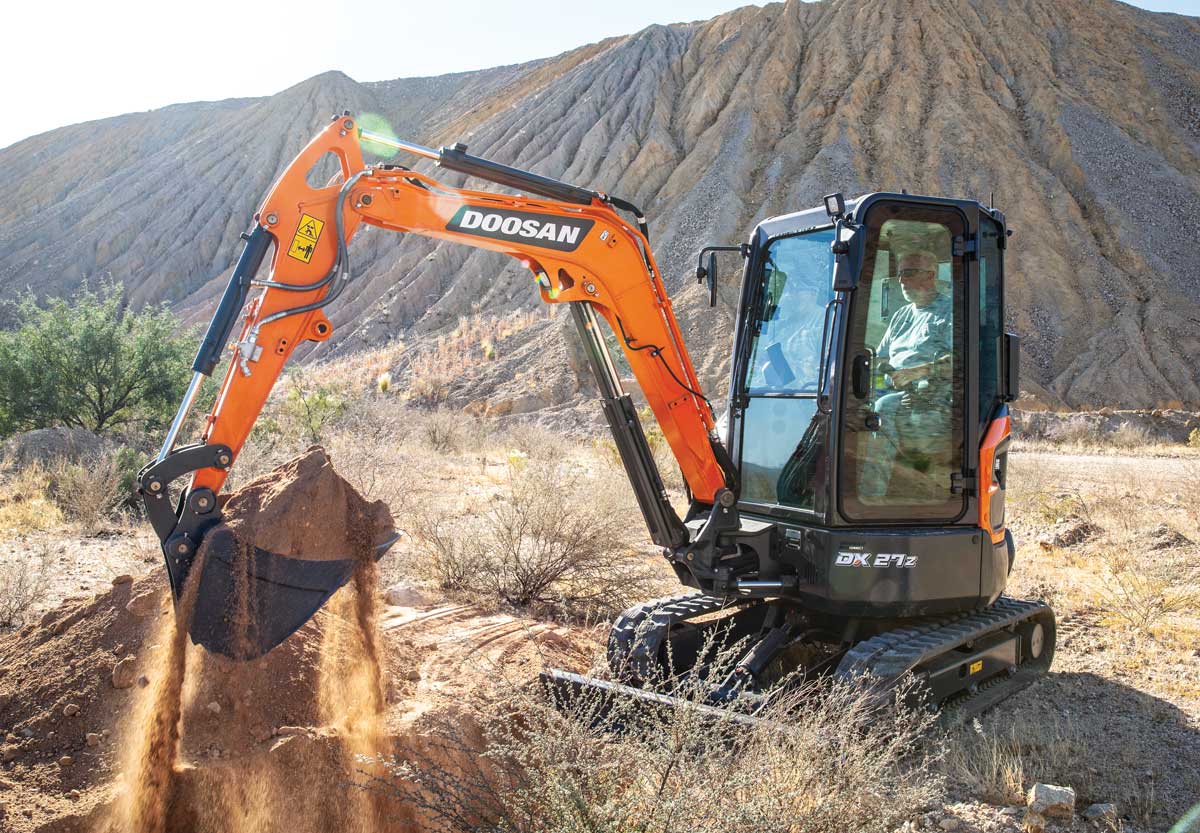 Doosan is aiming to release 10 new mini excavators in America over the next few years. That's the kind of interest this market is generating.
The operator experience (both cab and tech) continues to be a focal point for compact excavator makers, especially at this popular size class and above. Last year, Kubota Tractor Corp. announced the U48-5, a brand-new tight tail swing model that builds out Kubota's U Series with a powerful 4.8-metric-ton, technology-forward machine. It boasts a 7-in. LCD screen, standard LED working lights, optional keyless start and a larger redesigned cab with improved operator visibility and powerful heat and AC.
The operator station of a compact excavator has come a long way, and today they are especially customizable — for long days, short rents and specific applications. Do you want an enclosed cab with heat and air conditioning or is an open-air roll over protection system (ROPS) just fine? A vinyl or cloth suspension seat with lumbar support and limitless adaptability will immediately enhance comfort and probably production. You can get that seat heated too. There are ergonomic controls, adjustable wrist rests, adjustable windows, backup cameras and automotive-style climate controls. Also, a radio with Bluetooth technology can enhance any operator's groove.
Color LCD touchscreen digital displays are now the control centers for the most high-tech mini excavators. Through these sophisticated control panels, operators and mechanics can access machine maintenance vitals, service manuals and security and language protocols. Attachment automation features are also available, often via these digital displays, as well as access to cool technologies from auto idle to switching from pilot to traditional backhoe controls (ISO to SAE). This type of comfort and high tech is on full display in the 5- to 6-metric-ton class, which behind the 3- to 4-metric-ton market is the most dynamic.
Last year, Cat released the 5-metric-ton class Cat 305 CR excavator, which it noted delivered a nearly 9 percent increase in machine performance. That includes 21 gpm and 3,843 psi to the attachment and a digging force of 11,061 lbf. But the unit's also compact radius or CR, so it's nimble. Its 78-in. track width and new extra counterweight option help optimize stability and lift performance in confined spaces. Cat's 305 CR and 304 were the final two minis to be released late last year for Cat's Next Generation lineup, which now offers 17 models and cool tech from flip-up cabs and LCD monitors to the exclusive Cat Stick Steer system, which allows the operator to switch (with the touch of a button) from conventional lever/foot-pedal steering controls to left-hand joystick control. It's great for backfilling.
"Generally speaking, in North America, the 3.5 ton is the largest volume opportunity closely followed by that 5 ton," explains Greg Worley, market professional with Caterpillar. "People now are migrating to that 5 ton. It's a crossover machine. It's not a small machine. It's not a big machine. It's easy to transport. We expect to see, for us, that 5 ton to complement what the 6 ton has been doing, but the 6 ton, quite frankly, it's just too big to transport for some of our customers. We see that 5 ton really filling in that gap, and the 4 ton customers will take a new look at that 4 ton because it's a different change in mentality for how to use that size machine because of its narrowness and stability."
Cool Market Trends
Popular mini ex specs include operating weight, engine horsepower, dig depth, bucket breakout/digging force and maximum reach. Mini excavators are diggers, but they are increasingly tool carriers, utilizing a variety of hydraulic-powered implements. Auxiliary hydraulic power to the attachment is measured in gallons per minute (gpm) and pressure (psi), and each excavator will have max gpm and psi.
Let's use JCB's new 35Z-1 zero tail swing model as an example. The just released 3.5-metric-ton unit has an operating weight of 7,840 lbs, bucket breakout force of 7,284 lbf, dig depth of 10 ft, 5 in. and is powered by a three-cylinder Perkins engine, delivering 24.7 hp. High-flow, electro-proportional, double-acting auxiliary hydraulics deliver 18.5 gpm of flow to the attachment, while double acting low-flow auxiliary hydraulics can also be specified, delivering 8 gpm of flow. The 35Z-1 was released at The ARA Show last year, so yes, rental is a big market for machines today.
Renting or buying, a mini excavator's auxiliary hydraulic system specifications will help determine the size and power of attachments available. Depending on the excavator model, attachments range from buckets and thumbs to hammers and augers. Deep dive into the most popular compact excavator attachments on page 12 of this issue. Hot new attachment segments include brush cutters, tiltrotators, safety quick-couplers and grade control tech. More mini excavators are being fitted with mulchers and mowers that are used to control dead vegetation, overgrowth and right of ways to reduce the risk of fire. Big in Europe, tiltrotators allow an excavator operator to tilt and twirl an attachment 360 degrees, delivering versatility in a wide range of applications, including grading, general excavation, compaction, asphalt cutting and pick-and-place work.
Mini excavators are making big waves on jobsites all over North America. Click here for the latest news on these machines and the companies that make them.
"The versatility of compact excavators continues to evolve, and with it, the demand for more features and greater capability," says David Caldwell, product manager, Takeuchi-US. "Manufacturers are responding by adding additional auxiliary circuits which greatly expand a machine's ability to run a wider range of hydraulically driven attachments. More compact excavators now have high-flow capability as well, and this makes them ideal for handling attachments like small mulchers and brush cutters. The increased hydraulic flow allows the mulchers and brush cutters to turn at higher rpms for a more efficient cut and faster recovery times. In turn, the fact that compact excavators can now use a much broader array of hydraulic attachments makes them more useful on a wider range of jobsites, helping owners get better returns on their machine investments."
Grade control automation systems are becoming more available on small excavators in 2022, installed at the factory or through aftermarket OEMs like Trimble and Topcon. Grade control systems help operators dig precisely, measuring the position of the bucket and boom and controlling certain parameters set by the operator (depth, slope, elevation control) or even using a 3D model to dig and sculpt. Applications such as trenching for footings, grading ditches or digging out basements might require a consistent grade, sustained slope or precise design.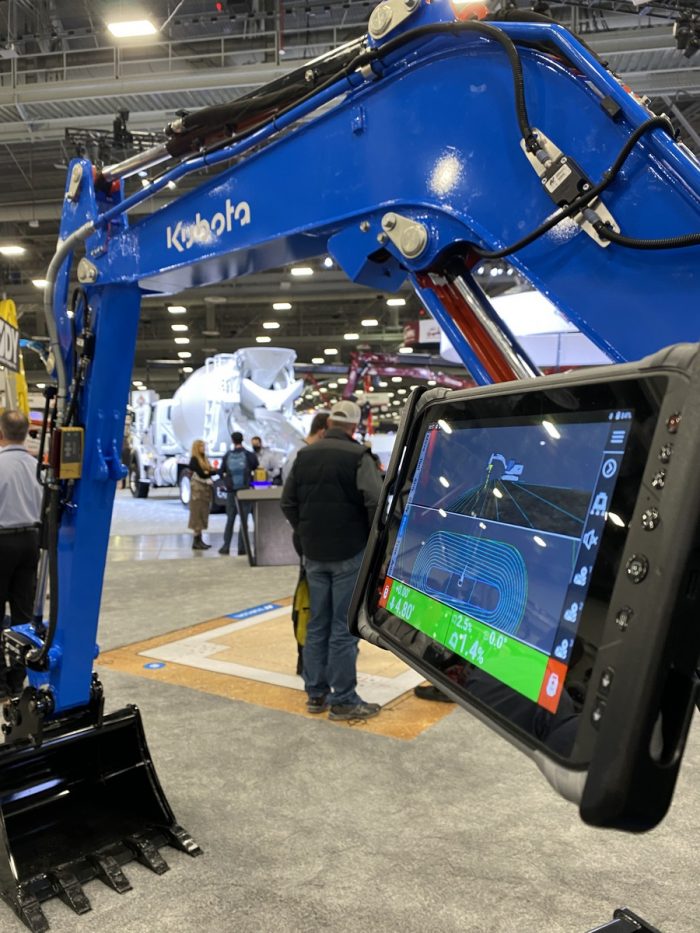 "Topcon's been doing machine control for decades," explained Oscar Cantú, marketing manager for North America at Topcon. "Our new MC-Mobile Solution is focused on compact equipment. What is it? In a sense, it's mobile machine control for small machines. I can pull up on a trailer flatbed, pull this mini excavator off. I use that laser on top of that tripod to measure what's there. I sit in the cab and design my project. Then I trench, excavate and grade using machine controls. And then, the third step is to check it all. This is an all-in-one solution. It's for mini excavators, compact track loaders and skid steers. This allows contractors to be able to do their jobs faster and to be able to take on bigger, more complex jobs."
In order to run complex attachments, excavators can be plumbed with two-way hydraulics and/or equipped with a diverter or selector valve to actuate the open, close or rotate functions. Varying counterweights can be added to the rear of a mini excavator, adding stability for lifting and digging. Instead of diesel, electric and hydraulic hybrids are coming into the market as well, but currently only represent a small fraction of sales. Instead of tracks, wheeled models are also becoming available in America, but they are usually on the larger end of the compact realm, aimed at applications that require roading (competing with a backhoe).
Attached to the undercarriage frame, a backfill blade is an important part of the compact excavator's arsenal. The blade is used to backfill spoils into a trench, grade material, add stability while digging and help prop up a unit for undercarriage work. There are some unique backfill blade options out there. Blades can come in simple push configurations or angle versions. Blades on the smallest micro units will have the ability to fold in with a retractable undercarriage. There are also four-way and six-way angle backfill blades on bigger, higher-end units.
Heavy Lifters
Compact excavators provide a stable base to lift and move heavy materials on a jobsite. To help customers, manufacturers are providing mini excavators with a host of lift-specific accessories and add-ons. These include quick-couplers with an integrated lift eye and a robust hydraulic system that can handle a wide range of lifting attachments such as grapples, clamp buckets, vacuum systems (for pipes or concrete slabs) or mechanical clamps for moving curbs or barriers. Customers are lifting all types of things — rocks, curbs, wood beams, trees, as well as infrastructure items like water boxes, pipes and sewer connections. Site cleanup and recycling operations are moving scrap metal and concrete. When lifting, ensure that the full load, including any buckets, couplers, thumbs, shackles, cables and slings, as well as the load itself, does not exceed the lifting capacity and working range of the manufacturer's lifting chart. Remember that the machine may have a lower rating over the side than over the front. Also make sure that the lifting point itself is rated to carry that load. Always use the recommended lifting point that the manufacturer provides as per the operator's manual, and operators should place the machine on stable, flat, firm ground when lifting heavy objects.
Sticking with the undercarriage, there will be track choices — straight rubber tracks (most popular), steel tracks (for bigger diggers in aggressive applications) and hybrids which are a mix of steel and rubber usually with detachable pads. There are also track pattern choices, but not many. The smallest units often come with retractable undercarriages, enabling models to shrink and expand their footprint to fit through doors or gates.
Customers for the new 48.8-hp Doosan DX50Z-7 mini excavator can upgrade to a steel track option for use in jobsite conditions that may otherwise damage rubber. This 5-metric-ton size class, zero tail swing excavator sports an enclosed cab with heat and air (standard), heated adjustable seat (optional), operating weight of 12,121 lbs and max digging depth of 11 ft, 5 in. making it an attractive new option for buyers and renters. The DX50Z-7 is one of 10 new mini excavators Doosan hopes to release in America over the next few years.
What Will the Market Bring Next?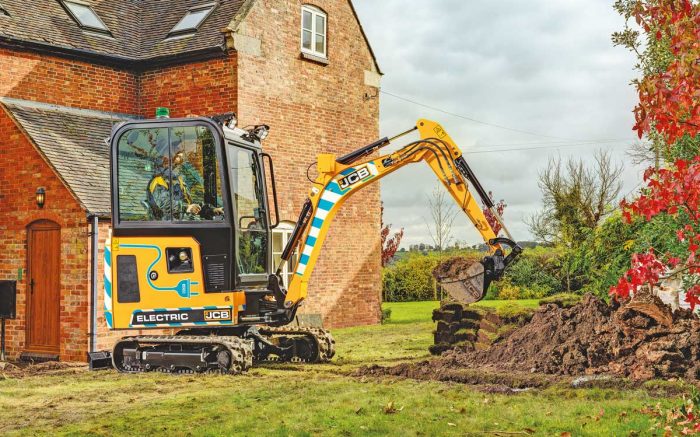 "Looking forward for mini excavators, specifically for us, we'll introduce an electric machine to the commercial market in 2023," said Aaron Kleingartner, product and dealer marketing manager at Doosan Infracore North America. "Technology from larger machines is coming into some of the smaller ones. We've got customers that are asking for grade control on the smaller machines. A lot of these midsize machines are working in hardscape applications where they're moving boulders, and they need to know how much they're lifting at times, so weigh scales on excavators like what's popular on a wheel loader. And, contractors are asking for more and more electronics on the machine, making machines remote capable or autonomous capable. That's probably on the horizon."
Keith Gribbins is publisher of Compact Equipment.
Tags:
Bobcat
,
Doosan
,
February 2022 Print Issue
,
Hitachi
,
Hyundai
,
JCB
,
John Deere
,
Kobelco
,
Komatsu
,
Kubota
,
LiuGong
,
New Holland
,
Takeuchi
,
Volvo
,
Wacker Neuson
,
Yanmar