The canvas of an excavator artist includes a variety of landscapes. Pristine green grasses, brown muddy jobsites, white broken concretes — a mini ex digs and works in a rich mixture of colorful ground conditions. Jump in the cab, grab two joysticks and start digging just about anything with a boom and bucket — utility trenches, pools, housing foundations, drainage ditches, ponds and every other thing that needs to go in or under the earth.
Excavators are the ultimate digging tools, and compact excavators are the ultimate digging tools when it comes to urban areas and confined jobsite applications. Compact excavators (also called mini excavators) are defined as excavators under 6 metric tons. These are small excavation machines, engineered with an undercarriage and tracks, a long digging arm and a cab or ROPS enclosure. Typically with a dig depth between 5 and 20 ft and an operating weight between 2,000 and 20,000 lbs, compact excavators can fit into cramped worksites and still give big dig power.
These mini excavators began to catch the attention of contractors and manufacturers in the early 1990s. Soon major equipment companies were invading the market with machines — Bobcat, Caterpillar, Yanmar, Volvo, John Deere, Komatsu, Kubota and more. As urban areas grow and the housing industry continues to recover, excavation work in tight jobsites will continue to increase. With a small size, long reach and light footprint, contractors are turning more and more to mini excavators.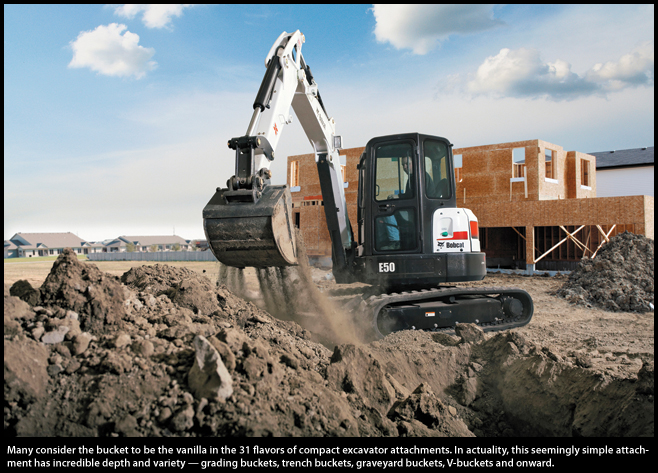 The 3.5- to 4-ton class will continue to drive the compact hydraulic excavator market. Also, conventional style compact excavators continue to share market share with the minimum and zero tail swing designs. Zero tail swing or ZTS continues to be a hot feature (excavators that are designed to keep their cabs within the width of their tracks).
Helming the two joystick controls, construction and utility contractors, landscapers and homeowners can make quick work of large tasks with these mighty minis. In addition to an excavator's many features (enclosed cabs, backfill blades, extendable sticks, retractable undercarriages), a plethora of attachments are readily available to take on tasks beyond digging (hydraulic thumbs, breakers, specialty buckets, augers, grapples, mowers and more).
Compact excavators can carve out trenches for irrigation, water, sewer and natural gas lines. They can demolish structures and clear vegetation at one stage of a project, then lift and place construction materials during another. Overall, the industry and its many applications are primed for growth. More than 15 manufacturers are either making or branding compact excavators today. With so many models and manufacturers, contractors can often feel a little overwhelmed when shopping around for a new machine. Knowledge is the key when considering any big purchase, so CE decided to collect as much information about each mini excavator product line as it could. Specifications, prices, product summaries and advice to buyers are all included for each manufacturer. We suggest you get to know each of these companies and their products before you put your crews in a new mini excavator.
Keith Gribbins is managing editor for Compact Equipment, based in Peninsula, Ohio.