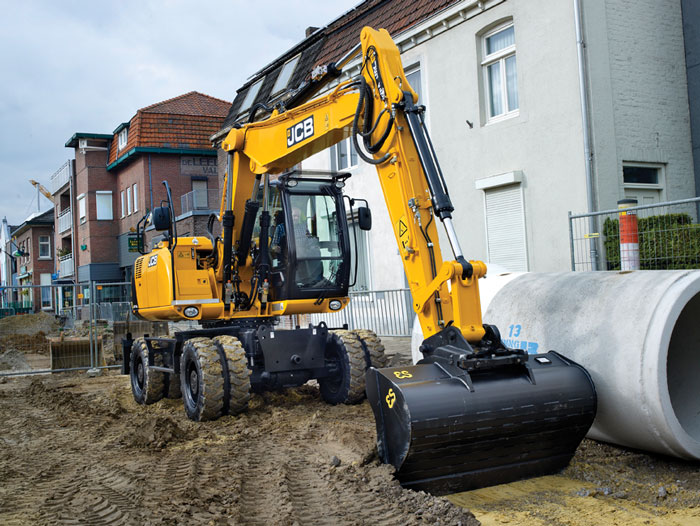 Perhaps one of the most easily recognizable machines on any jobsite, excavators have a unique design that makes them ideal for tasks like demolition, material handling, digging, grading and dredging.  From compact models weighing as little as 2 tons to massive, 36-ton behemoths, excavators have proven themselves to be indispensable tools for contractors all over the world.
While there's no doubt that excavators have been must-have machines for many years, more contractors are now opening their minds to a different type of machine than the tracked, or "crawler" version that's commonly seen throughout North America. The wheeled excavator has been a popular machine in Europe for many years, and it's beginning to gain some momentum in the United States.
"We're now seeing more wheeled excavators in action in urban areas like New York City," says Vincent Whelan, product sales manager for JCB's compact excavators. "Still, the vast majority of North America currently manages by using tracked machines. That's likely because applications here have usually involved more clearing and digging of land in undeveloped areas. Tracked machines offer higher tractive effort and lower ground-bearing pressure to keep them from sinking into soft surfaces. Wheeled excavators are ideally suited for work in more urban areas, which is why they've been so widely used in places like Europe."
Wheeled vs. Tracked
Unlike their North American counterparts, most European contractors don't use tracked excavators until they need the digging power of a mid-size, 20-ton machine. Instead, they prefer to use wheeled excavators, primarily due to their combination of versatility, mobility and speed.
"JCB's European customer base is very owner-operator driven," Whelan adds. "Because wheeled excavators can run smoothly on paved roadways, owner-operators who use these machines within 20 to 30 kilometers [12 to 18 miles] of their home bases can simply drive them to work, towing their attachments and other materials if necessary."
Wheeled excavators can also move around seven times faster than tracked models of similar weight when it comes to top-end speed. While a tracked excavator literally crawls along at about 4 to 6 mph, a wheeled model can travel at speeds of up to 22 mph. Conversely, tracked excavators must be transported using a truck and trailer — even when simply crossing a paved road. Wheeled models have more standard features and greater versatility, making them almost like large tool carriers. "Full hydraulic pipework to run hammers, shears, augers, pipe lifters, selector grabs, brick and block handlers are standard on wheeled excavators," Whelan says. "Wheeled models are also usually specified with a dozer blade that increases the machine's footprint while improving its stability and lift performance."
Tracked machines will have what's called a one-piece "mono boom," while wheeled machines in Europe feature a triple-articulated boom (TAB) — a two-piece boom with an extra section containing a hydraulic cylinder that allows operators to reduce the overall lengths of their machines. This ability to reduce the machine's length is what makes it possible for contractors to drive them on the roads in most European markets.
"If you've driven a wheeled excavator on the road, you understand why the TAB is important," Whelan explains. "It brings the weight closer to the machine and makes it easier to steer around town due to its compact size. The TAB design also improves visibility to the right-hand side of the machine, which is typically a blind spot for excavator users."
When it comes to digging power, tracked excavators may have a small edge due to their greater stability. This can be remedied on a wheeled machine by deploying the optional dozer blade or stabilizer legs. Wheeled machines get the nod for easier maintenance because they have fewer parts subject to wear-and-tear. On tracked machines, manufacturers dictate that track plates, chains, rollers and sprockets should be changed after so many hours of tracking and after exposure to certain types of surfaces. On a wheeled machine, you can simply change out the tires.
Deciding on a Machine
Considering all the various differences and similarities between tracked and wheeled excavators, how do contractors know which one is right for them? Mobility is the primary differentiating factor between these machines, but work surfaces, environment and primary application also play major roles in the ultimate decision to purchase or rent a wheeled or tracked machine.
"A good dealer salesperson will ask you about your typical jobsites and try to understand all the different tasks you need to accomplish," Whelan says. "From there, it's relatively simple to choose the right machine and, perhaps just as importantly, the right attachments that can help you be as productive as possible."
Because of the unique work that utility contractors perform, a wheeled excavator can be a smart choice. Utility contractors often need to break through streets and highways to reach water, gas or electrical services in urban areas, and using a wheeled excavator would prevent the ground around the excavated area from damage. It's also common for contractors working on utility projects to excavate numerous areas along a stretch of roadway. That's when the wheeled unit's speed can be a major benefit, as it can drive along the asphalt at a relatively fast clip. A tracked model would need to be loaded and trailered to the next excavation site.
While the price of a wheeled excavator is often 20 to 30 percent more than a similarly sized tracked machine, wheeled units can serve many other purposes if they're outfitted with the right attachments and a hydraulic quick-coupler. And, because wheeled excavators can be driven to the worksite, they can potentially reduce transportation costs.
Still, when the job calls for high-production digging, tracked excavators are by and large the machine of choice. A higher proportion of these jobs — demolition, quarry work, land clearing — take place in open areas on softer, uneven ground for which tracked excavators are far better suited. Once the decision has been made to purchase an excavator — wheeled or tracked — choosing the most appropriate model depends not just on the type of job that needs to be done, but the size of that job.
"We ask our customers questions about the size of the pipes they'll be lifting, or how long of a trench will you be excavating," Whelan explains. "In Europe, the most common JCB wheeled excavators are the 15T and 18T models. However, North America has wider roads and more room in general, so a larger JCB 22T might be a better choice. As with any machine purchase, it's very important to choose an excavator that has the power and the reach you'll need for your toughest job."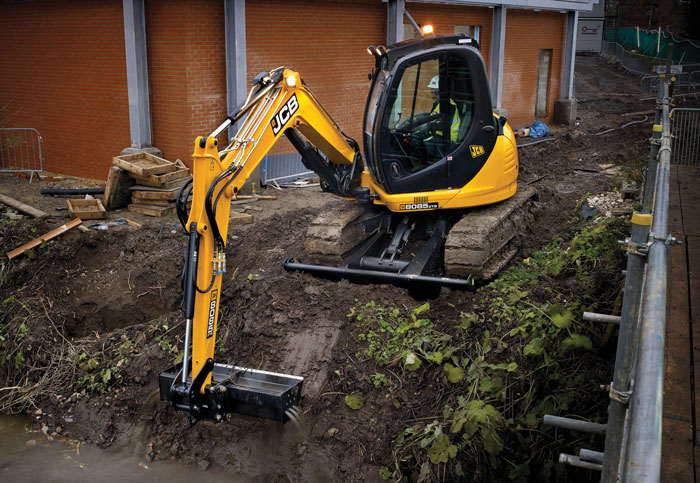 Coming to America?
Obviously, there are distinct advantages to both wheeled and tracked excavators depending upon the type of work a contractor needs to perform. Does that mean that we'll soon be seeing more wheeled excavators on our side of the pond? Whelan thinks so.
"North America presents us with one of the biggest growth opportunities for these machines," he says. "If you look around the world, most wheeled excavator users are in developed, highly populated regions like Europe, Japan, South Korea and western Russia. In North America, states, cities and towns need machines that can maintain infrastructure that's been developed over the years, as well as build the new infrastructure that's necessary as populations continue to grow. Wheeled excavators are ideal machines for this purpose."
Lynette Von Minden is senior public relations counsel for Swanson Russell, based in Lincoln, Neb.
Tags:
Excavators
,
JCB
,
Wheeled Excavators