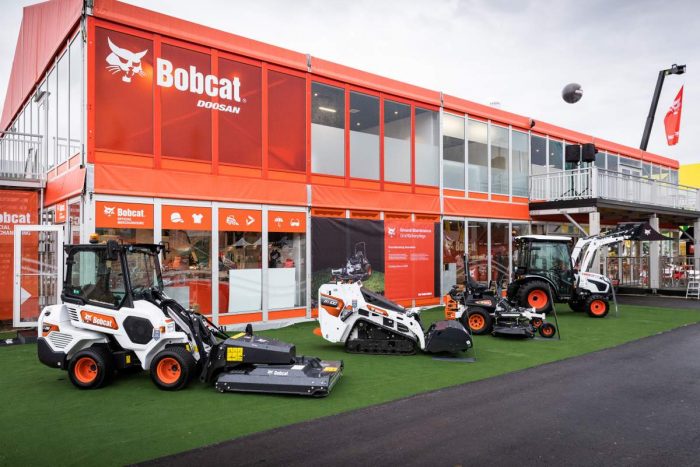 Bobcat Co. has been releasing a lot of cool news lately. Well, let's jump to Germany. This week, Bobcat is looking to the jobsite of the future with its latest products and innovations at the bauma 2022 global construction machine trade fair in Munich.
"As the creator of the compact equipment industry, Bobcat is always pushing boundaries, redefining what is possible and innovating for what's next," said Scott Park, CEO, Doosan Bobcat. "We're evolving in bold ways to meet our customers' toughest challenges and offer the solutions for a more sustainable future."
Situated in booth FN.817, Bobcat is showcasing a comprehensive display of new and current equipment, along with the latest in electrification, digitization, autonomous operations and other innovations.
"At Bobcat, innovation stems from a need to drive efficiency, productivity and sustainability," Park said. "We innovate, not for the sake of innovating, but to create value for our customers and the world."
In addition to its booth presence, Bobcat is also taking part in the bauma Forum. Doosan Bobcat Vice President of Global Innovation Joel Honeyman will present "Leading the Charge: Bobcat T7X transforming the jobsite with sustainable solutions" at 4:30 p.m. CET on Friday, Oct. 28, in the Innovation Hall bauma LAB0 (ICM – International Congress Center Messe München).
Booth Highlights Include:
Bobcat E19e Compact Excavator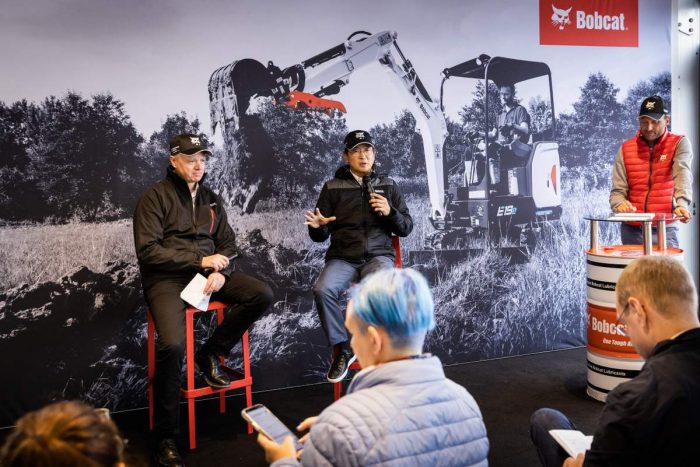 Bobcat has unveiled the latest machine in its electric excavator lineup: the E19e compact excavator.
The battery-electric excavator was unveiled during the first day of the bauma 2022 trade fair in Munich. Bobcat has recently introduced numerous electric machines to offer customers solutions for their unique jobsite needs.
The E19e compact excavator offers a compact footprint, quiet operation and zero emissions. The electrical motors deliver full torque, regardless of rpm, providing top productivity, smooth hydraulic control and on-demand multifunctioning performance with no noticeable power drop. Like the E10e and the E32e, the E19e offers a run time of four hours of continuous operation on its lithium-ion battery pack. It charges with a standard 120-volt outlet, requiring eight hours to fully charge. While applications vary, each charge can support common daily work operations and the use of work modes for up to four hours of continuous operation time and a full day of operation during intermittent use or a typical contractor workday.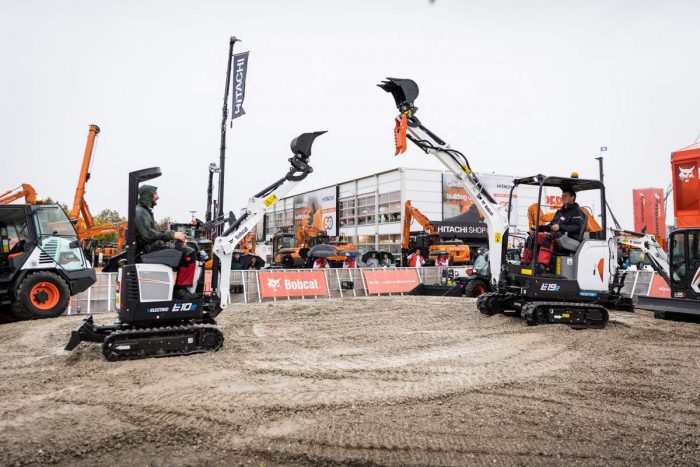 Producing zero emissions, the battery-electric excavators support environmentally sensitive worksites. They allow users to operate inside structures where diesel exhaust is restricted. The equipment offers significantly lower noise levels and vibration, which improves jobsite communication and allows work in sound-sensitive areas.
Additional information on the E19e's North American debut and availability to customers will be forthcoming.
R-Series S86 and T86: The Most Powerful Loaders from Bobcat
The exhibit features Bobcat's new R-Series S86 skid-steer loader and T86 compact track loader. Delivering a higher engine and hydraulic output, the new S86 and T86 are the most powerful compact loaders the company has ever built. Only the S86 and T86 offer three hydraulic flow outputs – standard flow, high flow and super flow – in one compact loader.

The S86 and T86, announced in September, will be available to customers in North America in Q1 2023.
T7X: The World's First All-Electric Compact Track Loader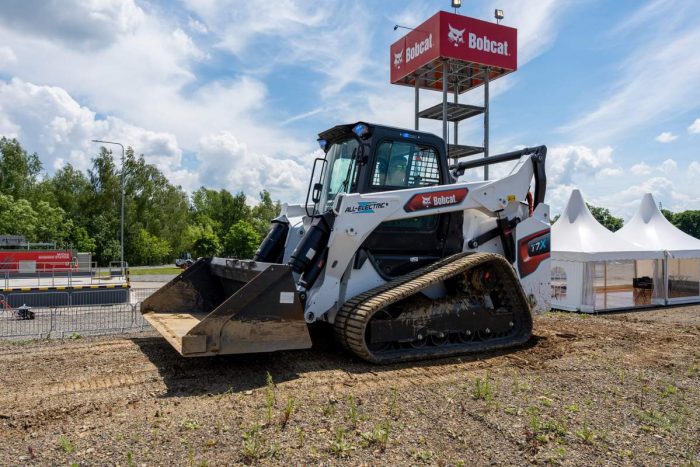 The Bobcat T7X, the world's first all-electric compact track loader, is in action in the booth demo area. Powered by an advanced lithium-ion battery, the T7X features a fully electric drive system in place of a traditional hydraulic work group. It is built with about half the parts and components required for a diesel-engine loader, driving down maintenance and overall operating costs to levels never reached before.
Producing zero emissions, the all-electric platform offers instantaneous power with no need for a hydraulic system to build up power. The T7X offers an exceptional operator experience with drastically reduced noise and vibration, making it ideal for indoor worksites as well as urban areas where noise restrictions can limit work hours. During the 2022 Consumer Electronics Show, Bobcat received two innovation awards in the categories of Vehicle Intelligence & Transportation and Smart Cities for the development of the T7X.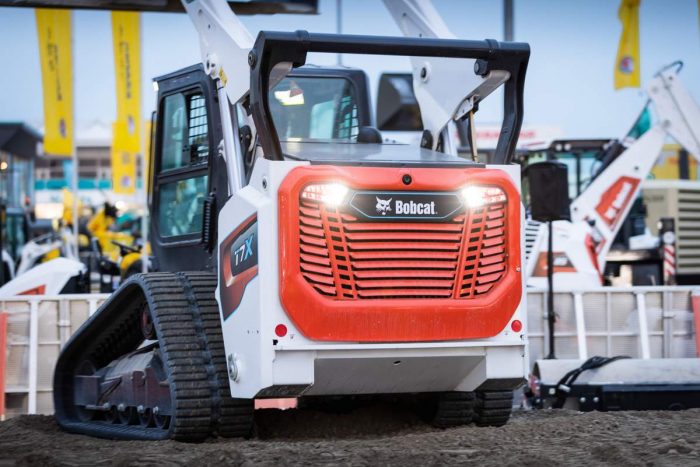 Currently in production in North America, the T7X will initially be available through Sunbelt Rentals, a premier equipment rental company with more than 1,050 locations across North America.
E35 Compact Excavator with Intelligent Controls
Bobcat is showing one of its newest technology concepts, intelligent controls on an E35 compact excavator, at bauma. The hydraulically controlled joysticks are replaced by an intelligent control system and joysticks, which allows Bobcat to customize the machine controls to all levels of operator skill. With the help of integrated sensors, the machine can perform a series of semi-automated tasks such as helping the operator with precise grading and leveling, trenching or repetitive tasks such as return to dig. More information about the most innovative Bobcat E35 will be forthcoming.
Quad Tracks: bauma Innovation Award Finalist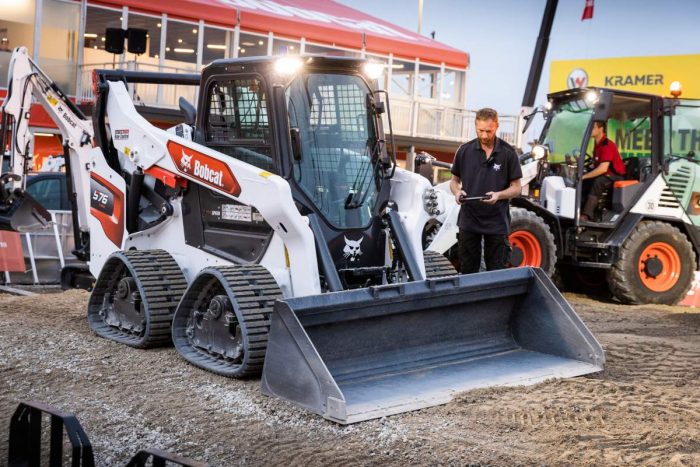 Currently in limited production in North America, quad tracks take the versatility of Bobcat skid-steer loaders to new heights. The four, independent track pods can replace the wheels of select skid-steer loaders for a wide range of applications that require greater traction, improved pushing power and a light footprint. Quad tracks also provide improved ground contact and greater operator comfort on difficult terrain. The quad tracks concept was chosen as a finalist in the Mechanical Engineering category of the bauma 2022 Innovation Awards.

New Solutions for Operator Vision Technology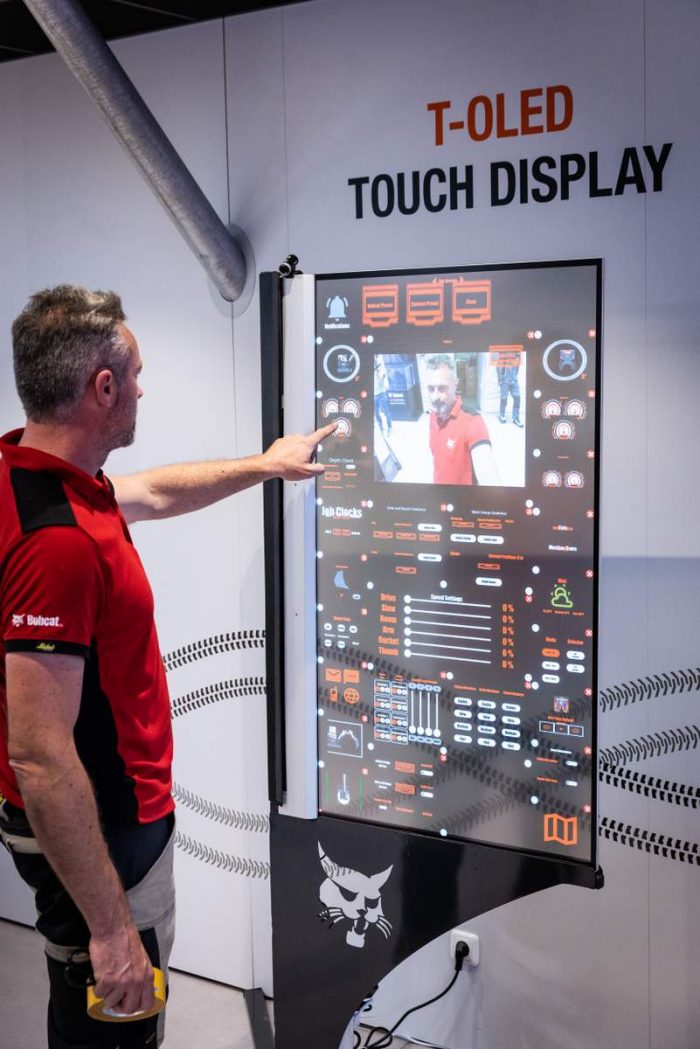 Bobcat is displaying new solutions for operator vision technology with a transparent, touch OLED (organic light emitting diode) display. The transparent display, which operators can see through to also view the jobsite, can be positioned on the front windshield or a cab side window on a range of Bobcat machines, including compact excavators, telehandlers and loaders. The multi-functional display enhances operator productivity, efficiency and visibility to the task at hand. The display was developed in conjunction with LG Electronics and BSI Research.
We'd love to keep in touch! Check us out on Facebook, Twitter and LinkedIn!