SPECS:
Engine: 60.6-net-hp Tier 4 Final Volvo diesel
Max. Travel Speed: 18.6 mph
Max. Dig Depth: 10 ft, 10 in.
Max. Dig Reach: 19 ft, 9 in.
Bucket Breakout Force: 9,734 lbs
Excavators on wheels are a fairly new category of construction equipment in the American marketplace — especially small varieties. That's what intrigued me about Volvo's EW60E. It's a compact size class excavator engineered on four wheels (not tracks), which allows for convenient road travel (similar to a backhoe) and excellent maneuvering (four-wheel drive) in confined spaces, digging and wielding other attachments from breakers to pipe handlers. The EW60E, which travels 18.6 mph, is an ideal machine for operators on the move — a municipality or road contractor — that would often prefer to road to a project rather than use a trailer and truck.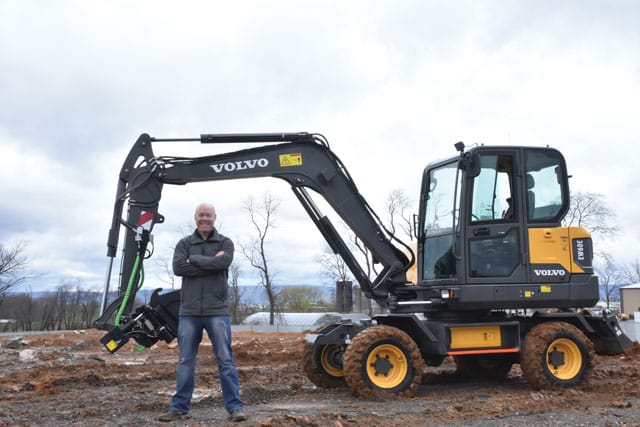 "So, you can obviously trailer this machine and go from job to job, but for an area like say Shippensburg, you can pretty much zip all around town in an EW60E," explained Matt McLean, product manager for wheeled excavators at Volvo. "There's probably no place in Shippensburg where you couldn't get to within half an hour."
Can we take it somewhere around town?
"Ha. You'd have to put on the flashers," laughed McLean.
He quickly waved the sentiment away and politely pointed to the expansive operation area behind Volvo Construction Equipment's Customer Center in its hometown of Shippensburg, Pa. There's 40 acres, he explained, surrounding this state-of-the-art meeting facility (just built in 2014) designed to house sales and operator training and dealer and VIP visits with swank. Behind the actual center is a giant operator's playground full of simulated jobsite applications. Excavators of all sizes are set up in a giant circle, ready to dig in thick Pennsylvania mud. Volvo haul trucks are navigating around an obstacle course with speed and precision, and a group of random trainees is huddled in a circle in front of it all, devising a plan, eyeing everything from skid steers to wheel loaders.
Volvo CE has also invited me to this destination to be the first journalist in North America to operate its new EW60E compact wheeled excavator, but before I'm encouraged to go play in the muck (it's an extremely muddy day in late April), McLean gave me a walk-around.
"The EW60E replaces the EW55B, which actually went out of production I believe around 2009," he said. "So, we were out of this market for a little while. When we came back, we had to make it better, and one of the things they did was combining the crawler and the wheeled technologies. Because you have two different engineering teams, one in Germany, one in Korea. They were forced to work together, so this is the first series where the wheeled and the crawler internally look almost the same. For example, if you go into the cab of one, and I put you in one of the crawlers, even the full-size crawlers over there [he pointed to a mud field full of diggers], you should be able to find your way around because so many of the controls and the layouts are going to be identical to what you're seeing here."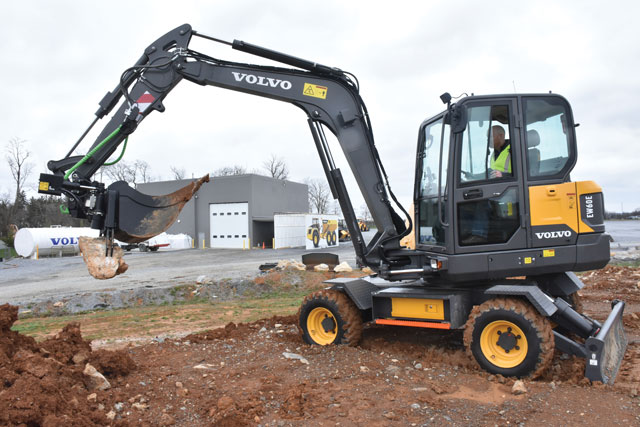 I jumped up into the cab. Besides the big steering wheel, the EW60E definitely feels and operates like other Volvo excavators, with maybe a little more comfort and control capabilities. The EW60E features the latest generation Volvo cab which claims 10 percent more space than prior compact versions, including more room behind the seat. I threw my cell in the phone tray, inspected two power sockets, plopped my bottled water in the cup holder and kicked around the three other large storage areas. I should have brought lunch.
I eyed the large 7-in. color LCD display and a series of keypad groups on my right-hand side, which create a cluster of easily accessible navigational tools — swap boom functions, control hydraulic flow, lock the axles (yep, there's axles), engage travel, work the dozer blade or initiate attachment usage. I could even drive the unit with the joysticks, instead of the big steering wheel in front of me.
"And what happens if you're in a panic and you use the steering wheel? The wheel will override the joysticks," said McLean, noting another cool feature: "And here's your axle lock button. There's oscillation on this unit because it's a wheeled off-road machine. So, if you want to stabilize it, you'll push that and that's when it will lock your axles, so that if you picked up a heavy load, it's not going to dip down."
The Experience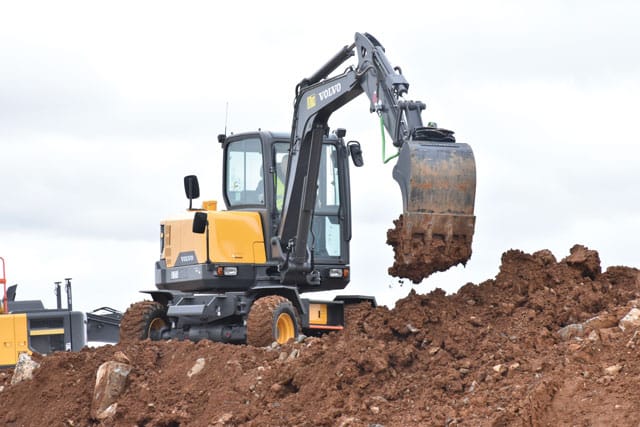 The experience of digging and/or picking and placing with a wheeled excavator is somewhat different than a tracked version. Digging, lifting or dumping while extended from the side does have a different feel. "There is going to be a little bit of a trade-off on that sensation you have while digging," McLean admitted. Also, wheeled units don't have the traction of an undercarriage and set of tracks. As I dug through the impressively dense spring sludge, the bucket and boom dragged the wheels forward. Using the dozer blade to counterbalance that lack of traction was essential. But those same wheels also allowed me to road at over 18 mph, and while the EW60E only sits about a foot higher than its tracked counterpart, it definitely felt like a higher, bigger and better view from the cab.
"For an operator who is used to tracks, there are obviously the advantages of roading," explained McLean. "It may also depend on what you are operating on. Road work is ideal. The size, despite the fact that the [EW60E] isn't a short-swing machine, it's not sticking out that far. So, if you're in tight spaces, working on asphalt or concrete, then tires are obviously a great idea."
My particular EW60E was fitted with a tiltrotator that allowed the bucket to spin for any angled excavation. It was awesome. The tiltrotator also had a grapple on the back of the bucket which allowed me to flip the bucket and easily pick up stones. "Add in an optional tiltrotator, coupler and the hundreds of attachments available for these machines and you have the ultimate in flexibility for any job," said Ray Gallant, vice president of sales support and also McLean's manager, giving additional insight into the wheeled ex market. "Although the current wheel excavator segment in North America is still small in comparison to Europe or Asia, we see a significant growth opportunity in North America for this type of machine."
The EW60E looks to capitalize on those opportunities, fueled by is a 60-net-hp Volvo Tier 4 Final engine and adjustable hydraulic flow. McLean was quick to note that the EW60E has 12 percent more horsepower than prior series models while delivering a 10 percent improvement in fuel efficiency due to a smaller displacement engine with a turbocharger. The standard auto idle feature helps to reduce fuel consumption even further, and a unique optional feature from Volvo, called auto engine shutdown, shuts off the engine automatically after a preselected idle time, lowering fuel costs and noise.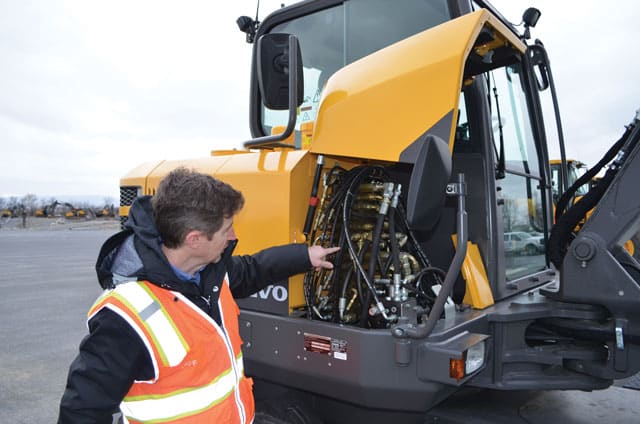 The EW60E is also equipped with features designed to ease service. "You have ground level access to almost everything," said McLean. I especially dig that service intervals can easily be monitored via the in-cab screen, which displays maintenance reminders. The EW60E also comes standard with Volvo CareTrack telematics and Volvo MATRIS (Machine Tracking Information System) software — fleet management technology to remotely monitor a wide range of machine diagnostics in real time.
"These services see the warning signs before machines break, telling you to stop, fix the problem and by doing that we maintain the uptime of the entire vehicle over its lifetime," said McLean.
Shippensburg Manufacturing Center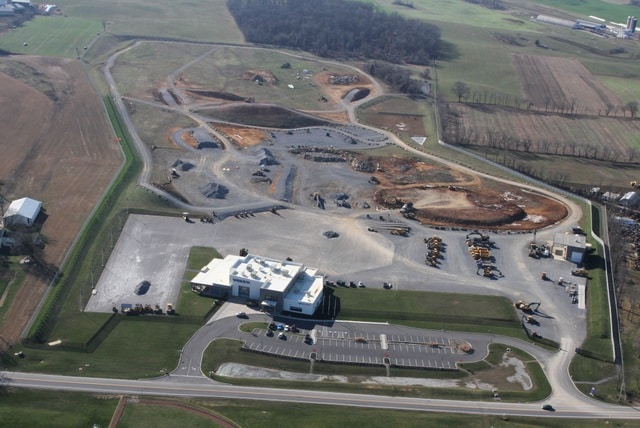 Right next door to where we're operating was Volvo CE's Shippensburg manufacturing facility and North American headquarters — a site that houses more than 1,000 employees and currently manufactures soil and asphalt compactors, pavers and screeds and wheel loaders. Also, in the facility is the Volvo CE Uptime Center, featuring ActiveCare Direct, which is one of the industry's first OEM direct-machine monitoring services. Volvo monitors thousands of machines in real time (24/7/365) and automatically filters and prioritizes actionable alarm codes.
In additional to proactive monitoring, the center delivers monthly fleet utilization reports directly to the customer and the dealer. This center could monitor the EW60E I operated to help prolong the life of the unit, improve uptime and reduce my total cost of ownership. After operation, I'm invited to tour these facilities with Ian Harvey, director of product marketing for Volvo. He explained that the Shippensburg facility has been producing quality construction equipment for more than 30 years. The business was acquired by Volvo CE from Ingersoll Rand in 2007 for $1.3 billion. Expansions included a new assembly hall and materials building, the addition of wheel loaders to the product line and the relocation of the sales team from Asheville to Shippensburg.
Welders, large machining, paint facilities and teams of workers assembling Volvo iron highlight an interactive VIP tour that also allows visitors like myself an opportunity to get hands-on in the manufacturing facilities, inspecting welds, operating torque guns and performing cab sound inspections.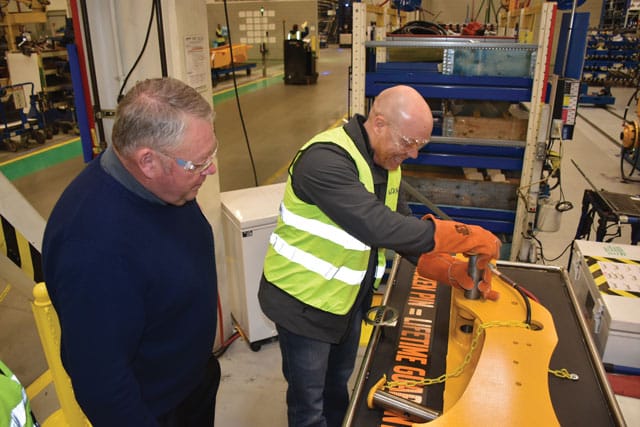 "Volvo has not only invested heavily in its manufacturing facilities in Shippensburg but has a world class Customer Center on site," said Harvey. "Here, the Volvo team hosts many different types of events, from one-on-one specialized customer visits to events with over 1,000 people attending. During the year over 10,000 people will visit the Volvo Customer Center. One of the main features of the Customer Center is the ability to showcase the full lineup of Volvo equipment at work and show it working in many different simulated jobsite applications. As part of an individually customized VIP or dealer visit, our guests are shown around our entire campus, including the manufacturing facility. Here, they experience many hands-on features and get to see many of the state-of-the-art manufacturing processes."
It's an experience CE readers can enjoy for themselves. Ask your local Volvo dealer, and while you're there, take an opportunity to operate the new EW60E. I'd be interested in hearing your operational thoughts on these new wheeled excavator tool carriers entering the U.S. market.
Tags:
home
,
June 2018 Print Issue
,
Volvo
,
Volvo Construction Equipment