Like other equipment in the compact world, small hydraulic excavators keep coming up big for manufacturers. In 2018, they continued to enlarge their place in the construction industry. We've even heard sales might be in the 50,000 unit range for 2019.
"I never felt that the volume of small excavators would surpass the volume of skid steers," says John Comrie, Volvo's product manager for compact and wheel loaders, speaking from a half century of experience with off-highway equipment. "I thought the volume would grow — customers can see the value in the mini excavator — but I never thought it would grow as much as it's growing."
Continued growth for the compact excavator is keyed to refinement of the basic digging machine into a versatile, rather sophisticated piece of equipment. Volvo's 1.8-ton ECR18E is that manufacturer's latest rendition. Introduced in January, the model is described as an ultra short swing radius excavator with a half-inch rear overhang. It boasts 50-hour greasing intervals and a roomier cab. For an amusing video of the machine navigating a manicured topiary garden accompanied by classical music, head to youtu.be/yxYgHy_XCyU.
"The ECR18E has a few neat little ideas," Comrie says. "The model is better for operators with the redesign of arms and placement of the boom cylinder and hoses. Volvo also made some changes to make it more service-friendly."
Equipment refinements and upgrades sometimes fall in the bells-and-whistles category. It is interesting that buyers of John Deere's 60G excavator models can now buy one fewer whistle. Specifically, they can order a canopy instead of a cab. "For customers that don't need the additional comforts of a cab, a canopy can be a great option and is a bit more economical. We now offer a canopy on all John Deere compact excavators," says Jonathan Spendlove, Deere's excavator product marketing manager.
Which is to say not only are the machines becoming more sophisticated, so are machine buyers. "Customers are continually getting smarter about what they buy," says Spendlove. "We want to make sure we give them options and configurations that meet the needs of their jobsite, their application and their business."
JCB North America hints at a new compact excavator model coming this winter, but for now promotes two new machines — the 18Z-I and 19C-I. They are significant upgrades of earlier-generation JCB excavators. "The earlier models needed some improvement," says Ashby Graham, general manager of product marketing. "We gained a lot of feedback from customers and made the changes. Cabs are much larger now, especially for that size of mini excavator."
The 19C-I is a conventional tail swing model weighing about 4,200 lbs, while the 18Z-I is JCB's first zero tail swing excavator in the under-2-ton class. The machines seem tailor-made for rental houses, coming with all-steel bodies, diesel engines without aftertreatment devices, better-protected hydraulic valves and hoses and a 500-hour greasing interval. Grease it and forget it.
Compact hydraulic excavators have benefited from being little brothers to brawnier tracked diggers. Features and systems that might otherwise be missing from mini excavators have been proven on full-size excavators and handed down for use on the smaller platforms. When Caterpillar introduced its newest mini excavators in 2018, Cat publicists gave a tip of the hat to full-size forerunners in the Cat lineup. "Major structures for the Next Generation mini machines — upper and lower frames, track frames, boom and stick — are modeled after their larger Cat excavator counterparts and designed for long term durability."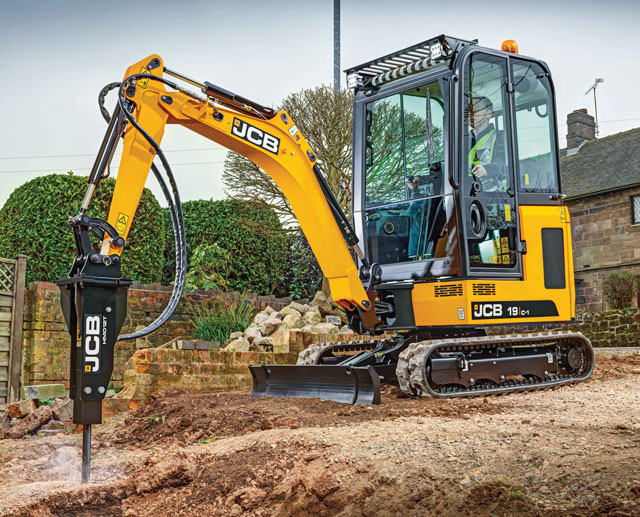 In the same way, Deere talks about the engineering heritage of its compact excavators. "John Deere compact excavators are designed in cooperation with the Hitachi Machinery Corporation, so the same rigorous engineering that is used on mid-sized and large Deere and Hitachi excavators all the way up to the large Hitachi mining shovels are incorporated into each compact excavator," says Spendlove.
Telematics were first incorporated into heavier equipment so that company shops and dealers could track the whereabouts of the expensive machines as well as monitor service schedules and diagnose system failures. Today, telemetry is a feature of all JCB compact excavators. "We started using it on our larger machines, but now have it incorporated into our smaller ones. More and more people are asking for it."
Bobcat's latest offering as of 2018 is the R-Series E85. The 8-ton machine has a turbocharged engine that doesn't require a diesel particulate filter — less hassle, less cost — and has a roomier cab and an integrated rear counterweight for added stability. An increasingly popular feature on the excavator is the Depth-Check system that measures grade and depth of a bucket's cut. It reduces over-digging and under-digging and the resulting secondary work.
"We're seeing a steady take rate for the Depth-Check system," says Jason Boerger, Bobcat's marketing manager, "especially where customers are doing a significant volume of digging work, such as trenching for utility lines, digging basements or footings, sewer line installation and so on. It significantly reduces the costs associated with backfilling and compacting fill material."
The small blade on the front of compact excavators that at a glance seems mostly to be a stability feature is proving to have genuine utility. Some manufacturers have promotional videos showing excavators blading down worksites. "It's a cleanup blade, a blade for fine-tuning, not bulldozing. It's a great feature on the machine," says Comrie.
The blades have a float feature that makes them easier to utilize, and angled blades are gaining popularity for refilling trenches. "Rental companies generally spec the machine without the blade though," Comrie says. "They prefer to keep the machines simple, with fewer moving parts and less maintenance."
Volvo also offers its EW60E rubber-tired compact excavator. Though unusual, the machine is not a novelty. The 60-hp excavator can match tracked units in reach and depth of cut but has the added advantage of being able to travel to and from worksites without transport. It is proving popular for municipal work.
"In some of the bigger cities where they are replacing old gas and water lines, they can use it without transporting it. With a rubber-tired excavator, you can go from 51st Street to 22nd Street in a couple of minutes and get right to work," Comrie says. "Sales volume of the excavator has been outstanding, with numbers way above what we had expected."
Caterpillar's four new smaller models — all in the 1.5- to 2-ton range — have three-cylinder Cat diesel engines rated at about 20 hp and a hydraulic system that can pump 17.4 gpm. Each model has standard options including an expandable undercarriage, flip-up cab, LCD monitor and a Stick Steer system, which lets an operator smoothly transition from foot-pedal steering to joystick control. There are also six new Cat models in the bigger 7- to 10-ton category that come with similar premium features (sans the expandable undercarriages). So, the refinement of compact excavators continues.
As it does, the machine's fundamental engineering grows more mature and reliability becomes a given. Consequently, manufacturers are extending warranties — such as at Bobcat where, beginning in January, all the company's excavators are covered by a two-year/2,000-hour standard warranty. R-Series compact excavators from Bobcat also meet or exceed military requirements for sealing, moisture, shock and vibration. Good to know the next time you crowd the edge of a pond and end up dumping your excavator in the water.
Giles Lambertson is a freelance writer for Compact Equipment.
---
Developing New Machines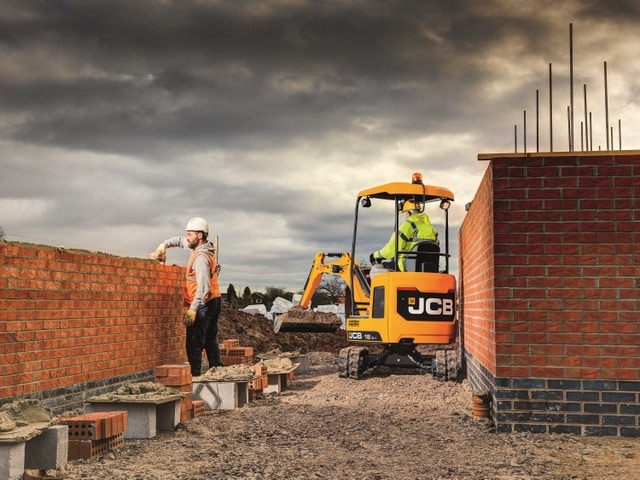 The why of a new machine — or upgrading of an old one — comes down to meeting needs. Sometimes it is a company's need to offer something fresh in hopes of capturing a larger market share. More often, a machine or machinery component is engineered and introduced to the marketplace in response to an identified and widespread customer need.
Ashby Graham, general manager of product marketing for JCB, says a new machine's appearance in the market can happen any time. It is not calendar-driven. "We will put an idea into development as soon as possible and try to be as flexible as we can with the market. If there is something in the market that customers repeatedly are asking for, we try to give the customers what they need." So, a new product might be introduced in January to a new year's hoopla — or in August at an industry expo.
Other considerations besides customer feedback can influence development. New technology, of course, spawns new machines, but so can legislation or government regulations. Ashby cites the Tier diesel engine environmental regulations. They drove engine redevelopment for years and influenced the introduction of compact models with horsepower ratings beneath the threshold for emissions devices.
John Comrie, product manager at Volvo Construction Equipment, has seen how air quality standards can impact machinery use. A demolition customer of his used to demolish steel structures by first cutting them apart with acetylene torches. To avoid environmental concern, the contractor switched to a small hydraulic excavator with a sheer. Comrie sees increasing gravitation toward hydraulic solutions using mini excavators, which are incorporating high-flow systems to power mulchers and augers.
And then there is just the natural inventiveness of machinery operators to consider. "Nothing surprises me when I visit customers," Comrie says. "It doesn't surprise me when a customer comes up with a custom machine for whatever special segment he is working in. The guys working in oil and gas, they have all sorts of ideas."
Graham says fresh thinking and novel applications are all a part of small business people exploiting a machine's capabilities. "Customers will always find a new application that a manufacturer never knew about. That's the nature of how customers use their machinery."
Tags:
Bobcat
,
February 2019 Print Issue
,
home
,
JCB
,
John Deere
,
Volvo
,
Volvo Construction Equipment