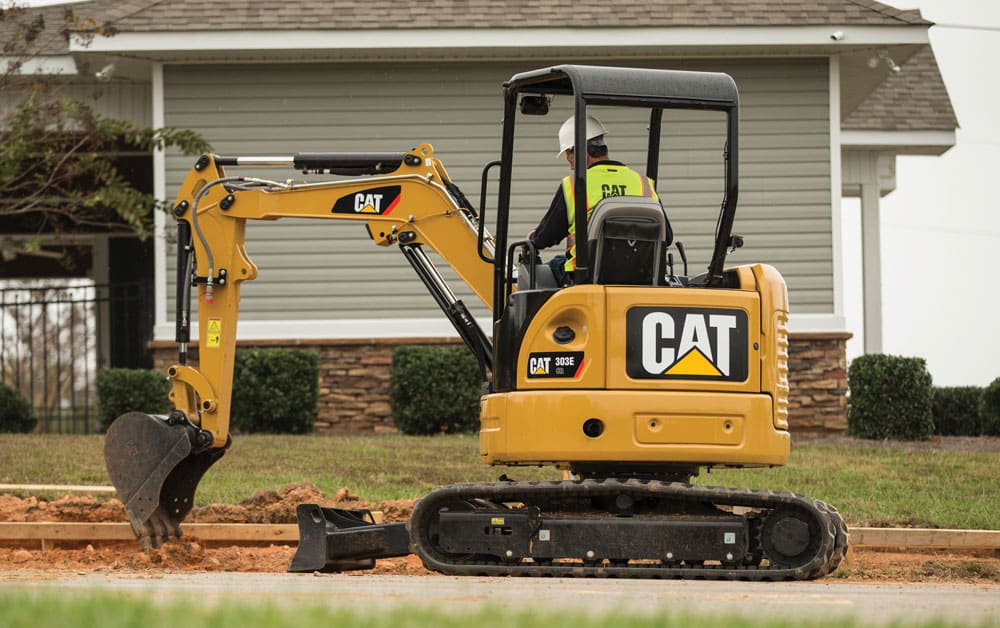 Close your eyes. Imagine you're back in high school flipping through the yearbook and you get to the class superlatives. Remember those? Best hair, prettiest eyes, most likely to succeed. Well, we decided to try our hand at them and ask six mini excavator manufacturers — from Caterpillar to Kubota — to discuss their most popular machines. Yep, they had to narrow down their extensive lineups, sort through the features and pick the most popular. No class voting; just looking at the buying trends and sales numbers. Think of this as our mini excavator page in the yearbook, minus the hassle of writing "keep in touch" in the back.
Equipment giant Caterpillar has been manufacturing mini excavators since 1987 and currently has a range of 14 models in the U.S. market — all designed to meet certain customer requirements or needs. The company pinpoints the 308E2 and the 303E as its two top models out of those 14, citing that they lie at opposite ends of the product line spectrum.
"These two machines could not be more different but both play a critical role in meeting our customers' expectations," says Greg Worley, senior project engineer, Global MHE at Caterpillar. "It comes down to having the right machine, for the right application, for the right customer.
"Our 308E2 market share has grown and grown over the last few years, mainly due to its versatility," he continues. "It's a big performance machine in a relatively small package, making it very versatile to meet many different types of applications. Most customers require the biggest machine possible to meet their application criteria in the smallest package possible. Our 303E popularity continues to grow and grow simply because it is a small basic excavator that it is very effective in what it does. Easy to transport, easy to operate and easy to maintain."
Both machines have seen success among various markets. Worley says thanks to its transportability and ease of operation the 303E is becoming a staple unit in the large fleet utility world of water, gas, electric and cable.
Last March, John Deere introduced its 30G mini excavator at CONEXPO-CON/AGG and the machine has become a favorite in the marketplace. Why? Dave Young, product marketing manager for mini excavators, says it's because of its versatility and weight.
"The 30G fits a variety of customers, from landscapers working on large residential projects to contractors doing road work within a city or laying sewer pipe," he says. "It's not even a year old yet, but the 30G is gaining popularity and its weight is a big factor. You can put it on a trailer and pull it with a larger pickup. It's very mobile, and you can get it from jobsite to jobsite easily. You don't have to have a multi-axle truck."
Next, Young mentions the 30G's oversized undercarriage. He says that it adds to the model's durability and acceptance among heavy-duty contractors. As for track options, Deere offers both rubber and steel insert tracks. Young says the rubber tracks are the most commonly chosen thanks to their ability to cross over and work on a graded road without disrupting the base that has been laid prior to the asphalt or concrete. Over at Kobelco USA, dealer development manager Todd Dohnal says that the 3.5-metric-ton SK35SR is the company's most popular selling mini excavator. Dohnal highlights the SK35SR's compact size, noting that operators can easily maneuver in and out of tight spaces, especially in urban areas and planned developments where jobsites are more restrictive. It's a great machine for the landscape, utility and rental markets.
"The SK35SR delivers full-size benefits with short-radius capabilities and exceptional features," says Dohnal. "Showcased on the SK35SR is Kobelco's revolutionary iNDr+E cooling system; this system incorporates the iNDr technology of large Kobelco excavators into a one-of-a-kind, eco-friendly cooling system that reduces noise to 75 dB. This unit is also available with Kobelco's new four-way blade option that delivers a left- and right-angle movement of 23 to 25 degrees for increased operator control during clearing, grading and backfilling. The SK35SR continues to increase in popularity among contractors that have time-sensitive projects and are in need of a multi-functional machine."
Yanmar America's most popular selling unit is the ViO35, and it has been well received among customers in the rental, construction, landscaping and utility markets. It's a popular unit thanks to its portability to and from the jobsite without the need for a CDL. Its unique quick-coupler, which comes standard, is also a big selling point.
"The outstanding feature of Yanmar excavators is the Yanmar-designed pin-grabber style quick-coupler that is used by the operator from within the cab and simplifies the ability to switch easily and quickly between different size buckets or different attachments [such as breakers, mowers, etc.]," says Eric Berkhimer, product manager, Yanmar America. "The distance between pins is adjustable so that attachments with different distances can be used. Any attachment using a 2-pin type connection as with the bucket can be installed using the quick-coupler. Only the application of the locking pin and the hook-up of any hoses or connections for attachments needs to be done outside the cab."
When looking at Volvo Construction Equipment's mini excavator lineup, product manager John Comrie says that sales are very close between the company's EC35D and ECR40D models. However, he points out the new EW60E wheeled excavator and the EC60E are also quickly catching up on sales volumes. According to the Comrie, popular features in the lineup include side-engine mounting for easy servicing, a Tier 4 Final engine with no exhaust aftertreatment, easy access to the main control valve, hydraulic filters housed under a single hood and a large roomy cab with a wide door. But that's not all. Comrie continues to elaborate on the machines.
"Precise control from the load-sensing piston pump hydraulics ensures the operator can achieve fine grading," he says. "The operator seat and joystick controls are built as one unit, enhancing comfort and reducing fatigue when operating a machine for longer periods. The unique design of the engine rpm control allows the operator to easily set the exact engine rpm to suit the application, whether digging or doing heavy lifting. The curved design of the engine hood and rear panels offers the operator a panoramic view and a clear look at the operating area. The Volvo excavator swing system uses a direct-mounted motor to the swing ring, and a balance valve in the system eliminates shocks during slewing left to right."
Volvo's lifetime frame and structure warranty is also a huge selling point for its line of excavators. "That's a huge commitment from Volvo that shows how confident we are with the Volvo range of compact excavators," says Comrie. "Someone who does a walk-around and sees the boom and arm designs, HD pins and bushings, X-frame undercarriage and well-protected hoses will quickly understand why we're able to back our machines with lifetime coverage."
Kubota's K Series boasts compact excavators that range in size from 1- to 8-metric tons and are available in a zero, tight and conventional tail swing configurations. The KX040-4 holds the title as the most popular selling excavator in Kubota's compact excavator line.
"The KX040-4 is easy to transport, and the machine performance exceeds customer's expectations," says Jeff Jacobsmeyer, product manager for excavators, wheel loaders and TLBs. "Industry-leading hydraulic power and productive cycle times are just a couple reasons why this model is Kubota's top seller."
So, who's buying this particular unit? Jacobsmeyer says that the KX040-4 is most popular among general contractors. "Dig depth, best-in-class bucket breakout force and the optional 6-in-1 backfill blade makes it a great choice," he adds. "The 6-in-1 blade allows the operator to angle and tilt the blade for site prep and cleanup."
---
Industry Snapshot
Kubota's Jeff Jacobsmeyer Talks the Mini Excavator Market
While discussing Kubota's most popular mini excavator, product manager for excavators, wheel loaders and TLBs Jeff Jacobsmeyer, gleaned some insight into the market … and things are looking good.
"The coming year will be another good year for the compact excavator industry, and the construction industry overall appears to be strong in most parts of the country," he says. "Reports have shown that the compact excavator industry in general has grown in 2017 for all sizes up to and including the 8-metric-ton class. Particularly the 3- through 8-metric-ton sizes have experienced the most growth. Many contractors have upgraded from their tired older machines. Rental markets remain strong, and rental fleets have been updated and even increased in total size due to demand. Compact excavators continue to be a popular replacement of the tractor loader backhoe."
---
And the Winner Is…
Volvo CE's Fully-Electric Compact Excavator Prototype Wins Intermat Innovation Award
Volvo Construction Equipment's 100 percent electric compact excavator prototype — known as the EX2 — recently won the prestigious Equipment & Machinery Award in the Earthmoving and Demolition category of the Intermat Innovation Awards. The concept machine, which delivers zero emissions, 10 times higher efficiency, 10 times lower noise levels and reduced total cost of ownership compared to its conventional counterparts, was recognized for its contribution toward progress in the construction industry. It is believed to be the world's first fully-electric compact excavator prototype. At this stage, the EX2 is still part of a research project and it is not commercially available.
"I am extremely proud that the EX2 has been awarded this globally-recognized innovation award," says Ahcène Nedjimi, electromobility specialist and EX2 project leader at Volvo CE. "The EX2 is a revolutionary machine. The electrification of construction equipment will produce cleaner, quieter and more efficient machines — this represents the future of our industry. I'm pleased that the judges have recognized its significance."
Check out more excavator stories here.
Tags:
Caterpillar
,
February 2018 Print Issue
,
home
,
John Deere
,
Kobelco
,
Kubota
,
Volvo
,
Yanmar
,
Yanmar America