Defined as excavators under 8 metric tons, these are small excavation machines engineered with an undercarriage and tracks, a long digging arm and a cab or ROPS enclosure. Typically, with a dig depth between 5 and 20 ft and an operating weight between 2,000 and 20,000 lbs, compact excavators can fit into cramped worksites and still give big dig power. These units have grown so popular that the number of manufacturers offering models is a little overwhelming — Bobcat, Caterpillar, Yanmar, Volvo, John Deere, Komatsu, Kubota, Kobelco, Takeuchi, Case, New Holland, Hitachi and beyond.
The 3.5- to 4-ton class continues to drive the compact hydraulic excavator market, and conventional-style compact excavators continue to share space with the minimum and zero tail swing designs. Zero tail swing, or ZTS, continues to be an important option (excavators that are designed to keep their cabs within the width of their tracks). In addition to an excavator's many features (enclosed cabs, backfill blades, extendable sticks, retractable undercarriages), a plethora of attachments are readily available to take on tasks beyond digging (hydraulic thumbs, breakers, specialty buckets, augers, grapples, mowers and more). Also, one of the latest trends in the category is both commercially available and prototype electric and hybrid variants.
How do you choose? Most applications for compact excavators are project-based, so what will the dig depth of your job be, and what are the installation specs of the product (drainage pipe, fiber optics, tree transplants or caskets)? Weigh those project details with the particular specifications of the compact excavator you're eyeing. Popular mini ex specs include operating weight, digging depth, bucket breakout force and maximum reach.
Grade Control
There are a variety of grade and machine control systems for excavators on the market, but typically most are 2D or 3D systems.
"Today's machine control systems have been intentionally designed to be easy to learn and use, so there's no need to feel intimidated about making the move to machine control," says John Boss, product manager for Trimble's civil engineering and construction segment. "2D systems are a great place to start and work well for projects like basements, parking lots, utility trenches and finishing slopes. 2D options are also a more affordable entry-point, ranging from around $10,000 to $15,000 to start. 3D systems are a step up in sophistication, accuracy and cost, with full-scale systems ranging from $50,000 to $80,000. The biggest advantage 3D systems provide is that they help operators work quickly, easily and accurately to 3D designs, with some even including auto functionality, so the operator controls the stick while the technology controls the boom and bucket to stay on grade."
2D and 3D systems can work with GPS, single or dual GNSS (global navigation satellite systems) or universal total stations for guidance and correction. The main difference between these options is the external reference for guidance. When in a pure 2D system, the system is usually referencing a laser to maintain a pad or slope (i.e. a depth and slope system). The contractor sets up the laser the same way they would for a grade checker, but instead of stopping to allow someone down to check grade, they can continuously check grade. A 2D machine control system is great for tasks such as digging a utility trench at a uniform grade over relatively short distances or excavating footings and basement areas accurately. In 3D, machines will be leveraging GNSS signals to position the machine in the real world and relative to a 3D design. This requires some GNSS 3D infrastructure on the job, including a correction source, a 3D design and more advanced 3D components on the machine itself.
Ex Bucket Options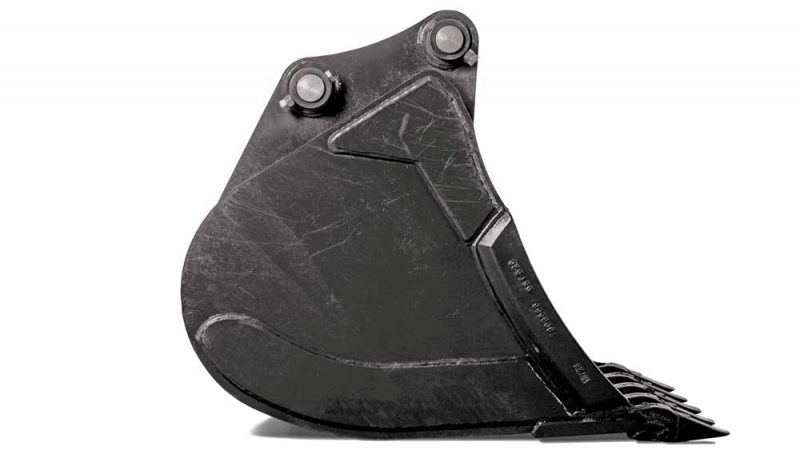 General-purpose buckets are designed for diverse earthmoving work.
Heavy-duty buckets are built a little more, well, heavy duty, aimed at applications in tough clay or rock scattered soil but not for the prying required to dig solid rock.
Grapple buckets are for picking up loose materials such as scrap, waste and brush.
Ditching or trenching buckets have a smooth front edge (as opposed to the teeth on a standard bucket) and are generally used for ditch cleanout.
Tilting buckets are often used in grading applications. Usually, this type of bucket can be tilted up to 45 degrees in either direction.
Cemetery buckets are used specifically for digging graves. These buckets generally have a lower capacity than a standard bucket. Extra rotation incorporated into the bucket will enable an operator to dig straight walls as well as flat bottoms needed for this application.
Rock buckets in general are built for aggressive bucket loading in highly abrasive applications such as severe rock.
Retractable Undercarriage
The smallest compact excavators often come with a retractable undercarriage (also called variable/adjustable width or expandable undercarriages). This allows these ultra-small units to shrink in width to fit through narrow doorways and backyard gates. It's great for indoor work like demo. To retract and widen your undercarriage, operators will need to prop the unit up using the backfill blade and excavator boom, suspending the undercarriage in the air, before moving a series of levers to open and close. Examples of retractable undercarriage models include the Bobcat E10, Caterpillar 300.9D, Takeuchi TB210R, John Deere 17G, Yanmar SV08-1B, Kubota K008-3 and Wacker Neuson 803.
"Mini excavators with retractable undercarriages open themselves up to a wider segment of the market due to their ability to be transported on narrower trailers and into more confined spaces, making them very popular in rental applications," says Jay Quatro, field application and training specialist at Wacker Neuson. "Because there are more moving parts with a retractable undercarriage when compared to a standard undercarriage, operators should pay extra attention to debris accumulation when cleaning the machine. There are usually a few extra grease points to attend to as well."
Thumbs Up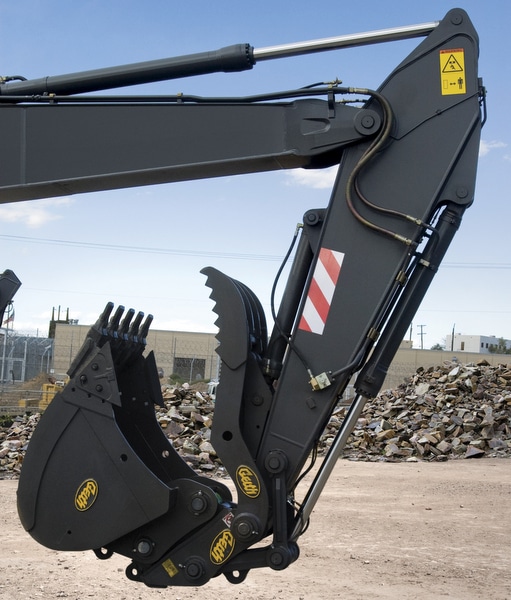 One of the most popular attachments for mini excavators is a thumb attachment, used in unison with the bucket to pick up materials like rocks, brush or scrap. There are two variations of thumbs available for mini excavators: a rigid thumb and a hydraulic thumb. A hydraulic thumb uses hydraulic pressure to grab material in combination with the bucket, so this type of hydraulic thumb attachment must be used with a two-way hydraulic system with hydraulic lines available on the machine. The rigid thumb does not require hydraulics. It is in a fixed position. Selection tips include understanding the pin-to-tip radius of the machine, ensuring the bucket and thumb are compatible, making sure teeth and thumb tines properly integrate and noting that the thumb tines do not extend too far beyond the lip to avoid interference with the stick and cab.
"Purchasing a compact excavator with a thumb not only adds to the machine's utility, it often enhances the excavator's resale value, which is an important contributor to a contractor's ultimate success," says Rodolfo Sosa, product specialist and sales trainer at Hyundai Construction Equipment Americas. "Depending on the application and job conditions, a thumb provides additional capabilities to a compact excavator, enabling operators to become handier with the machine. Hydraulic thumbs have been more popular than rigid thumbs among operators and fleet owners, due to their versatility and the increasing availability of two-way auxiliary hydraulic systems as standard equipment on compact excavators."
Track Choices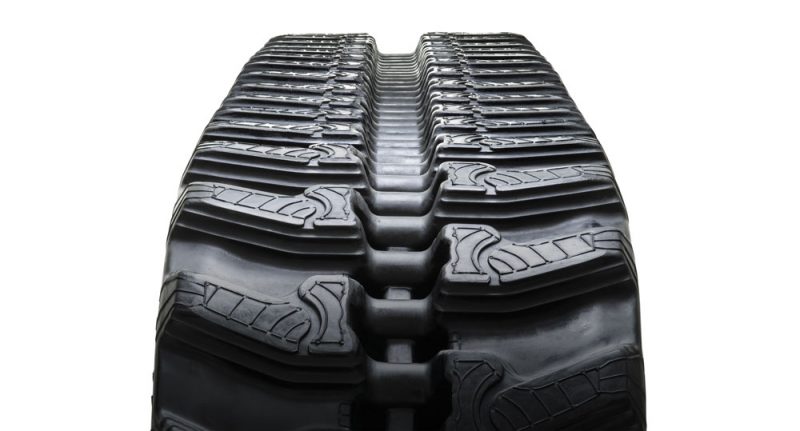 Compact excavators can roll through a variety of tough terrain via a dedicated track undercarriage, but which tracks should you choose for that undercarriage? It, of course, depends on your applications and pocketbook. Owners and operators can choose between aftermarket tracks or OEM tracks, the latter coming from the mini excavator manufacturer. Track specifications will vary from brand to brand and unit to unit, but there will be a variety of quality and durability choices and pattern options.
"Looking at the technology and features built into the tracks is always a great place to start when buying rubber tracks," says Andrew Gaffney, product manager, Americas, for Camso (a leading track manufacturer). "Ultimately, we find that users are looking for solutions to common problems on the jobsite and the features of the track should address those issues. Ask an equipment dealer about his customer's compact excavator performance issues related to tracks, and he's likely to mention detracking. Detracking happens when the track pulls off of the undercarriage during operation, generally on sloped inclines."
Investigate each brand's selling points. There is usually a budget-friendly alternative aimed at less abrasive applications, and there are always higher grade options. Discussion points might include rubber quality, resistance to punctures, cable corrosion, detracking, tread life, vibration, correct sizing and the "carcass." There are also pattern choices, which vary by name and design, but popular patterns include: turf (light footprint); slick surface (traction on snow/wet surfaces); zig-zag (mud); all-terrain (from rocks to mud to lawns); and the C-pattern (a standard OEM tread). There will also be straight rubber tracks (most popular), steel tracks (for bigger diggers in aggressive applications) and hybrids which are a mix of steel and rubber usually with detachable pads.
Backfill Blade Options
The backfill blade is an important part of the compact excavator's arsenal. The blade is used to backfill spoils into a trench, grade material, add stability while digging and help prop up a unit for undercarriage work. There are some backfill blade options and unique technologies out there. Blades on the smallest micro units will have the ability to fold in with a retractable undercarriage. There are also four-way and six-way backfill blades on bigger, higher-end units. Case Construction Equipment offers a four-way angle blade on its CX37C mini ex. The four-way blade can move 25 degrees left and 25 degrees right angle offset to grade and backfill more nimbly. The four-way blade adds an additional 220 lbs to your unit.
Kubota offers a hydraulic 6-in-1 backfill blade on its KX040-4 unit. This allows the blade to be angled right and left and tilted as well. This blade enables six different positions: neutral, float-up, left-end-up, right-end-up, left-end-forward and right-end-forward. This feature makes leveling and backfilling work easy, even on inclines and uneven terrain.
"Kubota's optional hydraulic tilt-angle, 6-in-1 blade provides contractors with a highly versatile machine capable of both sub-grade trenching and excavation, as well as the ability to carefully sculpt and restore surface grades as the operator exits the site. One machine can complete the work of two," says Tim Boulds, construction equipment product operations manager at Kubota.
Extendable Arms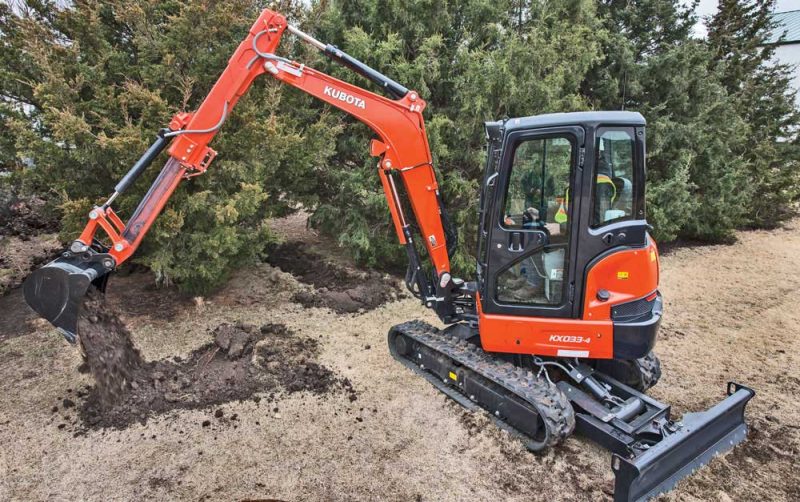 Reach is ever important for a digging machine that can also take attachments like grapples and thumbs to move and place objects. There are specific compact excavators that can come with an extendable or telescoping boom arm to give extra reach. Bobcat says it offers the first and only clamp-ready extendable arm option for select compact excavators like its E42, E45 and E55. Kubota also offers a cool extendable arm on the KX033-4, which quickly and easily extends up to 31 in., boosting productivity as well as efficiency. Its impressive capabilities include a digging depth of 12 ft, 2 in., and a digging reach of 18 ft, 3 in.
"Extendable arm excavators are ideal for contractors in applications where space constraints on site require a very compact machine footprint coupled with increased bucket reach and dig depth, commonly found on larger class machines," explains Tim Boulds at Kubota. "Utilizing an extendable arm excavator reduces the operator's need to reposition the undercarriage, minimizing disruption to established turf and landscape."
Latest Mini Excavator Sales Figures
by Todd Dohnal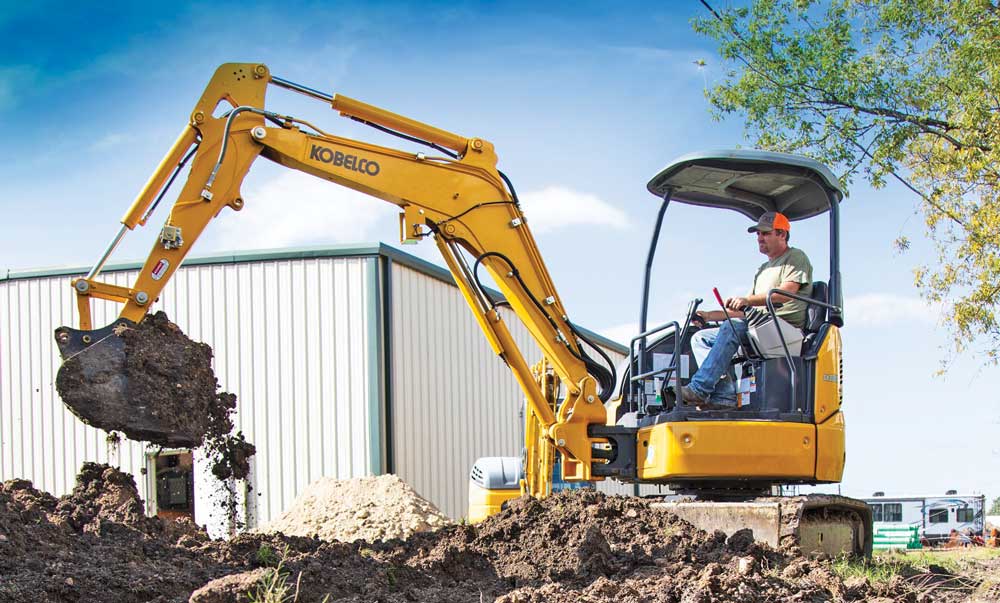 Annual sales of mini excavators have grown to more than 46,000 units, and it is definitely a business segment that all manufacturers are paying attention to and continuing to update, upgrade and incorporate new technology into their respective lineups for the market. We just received the market numbers for year-over-year comparisons, and the mini excavator market has actually increased to over 46,000 units in 2019 vs. approximately 42,800 units in 2018. This equipment segment is still increasing more than most of us in the industry believed that it would. For years we forecasted that the plateau would be 40,000 units, and it still keeps increasing against our best guesses.
One of the major drivers of this increase is the volume of mini units heading right into national, regional and local rental fleets. The competition is fierce on the OEM side with many players in the market trying to grab a big share of this segment. Financing packages and lease options are getting just as competitive. The 3- to 4-ton size class still dominates the volume in the mini excavator market, but the 5- to 6-ton class jumped better than 11 percent in volume over the same period in 2018. We believe that a contributing factor to this volume increase among the 5- to 6-ton machines is the availability and, most importantly, capability to run a larger variety of attachments.
Todd Dohnal is Dealer Development Manager for Kobelco USA
Some Quick Safety Tips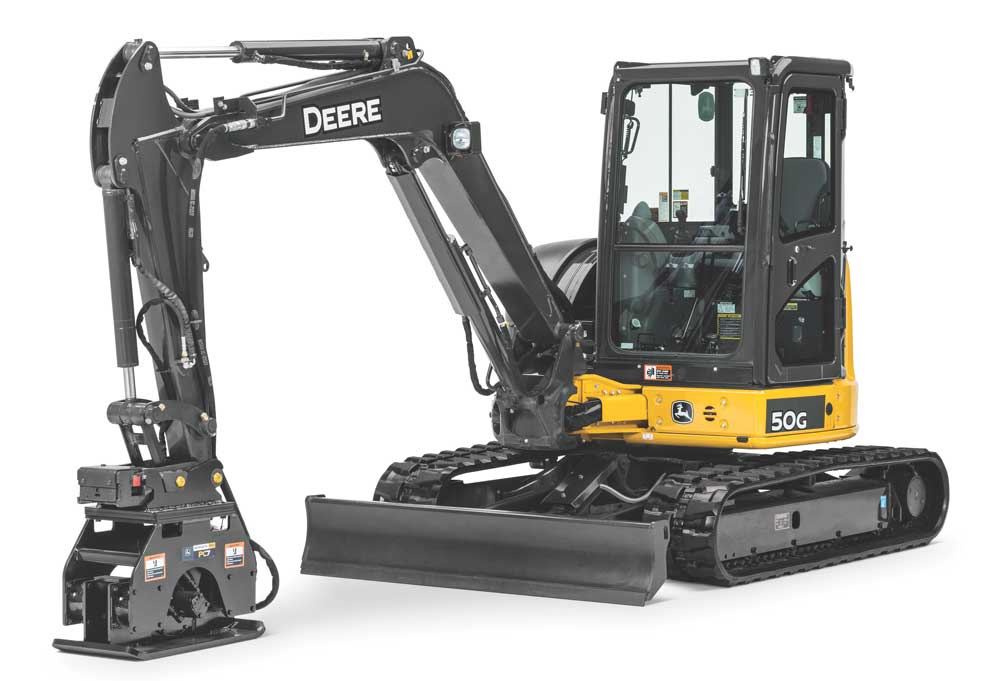 by Doug Miller
Keep the cab clean of dirt, grease and objects that could interfere with its safe operation.
Clean the glass of the cab regularly to increase visibility and avoid glare.
Test each control before beginning work to ensure they're all functioning correctly.
Grease the bucket hinge pins as needed. This is dependent on weather conditions and the type of material being excavated. For example, sandy or powdery materials may require two to three greasings per shift.
When climbing into or out of the cab, use the standard three-point method: keep two feet and a hand or two hands and a foot in contact with the machine as you move the remaining hand or foot. Always enter and exit while facing the machine. Do not jump out.
Keep footwear clean of excessive mud or grease to prevent slipping.
Buckle your seatbelt when inside and operating the excavator.
In addition to these basics, operators need to take notice of their environmental factors. Fatigue, hunger, weather, emotional levels and physical health can all impact and impair the safe operation of an excavator.
Doug Miller is the Owner of Mini Final Drives
Tags:
Camso
,
Cat
,
Caterpillar
,
February 2020 Print Issue
,
home
,
Hyundai
,
Hyundai Construction Equipment
,
John Deere
,
Kobelco
,
Kubota
,
Takeuchi
,
Trimble
,
Yanmar America