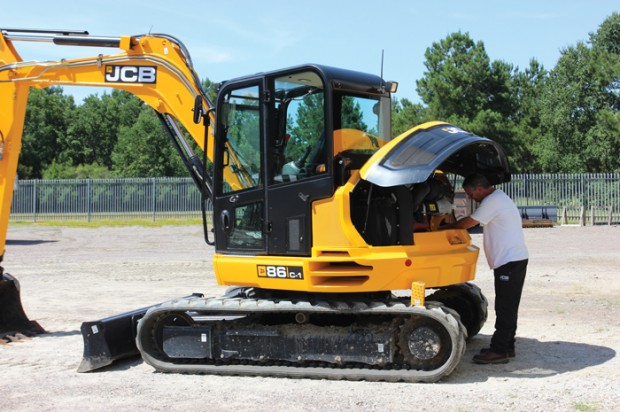 The Ex Factors
By Lynette Von Minden
Just about everyone in the heavy equipment industry is well aware of Tier 4 and its implications. When it comes to compact excavators, approximately 75 percent of the machines on the market today have transitioned to Tier 4 Final status. The vast majority of the Tier 4 Final models available now are in the 75- to 100-hp range, as those larger units must be Tier 4 Final compliant by the end of 2014. The remaining models — those ranging from 50 to 75 hp and 25 to 50 hp — will be Tier 4 Final by the beginning of 2015.
While we know what Tier 4 Final means in terms of emission standards, what are its implications on compact excavator maintenance? While much maintenance will remain the same or similar to previous models, the new Tier 4 engines and hydraulic systems featured in the latest compact excavators will change the way owners and operators approach machine maintenance and scheduling.
"New Tier 4 technology has brought advancements in Electronically Controlled Units [ECUs] on engines and hydraulic systems," says Jake Jeffords, product sales manager for JCB excavators. "These ECUs have given operators the ability to track maintenance intervals, view main component failure codes and gain an overall sense of confidence that their machine is operating as it should. The LCD information panels present in many compact excavators now provide informational 'warnings,' like the ones owners of passenger cars and trucks receive when it's time for an oil change or other service."
Aside from the benefit of maintenance alerts and reminders, the other major changes involved with the maintenance of Tier 4 Final compact excavators have to do with the regeneration process. In most Tier 4 Final machines, a diesel particulate filter (DPF) is used to meet EPA emission requirements by reducing the amount of particulate matter (PM) present in exhaust gas. DPFs require additional maintenance because they need to be cleaned through "regeneration" after a certain number of hours of use.
"Operators need to know how to manage the regeneration process," Jeffords says. "There's a learning curve with owner/operators when it comes to DPF maintenance. From understanding the regeneration process and when to perform it, to using lower sulfur fuel, there are a lot of things that can go awry. It can be as simple as higher fuel consumption and as complex as a damaged engine. Both of which can also affect future resale value.
"However, not every Tier 4 Final engine features a DPF or requires regeneration," Jeffords says. "JCB's engines are designed specifically to avoid the regeneration process and the possible complications that can arise because of it."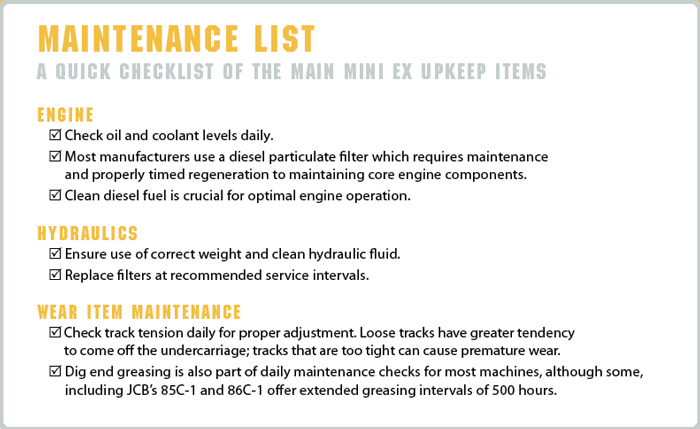 "The key to effectively maintaining a Tier 4 compact excavator comes down to training. The manufacturer must make dealers aware of the best way to maintain a machine, and the dealer sales support team must be in place to train the operators and owners on its everyday use."
Besides Tier 4 concerns, regular maintenance should also be a top priority. At the beginning of each day or each shift (depending on the hours of use), operators should take the time to walk around the machine, reviewing each and every service point to see if there is any area that requires attention.
Operators should check the oil daily to ensure it is at the ideal level and that there are no leaks. In addition to oil, it is extremely important that the fuel filter is checked and changed frequently. Dirt is a major contaminant of diesel fuel. A clean filter will do the job of screening any dust, dirt and debris from the fuel tank. If the filter is not changed regularly, it can become clogged and either limit or completely disrupt the flow of fuel to the engine.
Operators should check track tension daily and make adjustments as needed based on current jobsite conditions. Your excavator's track tension should not be too tight or too loose. Failure to make the proper adjustments can lead to serious track and undercarriage damage. Every machine is different, so be sure to refer to the operator's manual for specific instructions.
Lynette Von Minden is senior public relations counsel for Swanson Russell, based in Lincoln, Neb.