Hey internet, welcome back to another episode of Machine Heads. This is once again Keith Gribbins, publisher of Compact Equipment. Today I'm not reporting from my cozy office in Strongsville, Ohio, but I'm actually out in the field operating some equipment. In this latest edition of Machine Heads, I get the chance to operate two of the most popular categories of tool carrying machinery — a mini ex and a track loader — and I'll be highlighting two of the latest and most high-tech models just released from Kubota — the KX057-5 compact excavator and the SVL97-2 compact track loader.
As you might expect from Kubota, both of these units are setting the bar pretty high for production and reliability but also, and here's what's really exciting, advanced technology and comfort. To help me go over these units and give insights and advice is Matt Guentter, business development and product support manager for Kubota construction equipment. Now, let's introduce you to these cool new machines.
The KX057-5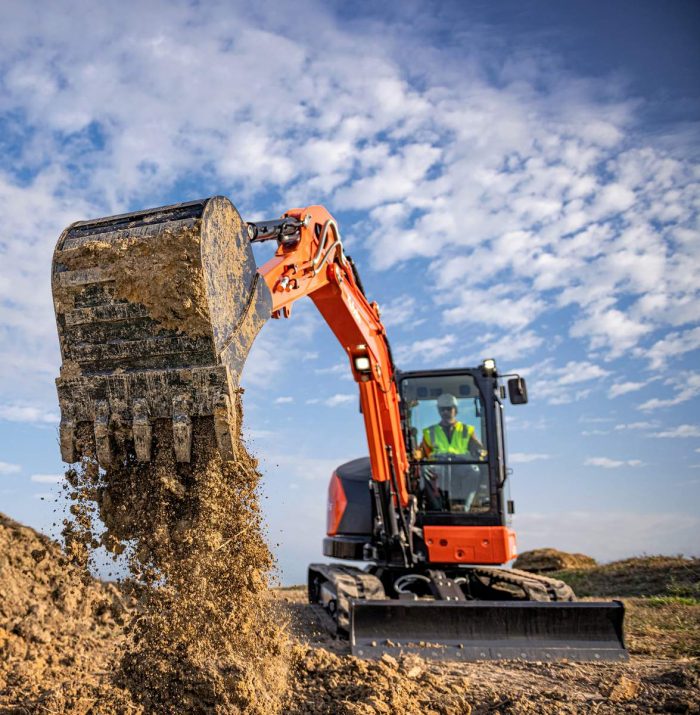 Kubota, of course, is one of the top brands in the world for compact, tool-carrying machinery. The company's bright orange utility tractors have been ubiquitous on farms, jobsites and large estates in America since the 1970s. Kubota diesel engines can be found powering half the compact equipment industry regardless of brand, and for the last 15 years, Kubota has taken up the mantle as the best-selling compact excavator in the world.
Continuing that dominance, Kubota Tractor Corp. announced two new top-tier compact excavators in 2021 — the U55-5 and KX057-5. The new KX057-5 replaces the KX057-4 in Kubota's K Series of compact excavators and offers improved technology and a reinvented cab environment. The new KX057-5 is available in canopy or cab models, boasts an impressive 47.6-gross-hp engine, a working range that includes a digging depth of 12 ft, 9 in. and an impressive bucket breakout force of 10,172 lbs. Those are great specs, but what's all this about high technology? There's a full-color 7-in. LCD screen, and optional keyless start is available for the first time on Kubota's excavators. The engine can be started with a four-digit code, and up to 10 user passwords can be set.
That high technology is complemented with high operator comfort. The KX057-5's spacious operator station is bigger. Cab entry and exit is as easy as opening the front slide window. There's the dual adjustable seat and console, which allows the operator to find the perfect operating position in the cab. The LED working lights are standard. There's an improved HVAC System, which went from five to seven air vents for quicker cool down and/or heat defrost.
Angle blade. Two-speed travel. Clean Kubota, Tier 4 compliant engine. Easy pattern changer. Easy access to engine and other vital components. The KX057-5 has it all in that 6-ton class packaging, which has really become one of the most popular sizes in the market. Ok, up next — Kubota's just released SVL97-2 compact track loader, the newest member of Kubota's compact track loader line.
Compact track loaders are the most popular category of compact equipment in America. Learn why with loads of track loader features right here.
The SVL97-2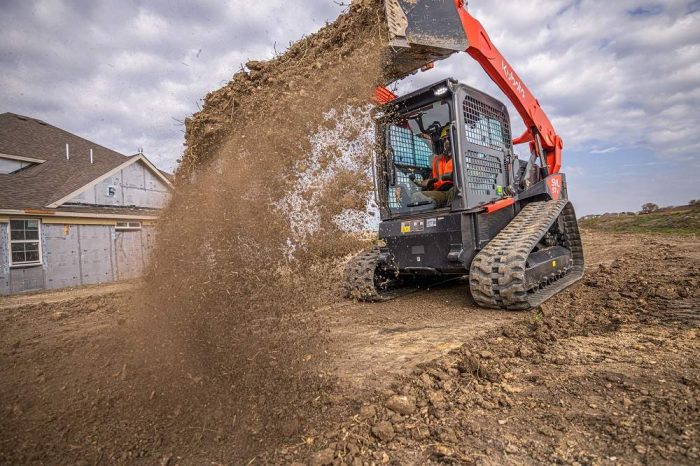 The Kubota new SVL97-2 offers increased productivity coupled with Kubota's tradition of dependable power, replacing the popular SVL95-2s. The new SVL97-2 boasts a 96-hp engine with a rated operating capacity of 3,200 lbs (that's at 35 percent tipping load). The track loader boasts an impressive 7,961 lbs of breakout force and a staggering 3.4-ft reach at max height. Plus, the new SVL97-2 comes standard with telematics — the ability to monitor the machine's health and location. The standard rear-view camera can be set to display constantly or only when the machine is moving in reverse, allowing for better rear visibility and increased operator comfort.
Optional front LED work lights are available for more efficient and safer work during the night and in any low light conditions. The DEF system, diesel exhaust fluid, an essential part of the engine's aftertreatment system, has been re-engineered to ensure long-term reliability and productivity and it's now lockable. Kubota also improved the sealing of the cab, reducing the amount of dust, water and debris entering the operating space. This upgrade will give end-users a cleaner and more efficient work environment.
I had the great opportunity to operate both of these units, and I have to say I'm pretty impressed. These meet Kubota standards. Both are available right now at Kubota dealers, so I highly suggest you go get a demo. But before you do, watch the video above.
Keith Gribbins is publisher of Compact Equipment.
Tags:
Kubota
,
Machine Heads