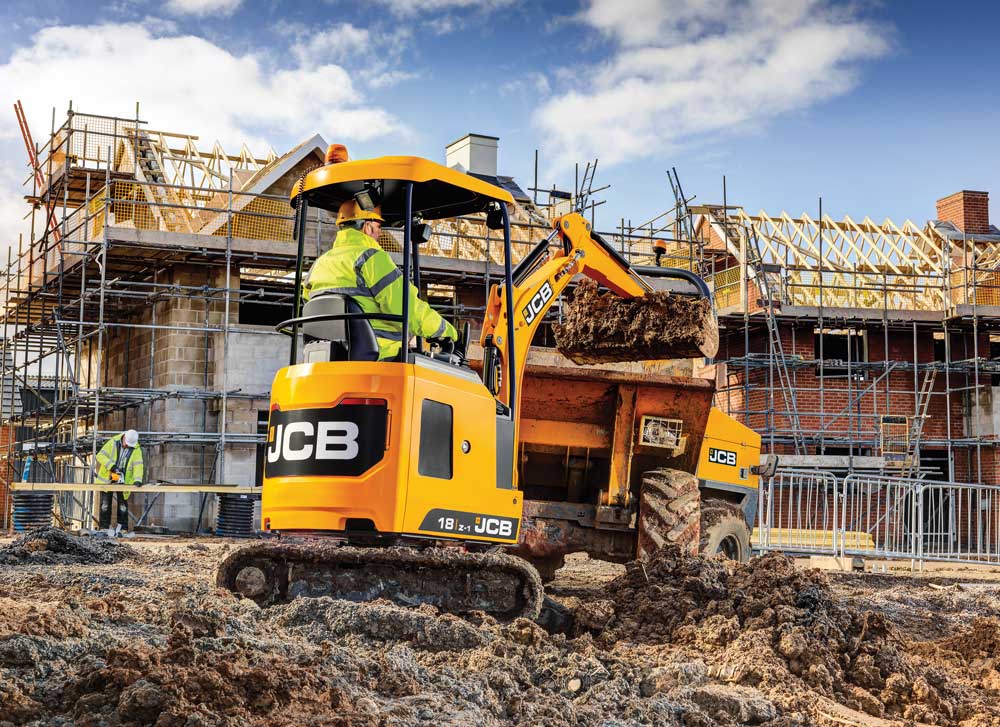 There's a lot riding on a mini excavator undercarriage. In a word, everything. Boom and bucket, operator controls and climate-controlled cab — they all function satisfyingly because the underlying tracks and treads, sprockets and rollers carry them on their backs. You gotta wonder: Do undercarriages feel underappreciated?
Think about it. The boom swings and scissors in the air for all to see — sort of show-offy — dropping a bucket into the earth and then raising up and dumping the material with a dismissive flip of the bucket. The rear end of the cab sashays around with zero tail swing swagger. The adjustable suspension seat absolutely pampers the operator with twin joysticks and a cup holder at his fingertips.
Meanwhile, down below the turntable, where the rubber meets the ground, the undercarriage assembly grinds it out without so much as a hydraulic burp. Taking this assembly for granted doesn't seem fair. So, for the moment, let's forget the razzle-dazzle features topside and shine the spotlight on the grunt work being performed below.
First, let's qualify which machines we're talking about. "Mini" suggests diminutive, which is to say, small. Is — to pick one at random — a Case CX60c mini excavator weighing 13,000 lbs really small? For the purposes of this discussion, we'll mostly focus on excavators truly compact, those weighing 4,000 to 6,000 lbs.
No components in the undercarriages of these machines are particularly unique to one manufacturer or another. As Ed Brenton, product marketing manager for Case Construction Equipment, puts it: "We don't have anything proprietary in the undercarriage — nothing exclusive to us." Or in the words of David Langford, product manager for JCB compact excavators: "Typically, undercarriage components on mini excavators are pretty consistent. It's how the components are integrated and the build quality of the chassis that sets brands apart."
Adds Brenton: "The parts are smaller in size, of course, since they are a miniaturized version of full-size excavators. They are not bearing as much weight as larger machines, but the technology is similar. There still are roller guides, grease points and bearings. The undercarriage is very important even on the smaller machines."
Though rollers and such may be largely universal, competing undercarriages are not identical. Jonathan Spendlove, excavator marketing manager for John Deere, notes that Deere mini excavators have "large diameter drive sprockets and track idlers, which increase the durability of the undercarriage." Takeuchi minis boast triple-flanged track rollers that ensure a moving track will be in contact with at least two points on the roller at all times, according to Takeuchi product specialist Lee Padgett.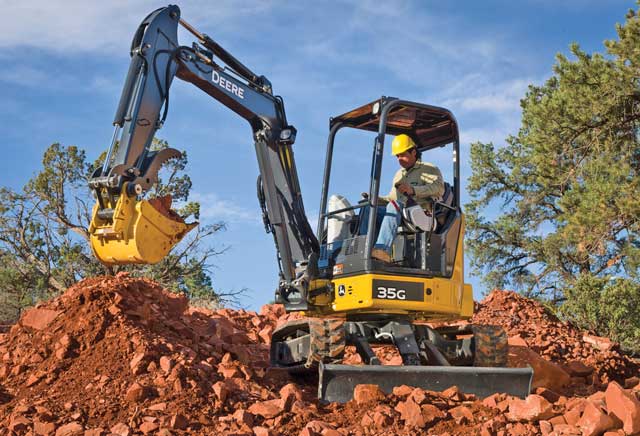 Padgett also cites Takeuchi undercarriage's step-down travel motors that automatically drop into a lower range when ground and travel conditions require more torque. The feature is available on all the company's mini excavators except its smallest, the 12-hp TB210R. However, the shifting travel motor is not exclusive to Takeuchi. For example, Case has the same feature, which Brenton calls "an auto shift function, so when you are traveling along at travel speed and going up a hill, the machine will detect it needs some more torque and will downshift. It recognizes you need more power."
Langford partly differentiates JCB minis from competitors by noting that its "track pod" is less apt to accumulate debris and retain dirt. "Our design is a little bit different. The pod on competing minis generally is more boxed or square, which can retain material. Ours has a sloped design so there is less buildup." Because keeping undercarriages free of debris is a cardinal rule for track longevity, this is a design feature with consequences.
Rubber is the standard for compact excavators, of course, and rubber tracks are exclusively used on the smallest models. Minis are designed to operate in delicate environments — such as front lawns or across paved areas intended to be preserved. Rubber treading and the relatively lighter weight of the smaller minis can handle these jobs without collateral damage.
"Rubber tracks on mini excavators are far more popular because of the versatile nature of its applications," Spendlove says, adding that Deere's rubber tracks have steel cores to help prevent cracking.
As the mini models grow heavier, however, and the work becomes heavier duty, optional steel tracks are available. To accommodate the two track options, manufacturers alter some undercarriage engineering. In the case of Takeuchi, Padgett says, "Our excavators are designed to accept rubber or steel tracks. We're able to reposition the roller placement and offer the steel option using a minimal number of additional components."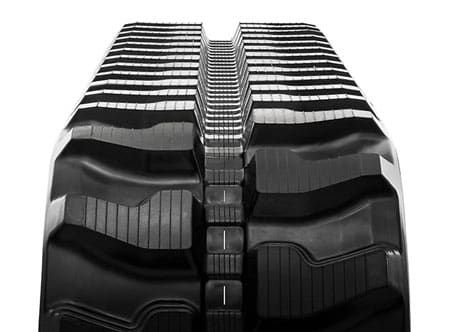 To say minis have just two track options understates the matter, actually. Brenton points out that Case compact excavators have a bucketful of track options — rubber, steel and assorted combinations. Molded rubber with a steel core. Steel tracks with removable rubber pads. A steel-rubber hybrid. And others. This variety of rolling stock distinguishes compact excavators from their full-sized counterparts.
Steel tracks literally impact mini excavators differently than do rubber tracks. Because the undercarriages are fixed to the platform — there is no suspension involved — more jolting can result from steel tracks that don't yield like malleable rubber to rocks and uneven ground. Yet manufacturers believe the effect on the machine is negligible. "Rubber does tend to absorb more vibration than steel, but JCB has been using both rubber and steel all these years and we see no effects on the undercarriage whatsoever," Langford says.
Brenton concurs: "You might notice a little more vibration with steel because each steel shoe is individual whereas molded rubber is one piece. But I've not seen any evidence of worsened wear from steel, though it does really depend on the operator. An aggressive operator is going to wear out stuff a lot quicker."
A singular difference between the smallest excavators and their bigger cousins is the retractable track mode. The Takeuchi TB210R, for example, is 41 in. wide when the tracks are fully extended outward, but just 29.5 in. when its tracks are retracted. The narrower machine can pass through a 3-ft-wide gate and some doorways, which gives it extra utility.
Langford purposefully avoids referring to a mini excavator's expandable undercarriage. "You want to use the term retractable," he says, being picky about the description to make a point about safety. "They are retractable so you can get through a confined space, but when an operator is working, they always should be expanded." The reason is that the relatively vertical machine is more susceptible to tipping when its footprint is narrowed.
It should be noted that retractable tracks are the only undercarriage choice on the industry's smallest excavators. Just as a buyer cannot order the retractable feature on larger compact and full-sized excavators — the machines are fundamentally too big to be squeezing through narrow passages, anyway — a buyer cannot factory-order one of the tiniest mini excavators without the feature. A fixed-width undercarriage is not an option.
Langford was asked if the retractable-expandable engineering is less durable than a fixed undercarriage. "Any time you have moving parts, there is a potential for an issue to come up, but as long as a machine is well-maintained, there shouldn't be any durability issues like that."
None of the manufacturer reps see a new undercarriage setup on the horizon, partly because customers aren't clamoring for one. "There is nothing customers are demanding," says Brenton, who was an equipment operator for years before joining Case. "They want more hydraulic flow and features like that, but as far as the undercarriage on the machine, their main concern is serviceability and durability."
Giles Lambertson is a freelance writer for Compact Equipment.
---
Kinshofer Gains Breaker Line with Acquisition of Hammer SRL
Kinshofer, a leading global manufacturer of high-quality excavator and loader crane attachments, is expanding its product line to include hydraulic breaker excavator attachments following the acquisition of Hammer SRL, an Italian manufacturer of demolition, excavation, recycling and material handling attachments. Kinshofer chose the company because of its reputation for quality and more than 30 years of experience in the market. The new line includes 22 breakers for carriers from .5 ton to 200 tons and joins an already expansive line of Kinshofer tools.
Kinshofer announced the acquisition and debuted the new breaker line at World of Concrete 2019.
"These breakers allow us to offer our customers access to a full range of attachments all in one place," says Francois Martin, Kinshofer North America general manager. "Hammer will be a great addition to our group of companies, bringing with them high-quality attachments and a state-of-the-art manufacturing facility."
The breakers are made up of the KSB Series for carriers from .5 ton to 12 tons and the KFX Series for weights from 8 to 200 tons. Each line includes features to improve operator comfort, reduce wear and improve longevity. The acquisition also includes a variety of grapples, buckets and more. These will serve as an alternative to Kinshofer's premium attachment line for the price-restricted customer. For more info, visit kinshofer.com.
---
The Rules of Retraction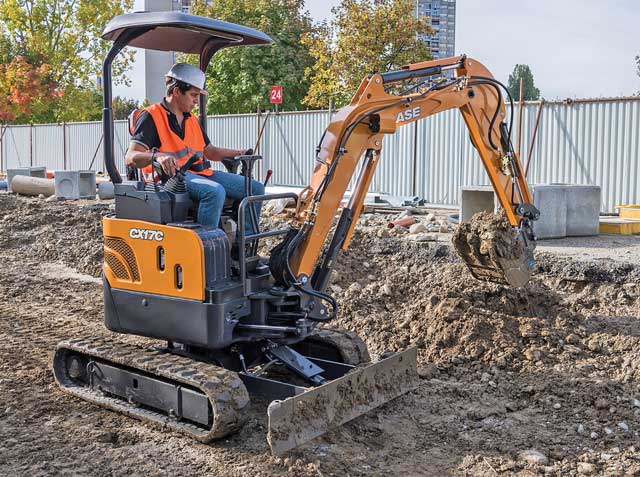 Expandable or retracting tracks on the industry's smallest mini excavators is a simple process, yet manufacturers are not totally in agreement on how to execute the maneuver.
As Ed Brenton, Case product marketing manager, explains it, "The only thing you have to do is press a button" and the undercarriage on Case's smallest excavator, the 3,900-lb CX17C, will slide in or out.
That's all there is to do except an operator first rotates the cab on the chassis, lifts up the rear end of the machine using the boom and bucket and lifts the front end from the ground by thrusting downward with the machine's push-blade. With the machine's central body raised, activating the button switches the machine's push-blade hydraulic function to the retraction hydraulic function and the tracks slide in or out.
Can retraction or expansion be undertaken without first lifting the machine? Surprisingly, the answer is yes, Brenton says. "The mini excavator has enough power to do it when it's not lifted, but if you are in someone's yard you will tear up the grass or, if on asphalt, wear down the tracks. It is easier on components to raise the machine and take the pressure off them."
David Langford, product manager for compact excavators at JCB, has a slightly different take on the matter. "Some do use the dozer blade lever for retraction, but after tracks are fully retracted the system automatically diverts back to the push-blade. Consequently, an operator could lower the dozer blade when not intending to lower it. It could be a safety issue." To avoid that, JCB has a completely separate lever to engage retraction.
What's more, Langford actually encourages his customers not to bother raising the machine before extending or retracting the tracks. "Our hydraulics will work together as you're tracking along. The flow isn't entirely taken away from your tracking, so it saves time not to stop and flip around the boom to lift the rear end. Most don't realize the excavator is capable of doing that."
Tags:
Case
,
Case Construction Equipment
,
home
,
JCB
,
John Deere
,
May 2019 Print Issue
,
Takeuchi