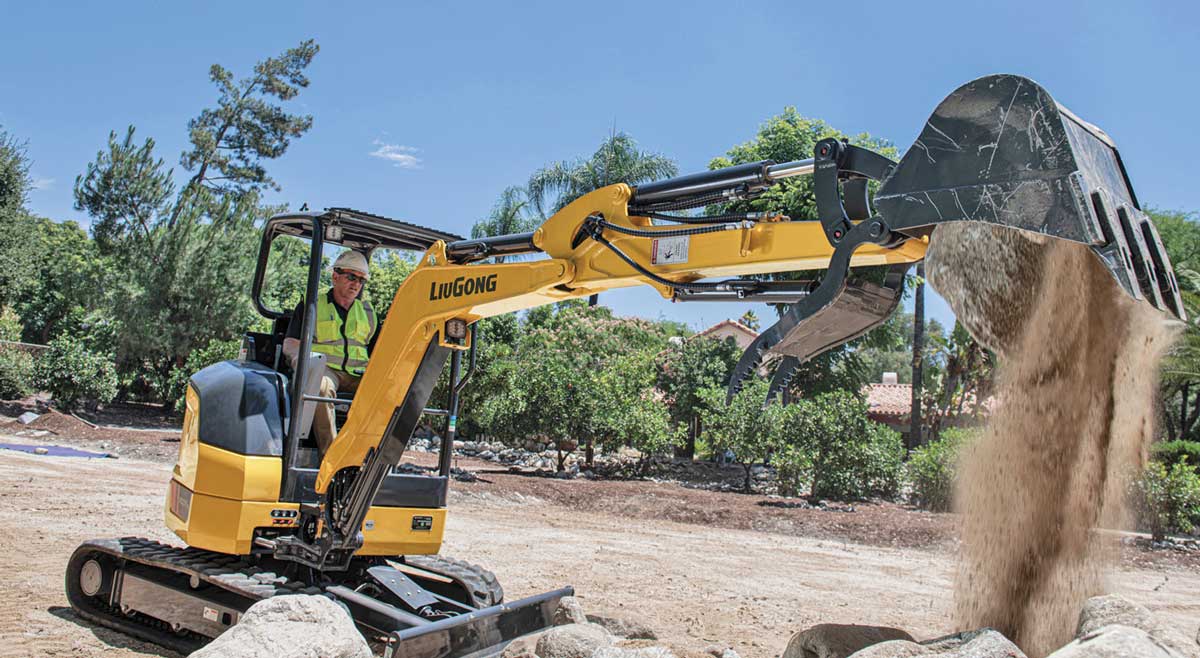 Four Fuel-Efficient and Comfortable Units Made for Any Jobsite
This post is a part of Compact Equipment's annual Spec Guide. View other brands' product and spec info by clicking this link. View the magazine version of these summaries by clicking right here. Sign up for the print edition right here. Now enjoy!
LiuGong began building excavators in 2001 and currently manufactures mini, small, medium and full-size models. The excavators have gone through several generations. LiuGong has spent a few years bringing the F-Series line of excavators to North America, which follows on from the previous E-Series generation. Over this 20-year period, the excavators have evolved to become more fuel efficient and more comfortable for operators, while also excelling in both tighter spaces and wide-open jobsites.
LiuGong North America has four machines in the mini excavator lineup: the 9018F, 9027FZTS and 9035EZTS and the 909CER midi size. The E-Series excavators came to the North American market in 2017, while F-Series excavators arrived in 2020.
LiuGong's newest models are among its most popular. The 909ECR midi excavator has an advanced hydraulic system to allow operators greater precision and control on the jobsite. It is a multipurpose tool carrier and can switch through attachments and work tools such as buckets, hydraulic breakers, rock crushers, shears and more. The 909ECR has an optional quick-coupler to make fast, safe and easy changes.
The 9018F and 9027FZTS are the two newest mini excavators in the LiuGong product line. Both have been optimized to improve operator comfort within their compact frame, allowing for greater access to small, tight areas.
The 9018F has a 5-ft, 2-in. track length with a 9-in. track width. Its compact stature, combined with a retractable undercarriage, allows operators to easily pass through narrow entry ways. The 51-in. outside-tread-to-outside-tread measurement retracts to just 39 in. when needed and then expands back out for balance and stabilization during operation.
The 9027FZTS (zero tail swing excavator) has high-level diagnostics and two knobs to control auxiliary flow for optimal hammer or thumb operation and comes standard with auxiliary lines. It is compatible with many third-party aftermarket technologies such as Trimble for gradeability. This unit is offered in both a cab with AC or a canopy. With its standard swing boom, the 9027F ZTS enables operators to dig in line with either side of the excavator, especially advantageous for trenching alongside a wall. The applications for the 9027F ZTS range from trenching, light demolition and lifting for residential, agricultural and commercial construction to grade work, hardscaping placement and fencing for landscaping applications.
LiuGong's 9035EZTS has a variable track system that allows the operator to configure the platform to best meet the job requirements. LiuGong's quick-coupler allows for operators to switch attachments like buckets, breakers and shears in a safer and simpler manner.Working with partners such as Cummins and ZF, LiuGong strives for a culture of safe operation for its line of machinery. The LiuGong North America customer support and maintenance program calls for a "wherever, whenever" approach to parts, service and support via its Katy, Texas, and Mexico City distribution centers and an electronic parts catalog for dealers. LiuGong products stand apart thanks to a team of more than 1,000 engineers worldwide, implementing new technologies and responding rapidly to customers.

Advice to Buyers
"The key to long, trouble-free service life in a machine is keeping up with the preventive maintenance. This means using high-quality lubricants and also grease with at least 3 to 5 percent molybdenum disulfide or 'moly,'" says Jim Joy, product manager, compact equipment and work tools, LiuGong North America. "It's also important to change air, oil and fuel filters as often as specified. Consider doing regular oil sampling, which will tell you if your service intervals are on target for the operation and environmental conditions. Be diligent about cleaning the radiator and coolers. Keeping your fluids cool and clean is the key to overall machine health."