Once you make the decision to add a vacuum excavator to your rental fleet, the next step is to identify the most appropriate unit. Vacuum excavation units are typically either mounted on trucks or trailers. "The rental space for trucks is different than trailers," explained Jeff Scieszinski, Vermeer MV Solutions regional sales manager. Trucks dominate the market volume. "That market is poised for growth and it just keeps going. Everybody wants to get bigger."
The vast number of vac trucks on the market does put pressure on the rental rates you may be able to charge. "The rental rate for trucks is low because there are so many truck vacs out there," added Scieszinski. "Compared to trailers, it is a bigger market."
However, the potential qualified customer base for truck rentals is smaller than for trailer-mounted vacuum excavators. "Most truck vacs require a commercial driver's license [CDL], and it is more of a specialized market," explained Scieszinski. "If you have a truck vac, you need someone to run it. You must find the operator with the CDL who is going to take care of it."
"By contrast, there is more renting flexibility for trailer vacs," he added. "They offer versatility to cover many different applications. Trailer vacs are popular for both potholing and slurry management. And on bigger projects where the contractor cannot stop once they start pulling pipe, several vacuum excavator units are often rented."
Local Conditions Can Impact Which Model to Choose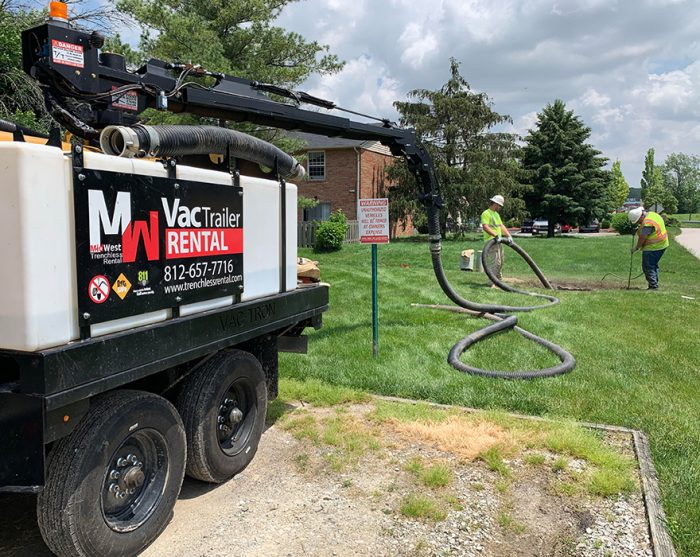 Local ground conditions will have a large impact on vacuum excavator selection. Vacuum excavators use high-pressure water or compressed air to penetrate and break up soil. Hose size and the volume of air being moved by the pump — typically referred to as vacuum cubic feet per minute/cubic meters per minute (CFM) — help determine performance.
"In parts of the country with better soil conditions, you may want to look at a 3-inch hose versus a 4-inch hose. If you are in an area that has a lot of rock and cobble, you're going to want that bigger hose to get more material through it," Scieszinski said. "You can get the 4-inch hose and then run a 3-inch adapter at the tool. Then if a rock goes through the tool, it can go all the way through the hose. You are putting the restriction down to where you can get to it."
Many manufacturers offer different vacuum pumps in each hose size to tailor the machine to the application. For instance, a contractor who only needs to suction drill slurry would not need a high CFM model. It would be too much for the application. On the other hand, many contractors who are potholing will seek out a small-hosed, high CFM model. For larger-diameter hoses or longer hoses, more horsepower will be required.
Your equipment dealer is your best resource to help determine hose diameter and CFM requirements. "The dealer can also point out other important regional options such as the use of a hot box or a boom.
We'd love to keep in touch! Check us out on Facebook, Twitter and LinkedIn!
Sizing the Spoil Tank
One of the major considerations when selecting units for a vacuum excavation fleet is sizing of the product tanks. Department of Transportation (DOT) weight regulations and the distance to the dump site will play a role in product tank sizing. Larger spoil tanks will let you operate longer before having to head off to the dump site, keeping crews working on the site. The downside of the larger spoil tank is that the weight will require a larger truck. In some instances, a CDL might be required.
There are a few guidelines that can help determine the appropriate tank size. Trailers provide flexibility when trying to source a versatile solution for a rental vacuum excavation fleet that meets the needs of a wide variety of customers. Sizing these trailers is a matter of understanding the tradeoffs between tank capacity and transport requirements.
"An 800-gallon spoil tank is a good size because it gives you some storage," said Scieszinski. "It lends itself to be pulled with a Class 5 truck."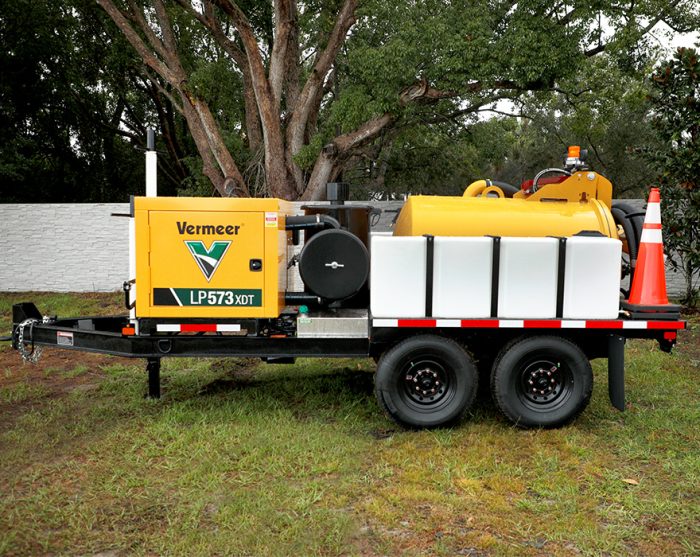 There are lighter-weight options available.
"We also offer the 9,995-pound gross vehicle weight [GVW] trailers, which are just D-rated trailers," he said. "These units may not require a CDL to pull them with a truck."
Many utility providers run 500-gallon spoil tanks. By contrast, the utility contractor wants more storage. According to Scieszinski, they prefer 800-gallon spoil tanks.
There are larger tanks up to 1,200 gallons available for trailer-mounted vacuum excavators, but they tend to make the units big and heavy. As the projects grow even larger, the conversation might shift toward truck vacs. These machines may navigate the job site more efficiently.
"If you have a big job where you have hundreds of miles of fiber to install and utilities to pothole, this might be a truck conversation," said Scieszinski. "You might consider a truck and maybe an additional trailer to get more capacity and maximized production."
For rental applications, vacuum excavators like the Vermeer CV SGT and LP XDT vac series are best suited for contractors and municipalities. These units are trailer-mounted and can be equipped with a spoil tank ranging from 500 gal to 1200 gal. They are among the most popular sizes of vacuum excavators for potholing and fluid management applications.
Seek Expert Advice
When adding vacuum excavators to your rental fleet there is no one-size-fits-all solution. Several criteria need to be considered including whether you need trucks or trailers, vacuum performance, and tank size and applicable options. Each region of the country will have different requirements.
This article was provided by Vermeer MV Solutions. To learn more about their products and solutions, click this link.
Mini excavators are making big waves on jobsites all over North America. Click here for the latest news on these machines and the companies that make them.