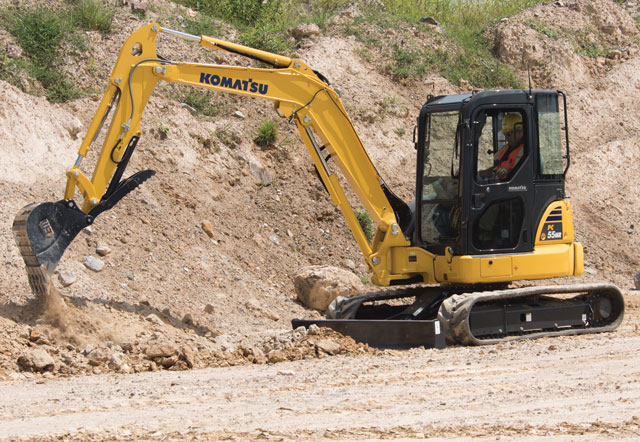 Reliable Products from a Global Leader in Earthmoving Machinery
Komatsu entered the compact excavator market in the mid-1990s. The current models meet Tier 4 Final requirements without using selective catalytic reduction (SCR). These compact excavators have many of the same features as larger Komatsu excavators and have the same built-in reliability and quality such as steel castings in high stress areas like the boom foot, says the company. In addition, design improvements address customer needs like a dozer blade for backfilling and auxiliary hydraulics for powering attachments.
Currently Komatsu offers six excavators in the 0- to 8-metric-ton size classes. The smallest excavator is the PC30MR-5 and the largest is the PC88MR-10. All compact excavators meet Tier 4 Final standards and do so without the need for diesel exhaust fluid (DEF). The smaller machines (PC30MR-5 and PC35MR-5) are extremely versatile due to their light weight, ample power and large range of work tools available through OEMs such as Werk-Brau. The PC45MR-5 and PC55MR-5 occupy the 4- to 5-metric-ton size class and offer features rarely found on compact equipment, such as KOMTRAX equipment monitoring, auto-idle shut down and economy modes, as well as a two-post ROPS canopy, which offers class-leading visibility, notes the company. There is a cab option for harsher climates that features climate control, a defroster and provisions for a radio. All four machines are designed to outperform the competition and are a necessary tool for many applications ranging from landscaping and utility work to general construction work, says Komatsu.
The PC78US-10 takes the compact line a step further by offering a 7-ft, 5-in. arm with an offset boom, which allows the PC78US-10 to fit into confined work spaces. The fact the PC78US-10 extends only 9 in. from the tracks at the rear is a testament to the machine's maneuverability. Advanced features such as a closed-center load sensing hydraulic system (CLSS), a variable flow turbo and enhanced working modes means the PC78US-10 is up to 3 percent more productive than the previous model. Also, there is a standard two-way blade available and an optional 8-ft, 1-in. wide blade, when equipped with the wider, 24-in. triple grousers.
Finally, the PC88MR-10 is an 8.5-metric-ton excavator with a swing boom and true tight tail performance. Similar to smaller excavators, the PC88MR-10 features booms and arms constructed with thick plates of high-tensile-strength steel and piping for optional attachments, such as thumbs and hammers. The PC88MR-10 includes a pattern change valve, making switching from excavator controls to backhoe controls quick and easy. With available road-liner shoes and a power angle blade, the PC88MR-10 is versatile and fits in well on any general construction jobsite.
Advice to Buyers
"When shopping for a new compact excavator, be sure to look at all the features and options today's equipment offers," says Andrew Earing, product marketing manager of excavators at Komatsu America Corp. "To keep cost of ownership low and productivity high, look for Tier 4 Final solutions that do not require DEF and hydraulic systems using advanced controls to optimize efficiency. Also, pay careful attention to lift capacities and structural designs to ensure a machine is productive and will last for thousands of hours."
Komatsu America Corp.
1701 Golf Rd., Rolling Meadows, IL 60008
847-437-4419 | komatsuamerica.com
Click on table to enlarge