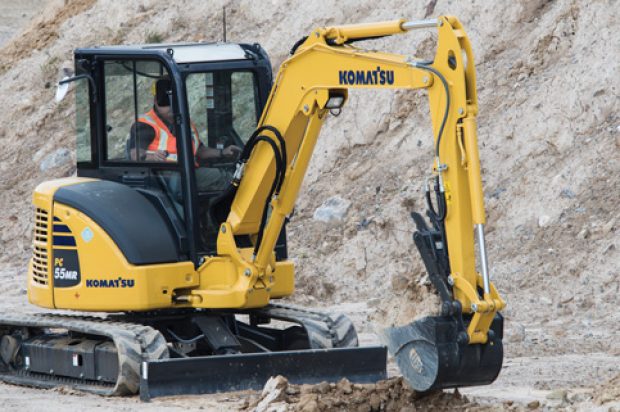 Reliable Products from a Global Leader in Earthmoving Machinery
Komatsu entered the compact excavator market in the mid-1990s. The current models meet Tier 4 Final requirements without using selective catalytic reduction (SCR). These compact excavators have many of the same features as larger Komatsu excavators and have the same built-in reliability and quality such as steel castings in high stress areas like the boom foot, says the company. In addition, design improvements address customer needs like a dozer blade for backfilling and auxiliary hydraulics for powering attachments.
The KOMTRAX machine monitoring system — provided at no additional cost on even the smallest compact excavator — allows managers to track machine usage, location, fuel consumption, maintenance requests and fault codes remotely. The Komatsu compact excavators are the only machines in their classes that also use electronically controlled pumps to increase hydraulic performance and maximizing all available horsepower. Swing boom models also add to the versatility of the compact excavator line by making it possible to dig parallel to a structure such as a building or fence. Three track options, rubber, road-liner and steel tracks, are available. Several types of attachments such as buckets and thumbs are also available to make these units even more versatile.
Common features include closed-centered load sensing hydraulic systems, the Hydraulic Mechanical Intelligent system (Hydraumind), which provides the operator precise control at all times, regardless of the load or multi-function use. Pattern change valves are also standard, allowing operators to switch from ISO to backhoe control patterns. Komatsu notes that its excavators are distinguished by the Komatsu-designed and manufactured components that maintain the quality and reliability for which Komatsu is known.
Advice to Buyer
"The total cost of ownership versus just purchase price is important and should not be overlooked," explains Des Jarvis, product marketing manager of excavators at Komatsu America Corp. "Durability and reliability are important factors when purchasing a compact excavator. Castings used in work equipment can be more resistant to torsional stresses than fabrications. Major components designed in-house can make a significant difference in quality, serviceability, ease of repair and the overall operator experience. They work together harmoniously and can be designed to better work with overall machine design. Ease of service is also another important area."