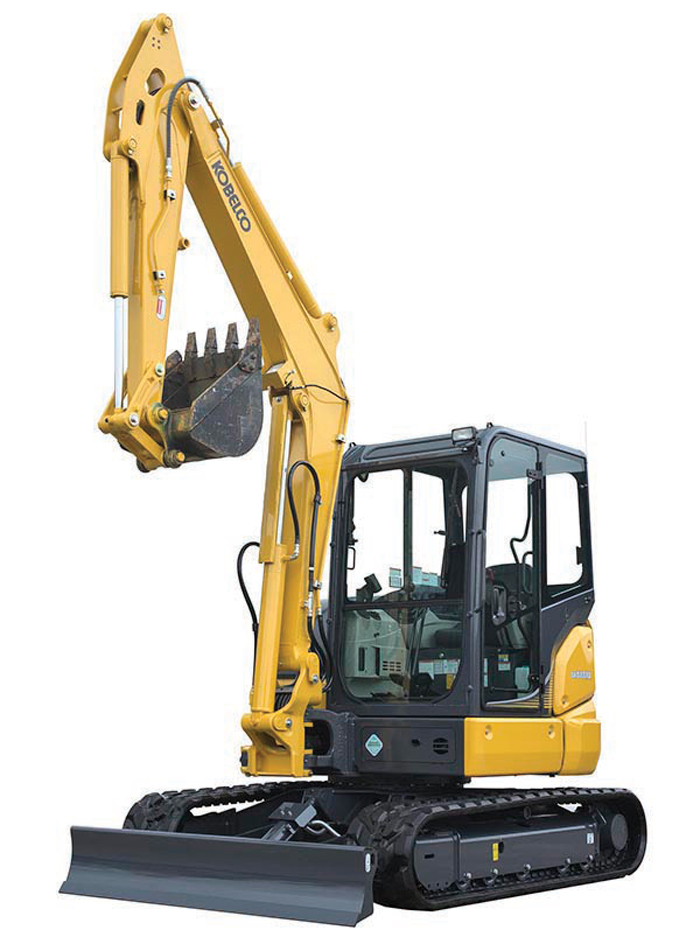 Since 1982, Kobelco has been offering its excavator line to contractors throughout the United States and Canada, innovating many of the popular features in today's excavators. Those include things like a no-time-limit power boost, no-time-limit heavy lift, a blade runner excavator/dozer model, an independent travel system, hydraulically adjustable tracks, an intelligent total control system (ITCS) and an integrated noise and dust reduction system (INDR).
Kobelco currently offers a full range of crawler excavators in the 3,000- to 184,000-lb classes for the rental, landscape, construction, aggregate, roadbuilding, material handling, site preparation, recycling and ancillary markets, including zero tail swing, standard, long-reach and compact models. Five of these models fall in the under-8-metric-ton range.
The smallest of Kobelco's excavators is the SK17SR model. Perfect for working in tight spaces, this 3,640-lb mini has a compact footprint with zero tail overhang and tracks that retract to an overall width of 39 in., allowing it to fit through narrow openings. This model is popular with landscapers on jobs where they have to move their equipment through gates or between other obstructions. It comes standard with a blade for dozer operations. Auxiliary hydraulics and pattern changers are also standard equipment.
The SK27SR and SK35SR models provide a bit more muscle for heavier-duty digging and lifting, while boasting a zero tail swing radius for jobs where space is limited. These 5,870- and 8,200-lb versatile machines have stability and either steel or rubber track shoes. A dozer blade is included as standard equipment. An angle dozer is available for the SK35SR. The SK27 and SK35 models are often used for digging, loading and placing, as well as dozing across a wide range of applications. Auxiliary hydraulics and pattern changers are standard equipment.
Kobelco's 55SRx, 11,050-lb, 37-hp compact excavator is a versatile, short-radius excavator that provides full-size performance. Its compact size makes it agile on the jobsite without compromising stability, bucket size or lift capacity when compared to similarly sized, standard swing radius machines, says Kobelco. Then comes Kobelco's midi excavators such as the SK75R, a 17,100-lb workhorse, and the boom swing version, the SK85MS. These 55-hp, short rear swing machines incorporate all of Kobelco's fuel-saving technologies, including an ECO mode, to deliver greater work performance with less fuel, maximizing profitability on each job.
All Kobelco excavators support a wide range of buckets and attachments and are designed for optimal productivity, comfort and safety on the job. Kobelco offers customer service and product support through its Houston-based North American headquarters as well as through a nationwide authorized dealer network.

Advice to Buyers
"Zero tail swing, tracks that retract and a petite footprint are popular features on compact excavators, particularly for contractors who will work or maneuver them in tight spaces and frequently transport between jobsites," explains George Lumpkins, product marketing manager with Kobelco Construction Machinery USA. "For those who move their equipment less frequently and who don't have concerns about working in confined areas, weight, power and speed may be more critical. Once you've defined your needs and identified which brands to consider buying, look a little harder at the company and local dealer. Will they provide you with prompt, personal and professional service? Will they be able to deliver parts and provide timely service to minimize downtime? In today's competitive marketplace, you'll want to be sure the equipment you buy is not only reliable and priced competitively, but also purchased from a company you can count on to stand behind it over the entire life cycle of the machine."

Tags:
Compact Excavators
,
crawlers
,
Kobelco
,
Spec Guide