Most brands already make amazing machines. In fact, there's so much parity of quality in the American off-highway equipment marketplace that differentiators are often hard to find in machine categories. That's what makes our Innovative Iron Award winners so special. In the last 12 months, these manufacturers have changed the marketplace and even broken the mold in highly competitive markets that are already filled with excellence. Global manufacturers from Kubota and Caterpillar to JLG and JCB have released products — machines, engines, OEM tech and even apps — that have set new standards for power, versatility, efficiency and design. Our editors have traveled across the country to meet these manufacturers, operate their new products and give detailed reports both in print and online. With this article, we do a final salute to those companies that have changed the equipment market over the last year with their unique, interesting and innovative products.
JCB 18Z-1 and 19C-1
The compact excavator is one of the hottest equipment categories, and manufacturers are responding with niche machines to expand markets and attract new customers. JCB has its sights on the rental industry. The company notes its recently released 18Z-1 and 19C-1 compact excavators are more durable, require less maintenance and are safer to use than comparable 1- to 2-ton compacts. These units are also rental ready. The 18Z-1 and 19C-1 share a common design philosophy, based on durability and simplified maintenance. Common features include an all-steel bodywork for maximum impact protection, rental-ready design with protection for hydraulic rams and hoses, 500-hour greasing intervals, swing-out counterweight, integrated tie-down points to aid transportation and a two-year/2,000-hour warranty. For more info, visit jcb.com.
Bobcat E85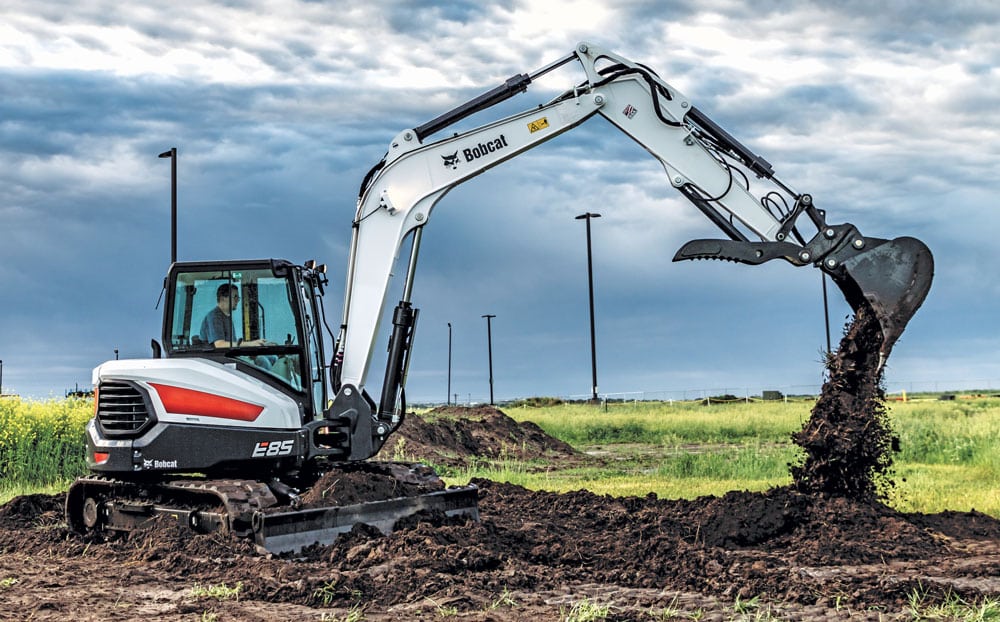 Bobcat has filled out the top end of its R-Series excavator lineup with the new E85, the largest machine in the company's family. The 8.5-ton E85 is part of the fastest-growing-size class of compact excavators in North America, and this unit has been redesigned with performance, uptime protection and operator comfort in mind. The 66-hp E85 does not require a diesel particulate filter or selective catalytic reduction. A new standard lift eye helps operators properly lift and place objects. The 13 in. of tail overhang allows the E85 to work in tight environments. Along with having one of the largest cab openings, Bobcat has redesigned its R-Series cab with increased floor space and additional glass surface area, which includes an improved top window and narrower side pillars for visibility. For more info, visit bobcat.com.
Click the link for more excellent excavators.