Most brands already make amazing machines. In fact, there's so much parity of quality in the American off-highway equipment marketplace that differentiators are often hard to find in machine categories. That's what makes our Innovative Iron Award winners so special. In the last 12 months, these manufacturers have changed the marketplace and even broken the mold in highly competitive markets that are already filled with excellence. Global manufacturers from Kubota and Caterpillar to JLG and JCB have released products — machines, engines, OEM tech and even apps — that have set new standards for power, versatility, efficiency and design. Our editors have traveled across the country to meet these manufacturers, operate their new products and give detailed reports both in print and online. With this article, we do a final salute to those companies that have changed the equipment market over the last year with their unique, interesting and innovative products.
Caterpillar's Smallest Mini Ex Models Redefine Deluxe Standards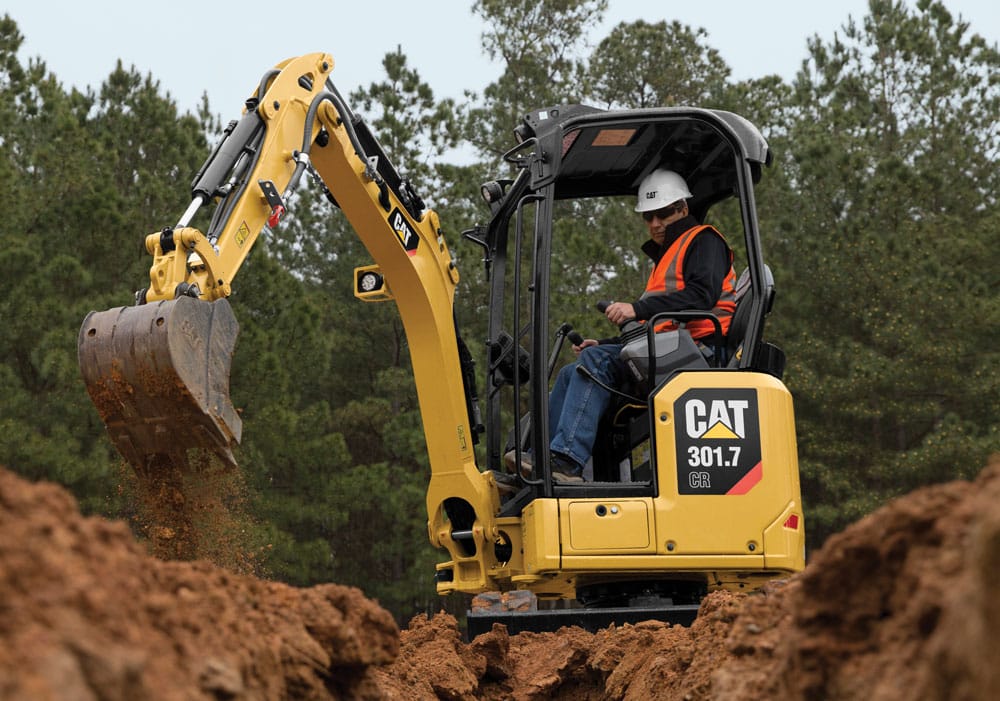 Small excavators get little love. Mini excavators in the smallest 1- to 2-ton class usually come bare bones because they're often rental units; rental being an industry that values ROI over everything else. Caterpillar rarely does anything unembellished, and this fall announced maybe the nicest compact excavators on the market. Four new models of Cat mini hydraulic excavators took a customer-centered approach to incorporate industry-first standard features, such as LCD monitors, tilt-up canopies or cabs and joystick steering called Stick Steer, which is something no one else has. The new model range includes the 301.5, 301.7 CR, 301.8 and 302 CR (CR standing for compact radius). Dig depths are 7 ft, 8 in. or 7 ft, 9 in., depending on the model, and an available long stick increases depth to 8 ft, 4 in. or 8 ft, 5 in.
The design of these Next Generation models emphasizes the comfort, convenience and safety of the operator. The cab, optional on the 301.8 and 302 CR, is pressurized and sealed to reduce dust intrusion and is fitted with a climate control system (with or without air conditioning). The front window slides upward and stores overhead. The operating consoles feature adjustable wrist rests, and a suspension seat is available. A machine security system is standard — key it with a pass code or push to start with a fob. The LCD monitor provides this easy-to-read machine info and features a jog dial for ergonomic interaction with the monitor. Coolest of all: Stick Steer allows the operator to switch (with the touch of a button) from conventional lever/foot-pedal steering controls to left-hand joystick control. For more info, visit cat.com.