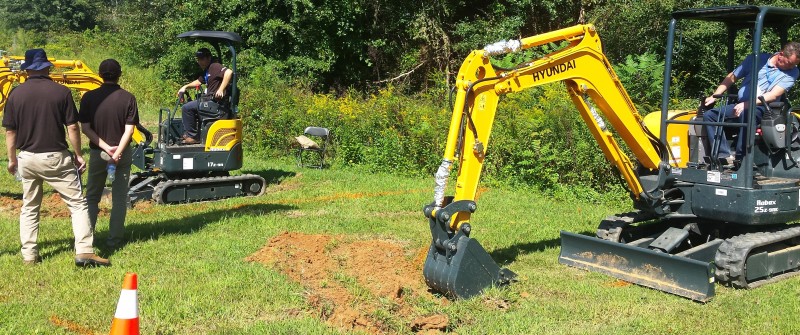 Youngsters love "touch-a-truck" events, and us big kids are no different. Hyundai Construction Equipment Americas recently proved that when the company invited dealers and media to its North American headquarters in Georgia, to offer hands-on time with several new machines in its lineup.
The bulk of the Sept. 17 event focused on its large HX and HL series excavators and wheel loaders and its Series 9 compaction rollers.
The machines all launched in July, but approximately 120 dealers from the United States and Canada, along with a handful of media members had the first opportunity to get hands-on with the machines at the Hyundai Construction Equipment Americas headquarters in Norcross, Ga., and Silver City Farm in nearby Cumming, Ga.
These large models are out of the normal scope of coverage for Compact Equipment, but the event also served as the launching point for Hyundai's Tier 4 final 9A Series compact excavators, and that is our bread and butter.
Check out our Hyundai Excavators 2015 Spec Guide.
Here are the highlights:
"The new Hyundai 9A series compact excavators are all about bringing big power to small spaces. Each model features an environmentally friendly engine that provides impressive performance and reduced fuel consumption," said Corey Rogers, marketing manager, Hyundai Construction Equipment Americas. "Our customers in the building, landscaping, road and bridge, site prep and underground markets in particular will appreciate the hefty power, durability and reliability of these compact machines, along with their ability to work productively in confined spaces."
Powering the Hyundai 9A series models R17Z-9A and R25Z-9A are Kubota engines, and the R35Z-9A, R55-9A, R60CR-9A and R80CR-9A receive power courtesy of Yanmar. Both the Kubota and Yanmar engines provide efficient fuel combustion and reduced noise.
A tilting left-side console makes it easier for the operator to enter and exit the cab, and the left and right control levers are located for convenient access. The cabs on the Hyundai 9A series machines are all TOPS, ROPS and FOPS certified. Other safety features include optional boom and arm cylinder locks, and an optional overload alarm.
Those who prefer ISO patterns over SAE patterns will appreciate the optional lever pattern change valve on the R25Z-9A and R35Z-9A that allow the joystick pattern to be changed, depending on operator preference.
The advanced LCD cluster on the Hyundai R55-9A, R60CR-9A and R80CR-9A allows the operator to select other machine preferences. The same monitor also displays engine rpm, oil and water temperature and information for all on-board electronic devices. Button selections are provided for auto idle mode, max power mode and travel speed.
The boom swing function on the 9A series compact excavators is designed for efficient work in congested areas. The boom can be offset left or right. Zero-tail swing on the Hyundai R17Z-9A, R25Z-9A and R35Z-9A allows operators to work near buildings, in single lanes on roadways or in other confined settings. The variable undercarriage on the R17Z-9A – which can be adjusted to between 3 ft, 3 in. and 4 ft, 3 in. wide – allowing the most compact machine in the line to work in even the tightest limited-space work environments.
Have you read these tips to compact excavator maintenance and longevity?
Enhanced reliability features on the 9A series compact excavators include bushings designed for long-life lube intervals, wear-resistant and noise-reducing polymer shims, and integrated preheating systems which extend service intervals and reduce machine downtime.
Serviceability enhancements include wide open engine hoods, centralized grease fittings and easy-change plastic air cleaners. The R60CR-9A and R80CR-9A models feature a tilting cabin for convenient maintenance and service.
More info on the entire 9A lineup of compact excavators is available at the Hyundai Construction Equipment Americas website.
Tags:
Georgia
,
Hyundai
,
Hyundai Construction Equipment Americas
,
Kubota
,
Tier 4 Final
,
Yanmar