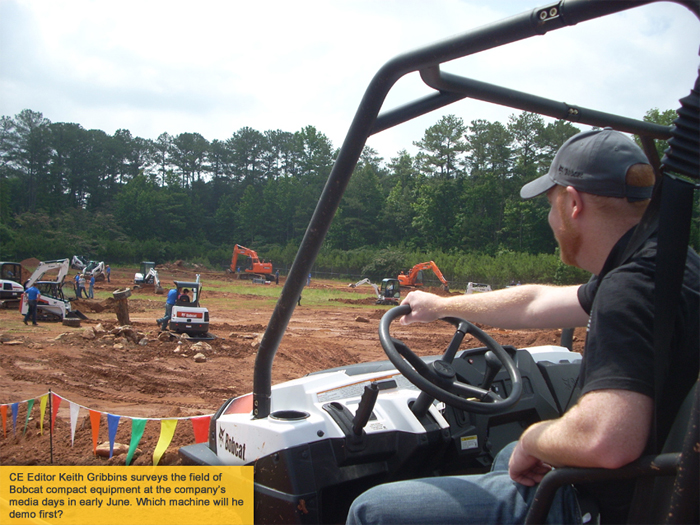 On Thursday June 3, Bobcat invited Compact Equipment down to its annual construction magazine media day — this time at its big Bobcat Atlanta dealership (within earshot of Hartsfield-Jackson International Airport). While the event was only one day (CE Editor Keith Gribbins actually blogged from the event on day one), we've extended our coverage into a five-day blog on all the new Bobcat products, which includes new utility vehicles, mini excavators, attachments and a few cool machines that are currently embargoed (but we'll cover those in early July). The event was a great chance to test drive top-of-the-line tool carriers from (as some call the company) the king of compact equipment. Read all five days of blogs, enjoy some videos and visit your local Bobcat dealer for a test drive soon.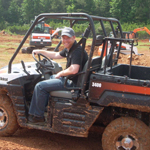 Red mud caked both machine and man at the Bobcat press event today in Atlanta. Behind the expansive Bobcat Atlanta dealership, right near the Hartsfield-Jackson International Airport, editors got behind the wheels and joysticks of skid steers, track loaders, excavators and utility vehicles, testing new machines for readers. 
I'll be covering all these new products over the next few days on The Machine Works blog, but today we'll tackle what impressed me most — Bobcat's utility vehicle (UTV). The company released its third generation of off-road work vehicles, an 18-month synergy with Polaris (the recreational off-road vehicle innovator).
During the afternoon sessions of Bobcat's press product launch yesterday, the Georgia heat chased editors into the shade of machine cabs. Muddy boots and sweaty shirts, this editor jumped into all four of Bobcat's newly released compact excavators, digging red dirt alongside the industry's biggest equipment publications and Bobcat's top product managers at the expansive Bobcat Atlanta dealership, right near the Hartsfield-Jackson International Airport. Bobcat released four new mini and mid-sized diggers, but we'll detail three of the new ones in this blog (saving that micro model 324 for a separate blog on Monday).
The new E42 model joins the Bobcat M-Series compact excavator line in the 4- to 5-ton weight class. The E42 is a conventional tail swing unit with a 41.8 hp liquid-cooled diesel engine and an operating weight of 9,246 lbs. Redesigned hydraulics with a load-sensing pump and closed center-valve system provide improved, refined control of machine travel and work-group operation.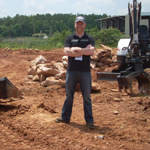 There was plenty of space to operate the tiny 324 mini excavator at the busy Bobcat Atlanta dealership last week, where Bobcat was holding its 2010 press product launch. Digging big red chunks of Georgia-red dirt, the new 1.5-ton Bobcat compact excavator showcased its 13.9-hp diesel engine and its bucket digging force of 3,620 lbs in the open field behind the dealer lot, where editors, product managers and brand new machines mingled.  
But what impressed this writer the most about the 324 was its power inside a uniquely small package. While Bobcat does make a smaller mini ex (the model 323), the 324 has a hydraulically retractable undercarriage, going from a width of just 38.6 in. (for travel through gates and doorways) to a width of 53.7 in. (for more stable performance). And even though the 342 was just one of many cool new compact products Bobcat was releasing at its media days last week, it was maybe the toughest for its size.
You've read our post on the new line of Bobcat UTVs, and now you can see them in action. Bobcat has posted the press videos on their YouTube page. Check out the performance video below and be sure to head over to Bobcat's YouTube page to see the rest.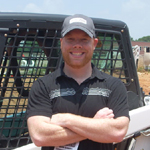 Tool carrier applies to almost any machine that Bobcat makes — mini excavator, skid steer, track loader, telehandler and compact tool carrier — all wield multiple implements like breakers, brooms, buckets, backhoes and blades (and that's just the Bs). Besides engineering and manufacturing machines that take attachments, Bobcat also has one of the biggest ranges of on/off machine tool offerings in the industry. Just check out its attachments page online, which carries almost any implement you need. 
At its recent 2010 product press launch in Atlanta last week, Bobcat released two new attachments into its growing roster of tool carrier solutions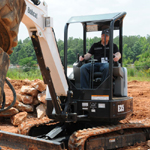 When Bobcat held its 2010 construction media days last week, CE editor Keith Gribbinsgot the opportunity to operate the company's coolest new compactmachinery. He also took a few photos while digging and loading at theAtlanta Bobcat dealership. Below is a pictorial we've compiled (spicedup with a few new product shots from the Bobcat press kit). Wave yourcursor over each picture to read the cutlines. Enjoy.
Tags:
backhoes
,
UTVs